Change Management: Drive Employee Adoption and Usage to Maximize ROI
What is change management?
Change management addresses the people side of change using a structured process and a formal set of tools that lead people to embrace a new way of doing things. Think about how much of your project requires employees to do their job in a different way in the future state in order to achieve the desired organizational benefits and project objectives.
This includes everything from using new systems, tools and processes to changes in job roles or critical behaviors. If these benefits and objectives are highly dependent on a person changing how they do their job every day for the last several years, you're going to need a well-designed change management strategy to guide them through the transition.
It's likely your project requires many people to change at once, and it's important to remember that they are all individuals with their own backgrounds and past experiences with change (both positive and negative). Keep in mind that resistance is the natural reaction to any change. So, it's important to understand the full scope of the change, who will be affected, and in what ways they will be affected so that you can take the correct steps to guide each individual through the transition.
Effective change management goes beyond making an initial announcement of the change, training before go-live and hoping the employees then perform their job in the new way.
What are the benefits of change management?
Capture the people-dependent portion of ROI
A portion of your project may rely on the installation of a new system or piece of equipment that will increase efficiency and maximize profit. But unless that system or equipment is fully autonomous, people are going to play a role in the proper use of each for them to work as designed. New processes must be followed, new schedules adhered to and responsibilities carried out.
An effective change management strategy will help you capture the people-dependent portion of ROI by ensuring your employees are equipped to transition from what they do now to what they need to do in the future to achieve the desired project objectives. These new systems and equipment, when operated properly by the people who need to use them, will then improve your operations and give you the results and ROI you set out to achieve.
Reduce productivity loss and attrition due to employee resistance
Fear of job loss, added responsibilities, and loss of power can all cause employees to show resistance in a variety of ways. This can manifest as a drop in KPIs, excessive absences, missing meetings, verbal pushback or the resignation of impacted employees. The longer employees hear rumors of what is coming, the more likely misinformation will spread and have a negative impact on productivity. While resistance may be a natural reaction to change, you can mitigate the duration and overall effect it can have on day to day business.
Putting in place a proper communication plan that provides the right message to the right groups, delivered by the preferred senders at the right time will reassure those affected by the change and highlight the positive aspects for both the company and the individual. The proper planning and execution at the beginning of the project will help employees ease into the transition and minimize impact to current operations.
Improve the odds of delivering successful projects on time and on budget
Research has shown that projects that implement thorough, customized, scaled change management are up to six times more likely to meet or exceed objectives within their projected timeline and budget.* By proactively addressing the needs of the impacted groups, we can reduce the amount and/or effects of resistance.
Reaching out to employees early, showing them the benefits of the project and getting them involved with a stake in the success of the project can be the difference in catalyzing adoption and usage versus having pockets of resistance that slow the progress of the project and incur more costs due to re-training, re-work, or re-design.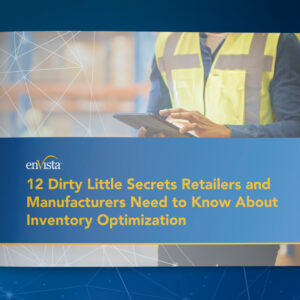 White Paper
Get the low-down on the secrets retailers and manufacturers need to know about inventory optimization.
Download
Key factors to consider when considering change management
How much of your project is dependent upon people successfully changing the way they do their jobs?
For a typical supply chain project, we estimate that approximately 78% of benefits and objectives are dependent upon human beings performing their job differently in the future state.** This can vary depending on the type of change being implemented but generally speaking, success relies heavily on employees using the new processes, systems or tools in the manner we've designed them to be used.
This is why it is so important to not only have good project management but also a robust change management strategy to focus on the human side of change. You can install and configure for months, but if the people who will be operating new systems and following new processes have not embraced and adopted the changes, those efforts will not produce the targeted ROI.
Level of complexity of the change
How different from current operations is your desired future state? Are you going from a manual environment with seasoned workers to one that will require proficiency in new technology? Does the change affect a large group of people or multiple departments?
Keep these things in mind when considering how important it is to incorporate organizational change management. The more complex the change, the more work you will need to do to ensure everyone impacted company-wide is on board and supportive of the change.
History of change within the organization
Employees who have seen the organization handle change well in the past will have a high level of confidence that the organization will do a good job of implementing future changes. However, negative past experiences generally lead to increased resistance with any additional changes that are introduced.
What will make this time different? Will the organization invest in not only new technology or processes but also the individuals that will make them work? Or will everyone be expected to fall in line without a full explanation of why this is happening or any reassurance that they are seen as an integral part of the success of this change?
How does change management work?
The change management process works by focusing on guiding individuals through a set of change milestones that ultimately lead to full adoption and usage of the new way of performing their jobs. Organizations can drastically increase the probability of success for a change being successfully implemented. Effective change management ensures people feel prepared, equipped and supported.
To do this, enVista's Change Management Consulting starts by assessing the change characteristics of the project and your organizational attributes to evaluate the magnitude of risk. Large, disruptive changes to an organization that is change resistant will require much more change management than a small, incremental change in an organization that has had success with change in the past. Based on our findings and analysis, we'll develop a change management strategy, prepare the change management team and create your sponsorship model.
Then, with a thorough understanding of the details of your project and organization, we build customized, scaled change management plans that help employees achieve specific milestones at the appropriate point in the project timeline. We work with you to implement these plans that will:
Detail effective means and timing of communication to explain why the change is occurring, risks of not changing and other information that will drive awareness of the need for the changes being made
Establish the roles and responsibilities of the Primary Sponsor and the commitment required for them to support a successful change
Coach managers to lead their employees through change
Train team members on the new systems, tools, or processes being implemented to the point they show both understanding and capability prior to "go-live"
Identify potential areas of resistance, define tactics to prevent, where possible, and means of dealing with resistance that may arise
After go-live, it's important to have activities in place that will sustain the change for the long term. We'll collect and analyze feedback, diagnose gaps or lingering resistance and recommend ways to take corrective actions and celebrate successes.
Implement Successful Change Management
If your project involves people going through a transition from how they do their jobs today to a different set of tools, systems, processes, roles, or mindset in the future state, change management becomes a must have–not something that's just nice to do.
Are you willing to scratch it from the budget in the beginning only to experience resistance (and project timeline delays) along the way, people reverting to old ways after go-live (re-training, missing KPIs, loss of profit), and other costs of people not adopting the change?
Investing in the people that will make this change work and help you realize all of your benefits and objectives is a sound investment that will pay for itself when your project is delivered on time, on budget and running the way you intended. Only then will you see your project(s) bring about increased revenue, profits, customer satisfaction, greater efficiencies and lower costs.
Learn more about change management and why the ROI of a project is so heavily dependent on it.