6 Reasons Why You Need a PLM Solution Today
Earlier this year, we published a blog post titled "Why Your PLM Solution Matters in 2020." The original "promise" of the value of Product Lifecycle Management solutions we addressed at that time are still valid and, in fact have been accelerated. The need for collaborative, digital, cloud-based PLM solutions is critical in today's environment and further underlines the importance of making 2020 the year to re-evaluate your product-to-market tools and processes.
Retailers are constantly inundated with communication and recommendations on how to successfully navigate today's uncharted waters. As retailers, brands, suppliers and distributors work tirelessly to adapt to the changing times, several key themes emerge:
1. Surge in digital collaboration tools
The future of business is digital collaboration. Investment in cloud-based technologies that remove friction from remote collaboration, such as a PLM solution, are proving to be critical for ongoing business. Retailers with outdated, on-premise technology solutions were constrained while trying to adapt to a remote workforce, whereas retailers running cloud-based PLM, planning, and even ERP systems have been better able to pivot and transition their business model over the past few months.
2. Support master data and one truth
Adoption of technology that promotes a single source of truth and digitization of your processes and data are critical. Instability in both the marketplace and workforce make consistent execution difficult, if not impossible. Retailers cannot afford to lean on tribal knowledge and/or data that is stored on a desktop, in an email, or in someone's head. Systems of record and single sources of truth solutions where employees and partners can collaborate within a single tool allows end-to-end visibility and accessibility for all those required, all in the cloud.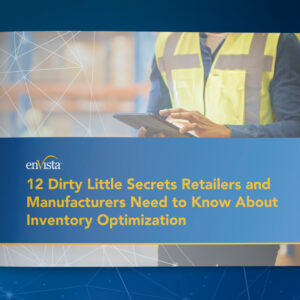 White Paper
Get the low-down on the secrets retailers and manufacturers need to know about inventory optimization.
Download
3. Promote agility and responsiveness
Organizational nimbleness is becoming a key differentiator – establishing and adopting rapid response strategies to make speedy assessments and allowing for reorienting as the market shifts – this includes sourcing or sales channels, in-house technology and internal processes. Organizations can no longer afford long decision-making processes supported by weeks of offline conversations and disparate information gathering to inform decision making. Investment in cloud-based, collaborative technologies is important to enable modeling and what-if analysis. The projected impact of decisions can be reviewed in real-time to set a path and adapt more swiftly.
4. Enable end-to-end transparency
End-to-end transparency is no longer aspirational but required, especially for high-touch products or consumables. From the inception of the retail development cycle through the delivery to the consumer, technology that removes the guesswork out of data elements is crucial to ensuring the visibility needed across your entire supply chain to insulate retailers from risk. Product sourcing, quality and social responsibility compliance are more important than ever to both consumers and retailers.
5. Lower costs through operational efficiency
Increase operational efficiency to drive down cost wherever possible. With a leaner workforce, or one that can be disrupted at a moment's notice, the need to streamline processes and do more with less, faster is critical. Siloed efforts, duplicative data entry, disconnected processes and disparate solutions result in breakdowns in efficiency and further underlines the need for a globally accessible, single source of truth to digitally collaborate from wherever, whenever.
6. Increase speed to market
Deploy strategies to reduce time to market and get closer to demand. For example, a cloud-based PLM solution as a standalone or coupled with 3D prototyping tools can offer streamlined processes, deploy quicker sample turn arounds, increase development visibility and reduce the need for multiple iterations. Yesterday's sample processes are not only costly from a timing and resource perspective, but also from an ecological and sustainability perspective.
The level of disruption in today's global supply chains is unprecedented. Resilient retailers that will be best positioned to endure need to future proof their business by being better shielded from further disruption. Now is the time to re-evaluate your product-to-market tools and processes.
Select the Right PLM and Optimize Your Product-to-Market Process
Not sure where to start? enVista can help. Reach out to us today to find out how we can help you:
Define a Successful Product-to-Market Strategy
Optimize your Product-to-Market Processes
Select the Right PLM
Also check out WhichPLM's 2020 Buyer's Guide – this enVista-sponsored report analyzes PLM's impact on the fashion and retail industries, including questions to ask when considering PLM and a gamut of the industry's best PLM vendors and consultants.
Related Resources: