Starting in 2009, the national economic downturn forced many retail organizations to restructure thru Chapter 11 filings or close completely. Companies like Ritz Camera, S&K Menswear, Sportsman's Warehouse, Big 10 Tire, Filene's Basement, and Eddie Bauer all filed Chapter 11 in 2009. Even today companies like Border's Bookstore and Blockbuster Video are aggressively realigning their retail store presence in an effort to avoid continued revenue losses.
Accordingly, consulting and technology companies focused on the retail market are turning their attention and solutions to where retailers employ their largest labor pool and invest their largest fixed asset costs: the stores. Traditionally, a retailer's warehouse locations were the focus of consulting and technology company's attention and solutions, including warehouse management, data collection, transportation execution, labor management, and value-added services support. The warehouse distribution center for retail companies has evolved into a support structure for the retail store, which in turn is evolving into a hub from which retailers are support multi-channel sales and value-added services. Retailers are learning that in order to make their merchandise "store-ready" faster, the operation at the warehouse to fulfill store orders may actually have to become less optimal – that's right, less optimal.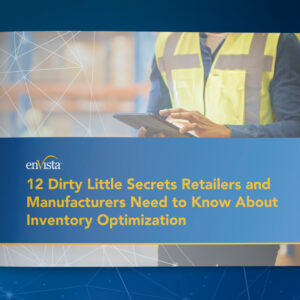 White Paper
Get the low-down on the secrets retailers and manufacturers need to know about inventory optimization.
Download
Case in point, enVista recently worked with a retailer who supported four distinct product lines (i.e. specific sections of their stores) and previously picked and packed store orders across all four product lines into the same totes and outbound cartons; the retailer had analyzed which items, regardless of product category, were common with each store order and located these items together within the warehouse in order to save picking time and non-value added travel time. Consequently, the store would have to spend significant store associate labor unpacking and sorting their merchandise according to the store's layout and product segmentation, thus increasing the merchandise's "dock-to-stock" metric and taking store associates away from the floor where they can influence sales and customer service.
As another point of reference for retailers, look no further than the recent investments and focus of the two largest supply chain execution best of breed software providers: Manhattan Associates and Red Prairie. At a briefing held last month for strategic partners, Manhattan announced its intent to continue to bolster its software product line in order to enable multi-channel support at the retail store. This support includes providing on-line order fulfillment at the store from either the company's distribution center or another store location by measuring product movement, inventory stocking levels, and transportation costs. By extending this integrated solution offering into a rich retail customer base, Manhattan plans a strategy that will allow them to offer organic solution efficiency at the store level, where they traditionally have not had a presence.
Likewise, Red Prairie is also adding a focus at the retail store level thru acquisitions in order to make their mark in this industry space, which traditionally they have struggled to support at the warehouse level. As a compliment to the Blue Cube acquisition several years ago which supplied Red Prairie with retail store labor management and kiosk-enabled applications, Red Prairie announced earlier this month the acquisition of Escalate Retail. Escalate supports multi-channel retail solutions thru store-level order capture, Point-of-Sale solutions, in-store kiosks and call-center operations. Earlier this year, Red Prairie also announced the acquisition of SofTechnics retail solution, whose portfolio includes mobility-enabled Store Inventory and Price Management, Intelligent Store Ordering, Direct-Store Delivery and Master Data Management. Finally, Red Prairie has also announced new functionality within the 2012 version of its existing Warehouse Management suite to more effectively allow customers to apportion inventory to store locations thru a wide-range of configurable rules.
I will post additional follow-up and support of the retail movement initiative stemming from next week's Retail Industry Leadership Association (RILA) conference in Orlando (February 20 – February 22). For more information reference the following link: https://www.rila.org/