Delivering on customer's expectations is both the most challenging and most important part of a retailer's job. It is estimated that it costs seven to ten times more to acquire a new customer than to keep an existing one. Brand loyalty is the key aspect of retaining customers. Brand loyalty is increased by continuously delivering an excellent customer service experience from the beginning of the order life cycle to the end.
There is no time where this is more important to retailers than during the holidays. Christmas-time is a period of "high stakes" for retailers, as lots of consumers are looking to have their needs met and in a timely fashion. A good or bad experience can make all the difference for retailers as they try to convert browsers to buyers or make sure they make a repeat trip.
Here are some of the best… and a few of the worst holiday shopping experiences from the enVista team.
The Good
Skip That Line With mPOS or Kiosks
"On black Friday the line was ridiculously long at a department store, so I used a kiosk to check out and had the items shipped to my house. I was able to skip the line and moved to the next good deal."
"I was shopping at a large athletic apparel retailer and the checkout lines were unbearably long. I had selected the item I wanted in just a few minutes and the checkout line was looking like it was going to easily take 20 minutes or so. I then noticed a sign that said if you had the retailer's app you could check out with any of the floor associates, who were all equipped with a mobile POS. I quickly downloaded the app and was out the door five minutes later. Not only was I thrilled to check out quickly, the retailer got the benefit of having another download of their app as well."
Ease of Returns
"One retailer has made shopping online and in store very easy. We bought a rocker online, didn't like it and returned in store. Literally took 30 seconds to do. Very easy, friendly, frictionless."
"My return at a department store was awesome. I needed to return an item I bought but lost the receipt. I brought the item into the store – short line – and explained I lost the receipt. The associate asked if I used my store card to pay for it, which I had, and she said no problem. I scanned my card and then she scanned the item and said I paid XX for it, plus used some store cash. The system added the two amounts together and she issued me store credit immediately. The entire process took 2 minutes."
Same Day Shipping
"Doing some research for some new speakers, and taking advantage of the after-Christmas sales, I was looking online at a large electronic retailer. I wasn't 100% going to buy anything right then but I saw that they were offering free same-day shipping and that was enough to nudge me over the edge. I played the order at roughly 10:00 AM and I got an email notifying me of delivery by about 1:30 PM. It was a great customer experience."
Order Fulfillment
"My package was never delivered and/or stolen from my house and the company I bought it from shipped me a new one."
"I purchased an item from a brand's ecommerce site. The site was extremely easy to navigate and had good product listings with an intuitive checkout process. There was upfront communication on shipping time and cost. They managed expectations and assured arrival before Christmas before completing checkout."
The Bad
Inventory (In)Accuracy
"Inaccuracy of online inventory. During holiday sales, online inventory from another clothing retailer was inaccurate and unpredictable. Their ecommerce inventory would change at random times, sometimes not indicating that the item was sold out until checkout.)"
"The store inventory said that they had 5 of a certain picture frame, but then they had none in the stock room/on the store floor. Seems like an inventory visibility problem or a sign that there is a shrinkage/theft problem."
"At a clothing retailer we tried to buy things online and the website said the item was in stock so we placed the order, just to get an email saying the delivery date has pushed because they were out of stock."
Unintuitive Problem Solving
"We were buying a couch from a furniture retailer to take advantage of holiday sales. Their ecommerce site did not seem to have trustworthy information so we had to call to verify and decide whether to run to the store, go to another store (2+ hour drive), or order online and have it delivered. We decided to buy online because our local store did not know when it would be getting its next shipment. There was a disconnect between front-end process and back-end communications and 3PL communications. We received email confirmation and the estimated delivery date was actually in the past! We had to call multiple times to figure out when the delivery was actually coming. This was a hassle and finding a solution was not very intuitive."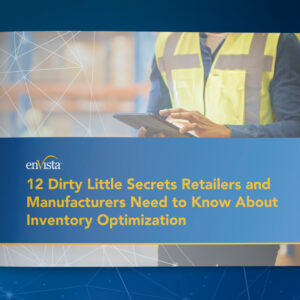 White Paper
Get the low-down on the secrets retailers and manufacturers need to know about inventory optimization.
Download
The Ugly
Disjointed Customer Experience
"According to Boston Retail Partners "2017 Customer Experience/Unified Commerce Benchmark Survey" 26% of the surveyed retailers offer BOPIS, but it needs to be improved. This is one story that really showcases that: I was shopping online at a bookselling company and tried using their Buy Online, Pickup In Store option (I was buying 3 books and its was $30 cheaper using BOPIS) but I couldn't get it to work. I decided to go into the store and show them that it wasn't working and see if they would still honor the discount. Turns out this is actually a known issue for them and they won't honor the pricing difference. I talked to two different associates and the store manager and their "reasoning" was if they have the same prices online and in store they can't compete with Amazon (I still don't understand this logic). I ended up just buying to books on Amazon so that didn't really work for them."
Poor Customer Service
"A large grocer-retailer started forcing customers to scan their loyalty card before they could scan even a single item. Before the holiday season you could scan your card anytime during the transaction – I found this change to be very anti-customer. As a busy mom, I often pick up more than I intend to, and often, end up carrying it all in my arms. To make me put everything down to pull out my card to scan it first is wrong. It slows the process and it's inconvenient. What did this change gain the store? More information sooner? You're getting my information no matter what so why make it inconvenient for me. As a result, I stopped shopping the store regularly and switched back to another grocer/retailer. Moreover, I complained via online survey (found on my receipt) and sent a tweet. An employee reached out to me on Twitter asking for more information which I sent immediately via Direct Message. I did not receive follow up from either the DM or the survey I completed."
Difficult Returns
"A large electronic retailer also had easy return – with a receipt. The item was an unopened electronic and they took it back no questions asked. I paid with both cash and rewards points. I made the return on 12/19 and I have yet to receive my rewards back on my Rewards Card. I will have to call/visit the store to get this rectified as it's $30 in rewards, which is not a small amount. So, now I have a project. I hate projects."
Poor Communication and Lost Order
"Black Friday – I ordered an item, and got the shipping confirmation but when I clicked on it is said "more information will be available when the package is ready for pick up from the vendor" – this went on for two weeks until I contacted the company. They said that it was just "lost" and that a new one would go in the mail that day. A new package was never sent. I emailed customer service again. They said they would send me a new package. Then, I got an email that my order had been cancelled. I got a refund but never got the item."
How can you ensure your customers have a positive experience?
For several years we have witnessed omni-channel retailers struggle with the monolithic and cobbled together retail technology options in the market. To remain competitive and relevant in today's digital age, retailers must deliver personalized, seamless shopping experience consumers expect. Getting your order management system right is critical.
Improving customer satisfaction and increasing sales with a next generation, cloud-based omni-channel order management system (OMS) with enterprise inventory visibility – is essential to gain a single view of customer, items, orders, returns and payments.
By unifying commerce, your company will:
Drive brand loyalty and revenue by enabling seamless, customer-centric experiences.
Attain one version of the truth. Our solution delivers a single enterprise view of the customer, inventory, order, item and payment.
Overcome integration complexity, speed time to value and avoid a rip and replace technology approach. Our solutions are uniquely built on a multi-enterprise integration framework.
Improve physical store utilization by empowering store associates to engage in clienteling, leveraging stores for e-commerce fulfillment/returns and optimizing customer engagement.
Rapidly deliver the results you need. Unify commerce in months or weeks (not years), speed time to value and reduce costs.
To find out more about how to ensure that your customers will tell stories that belong in the "Good" section of blog posts like this one, let's have a conversation!