There's a lot of hype in the marketplace surrounding microservices-based architecture, with many order management system (OMS) providers emphasizing it as a strong selling point as to why you should choose their OMS solution. But what does microservices really mean for an omnichannel organization looking at selecting or upgrading an OMS? What are the advantages of microservices architecture for order management? And what should organizations pay attention to as they try to sift through the hype?
What is microservices architecture?
Microservices are applications that are separated into a collection of small, independently- deployable services. This allows the provider to separate its code base, while keeping it loosely coupled together to ease the ability for each service to work together still.
This microservices architecture enables the ability to select which "services" you need to quickly deploy, while minimizing the risk of breaking code when updating it. Gartner®, Inc., calls it "a design paradigm that aims to increase agility, deployment flexibility and precise scalability by applying service-oriented architecture and domain-driven design principles to distributed applications (i.e. microservices)."[1]
Another way to think about microservices is that it enables technology purchasers to select software capabilities "a la carte" to reduce the cost of ownership, without sacrificing the quality of a best-in-breed solution in a common code base.
Why Microservices Architecture Matters
Microservices are more than just hype in the marketplace. As commerce and consumer behaviors continue to evolve, modern architecture has proven to be an incredibly effective delivery method for technology. It is a way to develop more of a "composable" mindset towards technology—enabling a buy what need approach versus having the buy the entire farm.
We all know that a house can be attractive and have great curb appeal—but if the foundation or framing is faulty, you are going to run into complicated and costly issues in the long run. Things may break. You won't be able to add that sunroom without fixing the issues in the basement. Your ability to build your "dream home" will be thwarted and slowed by adapting and fixing what is already built.
Similarly, with technology the nuts of bolts of how the software is built is critical when you look at functionality, data, integrations and the long-term sustainability and return on investment of a solution.
Benefits of Microservices Architecture
With microservices-based architecture, you can roll out services or "modules" as they are needed (a la carte). Because of this modular-based architecture [M1] the development and deployment of complex products becomes smarter, simpler and more scalable.
Select what makes sense – Microservices helps you focus on what you really need out of a solution, rather than something that just drives up the price/profit for the vendor.
Simplified and flexible deployment – With each microservice built and aligned around a specific business function, the complexity of the application change management process is reduced.
Agile development – Microservices are decoupled to support headless operations, allowing for development flexibility.
Extensibility and rapid scalability – Microservices enable digital retailers to scale existing assets quickly and easily, without the need to upgrade backend systems and the ability to choose different technologies.
Faster implementation times – With a microservices-based architecture, you can leverage the advanced commerce capabilities that make sense for your business today, and then add and evolve your capabilities tomorrow.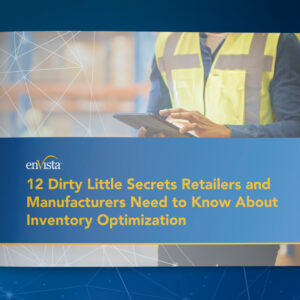 White Paper
Get the low-down on the secrets retailers and manufacturers need to know about inventory optimization.
Download
Should an OMS Have Microservices Architecture?
Yes. Order management is a known complexity to retailers, brands, distributors and 3PLs. Most enterprise retailers have anywhere from 8-14 applications associated with the commerce operation. Commerce is already complex, so your order management software shouldn't be.
Leveraging an OMS with a microservices architecture will give your brand the agility you need to meet your customer expectations now…and in the future.
Need to sunset your point-of-sale solution? Want to add the ability for your customers to buy now, pay later? Want to extend your OMS with another application? No problem.
Microservices Architecture for Order Management Enables Omnichannel Commerce
In the age of Amazon and mounting customer expectations, omnichannel organizations must rapidly enable agile, personal omnichannel commerce. A next-gen, modern OMS is critical to the customer experience and provides the crucial difference between thriving and merely surviving in today's digital age.
A highly-scalable microservices architecture for order management is central to enable the required omnichannel agility, but not all order management systems are equally capable.
Some additional focus areas as you invest in an OMS:
The key to a highly scalable microservices architecture is in the application program interface (APIs). A platform built on highly extensible APIs allows organizations to easily and seamlessly extend integrations with critical retail systems, including ERP, CRM, WMS and more.
An innovative, modern architecture should be built and delivered on an integration platform as a service (IPaaS) to enable integration with ease and allow you to pivot quickly to keep your customers satisfied and integrations flowing. If you select an OMS that doesn't have an IPaaS foundation, it means you'll have to invest in another technology tool to help integration your systems—resulting in more complexity and cost.
An OMS solution built on a single code base provides a version-less environment to avoid costly and painful upgrades and deliver new functionality updates on an ongoing basis to enable agility and scalability to your organization.
A cloud-native platform built from the ground up as microservices architecture, on a multi-enterprise integration framework and a single data model allows you to rapidly integrate and enable customer-centric, unified commerce in weeks or months, versus years.
Summary
So, to answer the question—is microservices architecture for order management a hype or must-have? For retailers looking to grow, expand, and delight their customers, a microservices architecture is the blueprint for success.
OMS has already been lauded as the hero for many retail brands in the last two years, and perhaps the next five years will show how OMS architecture will separate the leaders from the laggards in the market.
Learn how enVista's OMS Can Transform Commerce
enVista's market-leading order management system (OMS) is the cornerstone solution required for omnichannel retail success. Our functionally-rich OMS – built as microservices architecture on a multi-enterprise integration framework and common data model – simplifies integrations, enabling retailers to implement in 4-5 months and in some cases, as little as 8 weeks.
Let's have a conversationTM.
---
[1] Smarter With Gartner, "Should Your Team Be Using Microservice Architectures?" August 20, 2021. gartner.com/smarterwithgartner/should-your-team-be-using-microservice-architectures.
GARTNER is a registered trademark and service mark of Gartner, Inc. and/or its affiliates in the U.S. and internationally and is used herein with permission. All rights reserved.