The virtual NRF Chapter 1 session taking place on January 14, 2021, "Why OMS Is the Key to Omnichannel Agility, Profitability and Transformation," featured Jim Barnes, CEO of enVista, and Brendan Witcher, VP and Principal Analyst of Forrester. As NRF's first virtual event, the first chapter of the show was a great success with over 100 sessions and more than 300 exhibitors. Most importantly, the interaction between retailers, exhibitors and industry thought leaders was exceptional. Jim and Brendan received a variety of excellent questions during the Q&A portion of the session and while we could not get to all of them live, Jim was able to provide answers to any additional questions following the event below.
Question: Is there a good "first step" when starting with a lot of legacy technology with point-to-point integrations? Do you focus on the integration layer first, or do it along with the order management system (OMS) implementation?
Answer: There are a number of approaches with respect to integration, however, it depends on whether you have an integration framework or iPaaS platform. enVista's order management system (OMS) is built on an integration framework. It's native to the platform and the same code base, not a separate solution. However, if you own an Integration Platform as a Service (iPaaS), then our recommendation would be to leverage it. On the other hand, many of our clients will leverage our integration frame (Native iPaaS) to build the integrations to their legacy platforms. For example, OMS to warehouse management system (WMS), or OMS to point of sale (POS), or eCommerce to OMS can leverage the OMS IpaaS to build the integrations or leverage common application programming interfaces (APIs) that are pre-built. For example, enVista OMS to Avalara (Tax Solution).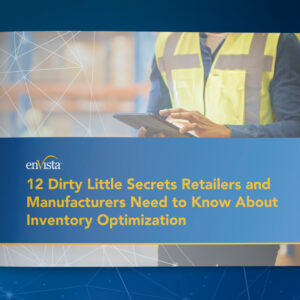 White Paper
Get the low-down on the secrets retailers and manufacturers need to know about inventory optimization.
Download
Question: Isn't it simple in that leadership has to be clear that this is something that is going to happen and we should strive to realize what is best for the customer and NOT what our systems allow us to do? If we just do what the system enables us, we are going to have fewer happy customers.
Answer: The key to thriving in today's world of retail is to build processes, organization and technology focused on delighting the customer. You don't want technology being the barrier to impacting experience. The reality is that we are in the business of taking care of our customers. However, many organizations cannot pivot fast enough to meet the ever-changing customer demands (buying behaviors). COVID-19 exacerbated and really exposed how many retailers could not pivot because their technology was antiquated or bi-furcated. GNC, who leverages enVista's OMS, turned on ship from store in 14 days and completed the entire implementation remotely. Note that we only turned on 17 stores in the first phase, but within eight weeks, GNC had over 500 stores shipping dormant inventory that was stuck because their stores were physically closed. The point is that technology should not be the barrier to delighting and servicing your customer.
Question: Does enVista provide connectors/APIs through best-in-class iPaas to address the complex integration challenge?
Answer: enVista's OMS is built on a microservices architecture. The platform is an iPaaS with business objects (micro-services) that execute operational functions. The platform supports over 3,000 common APIs, assuming that the upstream and downstream applications can consume an API. If not, the native iPaaS can translate and route data between any file format and any communication protocol (i.e., XML to EDI back to XML over SFTP).
Question: What are some of the best ways to increase real-time inventory accuracy (e.g., RFID)?
Answer: Radio-frequency identification (RFID) is a common technology to increase real-time inventory in stores. The technology can be expensive compared to other solutions. However, RFID can be effectively used in stores to cycle count inventory. We are now using visible QR codes on products in addition to invisible QR codes to support brands with counterfeiting and improve inventory accuracy. In general, inventory accuracy at stores is a problem depending upon the type of merchandise in your retail network. In order to manage the impact of inventory in stores, we leverage "inventory thresholds" so we don't allocate orders to a store knowing that the likelihood of the physical inventory will not be there. For example, systemically and physically there should be five blue, large shirts (SKU-A). We will set a threshold of four, meaning that OMS will allocate up to four units because we know there is a 20 percent chance that the fifth unit is not in the store.
Question: What are the leverages to make a ship from store operation profitable in a scenario where most of the online orders have five to six low priced items?
Answer: Understand that ship from store is one of the most costly omnichannel order fulfillment methods compared to ship to store and pickup, BOPIS and BCSPU. However, it can be profitable if evaluating the GMROI of the item and where is the item in its lifecycle. Is the SKU replenishable? If not, is the SKU at the beginning of the selling season, in the selling season or at the end of the selling season? These variables are all important to understand before ship any item from a store. The worst-case scenario is to split an order and ship from multiple lines from multiple inventory nodes (locations). Splits are death to omnichannel profitability, especially if the price of the item is low and the margins are thin.
Check out the full session recap here. Want to learn more about enVista's omnichannel solutions? Let's have a conversation.™