Implementing an order management system (OMS) is the number one solution required to unify enterprise commerce. The average cloud OMS implementation requires 8-12 months from planning to go live.
enVista is enabling large multi-million dollar retailers to implement and leverage our next generation, cloud-based OMS in as few as 8 weeks!
5 Keys to Our Rapid Order Management System Delivery
How do we implement OMS so quickly?
We deliver our solution on a multi-enterprise integration framework to rapidly integrate to existing systems.
Our multi-tenant architecture means painless upgrades, while always leveraging the latest functionality and code version.
Clients can elect to take a phased integration approach with minimal viable product requirements first.
Leverage a highly scalable OMS that easily grows with your business. The solution enables enterprise inventory visibility and optimizes order orchestration across all channels, including call center.
We bring more than 16 years of experience implementing supply chain and retail systems, a dedicated team of in-house experts, and much more!
enVista can help you deliver against increasing customer expectations, optimize order orchestration and enable all of the fulfillment options your customers expect. Find out how we can help you get live and running in as little as 8 weeks!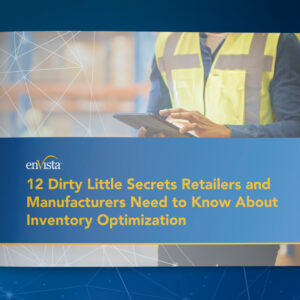 White Paper
Get the low-down on the secrets retailers and manufacturers need to know about inventory optimization.
Download
OMS in 8 Weeks Case Study
A highly recognized multimillion-dollar designer, manufacturer, retailer, wholesaler and cataloger of home decor products selected enVista to rapidly enable its next generation order management system (OMS) on a cloud platform for the organization prior to peak season.
The company needed to obtain enterprise inventory visibility to easily process the following: complex split orders; customer priority; and static priority-based orders across multiple demand sources like digital commerce, marketplaces, dropship for retailers, call center, and wholesale.
By improving order fulfillment, the organization would achieve its ultimate goal of increased customer and supplier satisfaction.
Implementation Results:
Deployment included 20+ integration points
Incorporated across all channels, including call center and marketplaces
Enabled enterprise inventory visibility
Optimized order orchestration before peak season
No disruption in business, including orders and fulfillment
Went live in 8 weeks – orchestrating 8,000+ orders per day!
Improved customer and supplier service levels and satisfaction
enVista's OMS – The Key to Unified Commerce
enVista's next generation, cloud-based order management software is uniquely built on an integration framework. This enables our team to very quickly integrate many data points, while maintaining tight implementation timelines.
Important differentiators and capabilities of enVista's OMS:
Agility and Scalability. The OMS is extremely agile because it is built on a multi-enterprise integration framework and delivered as an Integration Platform as a Service (iPaaS). As a result, the solution rapidly scales with business requirements and integrates in months or weeks, versus years to reduce time to market, time to value, and overall cost.
Optimizes order orchestration for all channels and locations. enVista's OMS allows clients to optimally orchestrate orders and manage the order life cycle across all sales channels.
Strategically built on a Unified Commerce Platform. enVista's OMS is strategically built on a unified commerce cloud platform that includes: POS/mPOS, Product Information Management (PIM), Vendor Drop Shipping, Store Fulfillment, Digital Commerce and EDI. Gain the versatility and scalability you need to move into the future with confidence.
enVista's OMS optimizes order orchestration and enables all the fulfillment options your customers expect.
Ready to get started? Let's have a conversation.