Each year the NBWA Convention introduces distributors to new brewers and products, innovative technologies and vendors who supply the materials they need to run their operations. The beverage industry faces many challenges that find distributors seeking the optimal way to proceed, and enVista can help!
With the proliferation of stock keeping units (SKU), there is more and more pressure on operations to handle the influx of additional packages and brands. Gone are the days of a mere two types of cola or several brands of beer by only a few regional macrobreweries. Seemingly everything has a diet/light variation or countless alternative flavors. Not only does this present potential opportunities for inefficiencies in the warehouse, but it creates challenges for the loading and distribution aspects, which translates directly to retail trade.

The first step a company should take when trying to find savings in the supply chain or its delivery options is to conduct an operational assessment. This allows the company to take a look at processes within operations and identify areas where the greatest opportunities exist. After that, determinations can be made as to what the best solutions are (e.g., changes in technology, changes in process, or adding equipment that might assist in improving overall efficiencies). Companies should develop a strategic plan so that they can then zero in on where the area of greatest need is.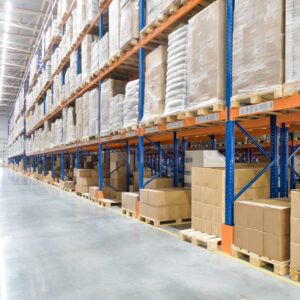 White Paper
A well-thought-out slotting strategy also enables businesses to minimize wasted space and maximize storage capacity within the warehouse. Increase ROI using the right tools, strategy and management plan with successful warehouse slotting.
Download
One of the innovative products to help face the proliferation of SKUs is enVista's Stack Sleeve. This product was derived from studying drivers and asking "what is the driver's perfect day?" The driver is looking to have the stack of product on his handtruck that he's going to roll into the account with as little extra work as possible. Currently drivers work off of side-load trucks and have to pick each individual order off the truck. This means that drivers are handling all the products on the truck two to three times per day before they actually deliver it. Drivers are also opening and closing the bay door between 200-300 times per day, which leads to a lot of fatigue and physical activity, which can open the company up to more opportunities for workman's compensation claims.

enVista wanted to come up with a more Lean solution. How can you come up with a customer specific order and load that into the truck as part of one unit? enVista's solution was to create a sleeve that distributors can build the order into or stack product into and then place it into the truck in reverse order for delivery.

Stack Sleeve is unique because it's not just on the truck, but also in the warehouse. The solution had to span both how to pick it, load it, and deliver it. enVista developed software that allows companies to utilize efficiencies of batch picking when they go into the picking area, go to a certain SKU and pick all the product for that SKU. The software helps us sort that into discrete orders by stack. This is two functions in one and creates the best of both worlds. The combination of software, hardware, and processes makes Stack Sleeves innovative.

The use of the Stack Sleeve will save 25-30 percent on the bottom line in efficiency, which equates to increased productivity and lower costs. Stack Sleeve also helps alleviate the previously mentioned challenges for the drivers. Ideally distributors will switch to a back-loading truck for ease of access in the loading and unloading steps.