Boost Profitability and Competitive Advantage with Retail Personalization
In today's hyper-competitive retail environment, the importance of retail personalization as part of the shopping experience really can't be overstated. Retailers have to drive profitability and competitive advantage to succeed and delivering a seamless personalized brand experience becomes the means to that end.
Differentiate Your Brand for a Personalized Experience
According to enVista's 2020 Personalization Special Report, 51% of the consumers surveyed indicated a personalized and consistent experience across channels is important and 72% of consumers said personalized service from a sales associate is an important factor in determining which stores they choose to shop.
However, only 34% of retailers indicate that customer identification/personalization of the customer experience is a top priority for 2020. With consumers' high expectations for a personalized experience, retailers have to differentiate their brand with personalized services and promotions.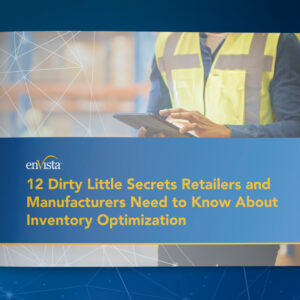 White Paper
Get the low-down on the secrets retailers and manufacturers need to know about inventory optimization.
Download
Personalization is an Area of Opportunity for Retailers
As consumers "check-in" on a retailer's e-commerce or mobile sites, they typically receive automated, personalized offers and recommendations based on previous purchases and their browsing history. However, many shoppers are still anonymous as they walk through the store, so they don't receive the same type of personalized service and recommendations that they receive online. Personalization is an area of opportunity for retailers as they look for opportunities to successfully offer personalized service in the areas that customers demand (See Exhibit).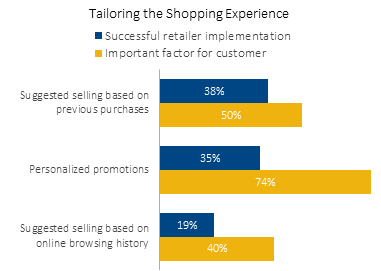 As retailers expand personalization to create a relevant and engaging experience, technology will play a big role. Associates must have easy access to customer and product information. Associate-facing mobile devices to access customer account information, product information and inventory visibility in real-time allows associates to "keep up" with customers, not only physically throughout the store, but also to readily respond to questions or provide additional information. Implementing advanced technologies such as touch screens, virtual mirrors or augmented reality offers retailers increased options for customer engagement, creating a more immersive environment and enabling customers to personalize their own shopping experience.
Understand the Current Retail Landscape
The 2020 Personalization Special Report, based on findings from the enVista Consumer Study and the 2020 Customer Engagement Survey, contrasts customer expectations with retailer capabilities to understand the current industry landscape and is available for download.

Related Resources: