It is no secret the most significant trend in ecommerce of the last decade has been the speed of delivery expected by consumers, with a clear single driver of this trend: Amazon Prime. A major ingredient fueling Amazon's dominance in the ecommerce market is its offering of fast, free delivery. From the inception of Amazon Prime in 2005, Prime members have had access to free two-day shipping on eligible purchases. In 2015 Amazon introduced free one-day or same-day shipping on qualifying orders in, as of 2018, over 8,000 cities across the US.1
Now that many ecommerce shippers' largest competitor is Amazon, they have felt the pressure to accelerate their networks to remain competitive. While there is an obvious financial cost to this trend as expedited shipping costs more and is often either offered for free or is subsidized by the shipper, there is a less obvious cost to the environment.
The Cost Beyond the Dollar Sign
When a package is expedited (Two Day or Next Day) and the inventory is not in a position to be transported over the road, UPS or FedEx places that package on a plane in order to meet service commitments. Where this causes problems is the environmental impact compared to air and ground shipping. According to emissions factors published by the EPA's SmartWay program, air shipping emits 5.4-12.6 times more Co2 into the atmosphere compared to ground shipping.2
To illustrate this, if a customer ordered a pair of shoes weighing an average of four pounds for 2nd Day Air shipping from Los Angeles, CA to Indianapolis, IN, that package would represent 0.0085 metric tons of Co2. If that customer had picked Standard/Ground shipping, that package would only represent 0.00067 metric tons of Co2, 12.6 times fewer emissions than the package that was sent on a plane. The customer would have received the package a few days later, but the carbon emissions savings are vast.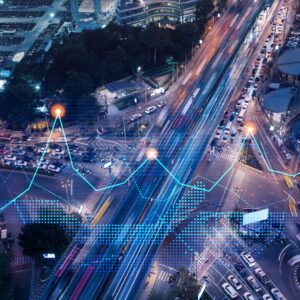 White Paper
Gain insight into strategic vs. tactical sourcing and how placing transportation procurement into these categories can reduce the complexity.
Download
Measuring the Annual Impact of Expedited Shipping
While this singular example may seem abstract, the impact becomes very apparent when viewed at the level of a shipper's annual expedited volume. Take the same shoe seller as an example. This shoe seller ships two million pairs of shoes via expedited air service levels over the course of a year. Using its average weight of four pounds and its average number of miles traveled per shipment of 500 miles, their annual carbon emissions resulting from these shipments would be estimated at 4,100 metric tons of Co2.
If each of these pairs of shoes had instead been shipped via a standard/ground service level (i.e. in a van or truck) the annual carbon emissions would be estimated at 323.6 metric tons of Co2. To put this example into perspective, 68,333 urban trees would need to be planted to offset the emissions of the expedited shipments compared to only 5,393 urban trees for the standard/ground shipments (these calculations used EPA-published greenhouse gas equivalent factors).3
Green Shipping: Shifting to Environmentally Conscious Consumer Behavior
The intention of presenting this example is simply to highlight the significant environmental impact the ever-increasing speed of ecommerce delivery expectations. However, there is untapped potential for shippers to "nudge" their customers away from selecting their shipping options purely based on speed. This untapped potential is the opportunity for shippers to re-brand standard shipping as "green delivery."
Research published by the National Retail Federation shows that nearly 60 percent of consumers are willing to change their shopping habits to reduce environmental impact.4 While this research is specifically focused on products marketed as sustainable, the same principle can be applied to selecting delivery speed. Adding to this, a study published by MIT's Center for Transportation and Logistics found that 52 percent of consumers were willing to wait longer for their package when told at checkout that slower shipping would save trees.5
Key Considerations for Retailers
While both studies are theoretical, think about a scenario where the default shipping option at checkout was "green delivery" with an informational pop-up informing the consumer of the environmental impact of their shipping choice, such as the number of trees saved. Not only would the consumer have to proactively select an expedited service level, but they are also given the incentive of knowing they are making a difference.
These incentives could extend even further, depending on a shipper's margins. The obvious incentive would be offering free green shipping, making the choice to select an expedited service level even less appealing. Another option, if offering free delivery is not economically feasible, is to give customers store credit, such as $5 or 10 percent off their next purchase if green shipping is selected.
Regardless of the strategy deployed, the message is clear; shippers have the opportunity to reduce their environmental impact and work towards sustainable logistics, and consumers are ready for it.
Sources
Everything Amazon has added to Prime over the years, CNN
The Green Freight Handbook, The Environmental Defense Fund (EDF)
Greenhouse Gases Equivalencies Calculator – Calculations and References, United States Environmental Protection Agency (EPA)
Meet the 2020 consumers driving change: Why brands must deliver on omnipresence, agility, and sustainability, IBM
America's addiction to absurdly fast shipping has a high cost; University of Washington Supply Chain Transportation & Logistics Center