Reduce WMS Implementation Costs and Timeline with the Right WMS Vendor
Often times when choosing a warehouse management system, companies focus primarily on which WMS product to purchase and overlook the importance of choosing the correct vendor. However, choosing the right technology solution provider is a critical step in the WMS solution selection and implementation process.
The right provider will understand your business environment and offer solutions specific to your business requirements, have solutions proven in your industry, and be able to correct gaps in the implementation process. The right partner can increase the ultimate ROI from a company's WMS investment by being cost-effective and reducing the implementation timeline. Use these tips to avoid the common pitfalls made when selecting a technology solutions provider:
1. The Vendor Demonstrates Its Capabilities Versus Responding to Scripted Demonstration Scenarios
A software vendor's ideal sales cycle is where it can differentiate itself based upon the functionality it has developed within its solution, regardless of whether that functionality is critical to your organization. This typically involves graphical and visually pleasing functionality that may rarely be used by the typical end-user, compared to functionality that is critical to your organization and can differentiate one vendor versus another.
2. The Vendor Answers "Yes, We Do That," Instead of Showing You Specifically How It Solves a Requirement
Depending upon how trusting of the WMS Vendor Demonstrator you were, you may feel very good about the chosen vendor's ability to support your operation, but did you actually see the vendor's software in action? It is amazing how many companies do not force a vendor to demonstrate a specific software module or take a prospect to see the software running in a live environment. If you have fallen into this trap, be prepared for unexpected surprises that can add time and cost to your project.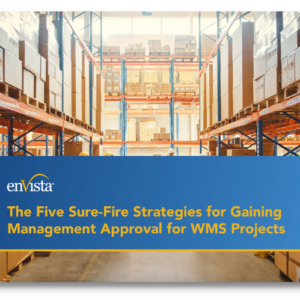 White Paper
Five strategies to gain management approval for WMS projects to better leverage your supply chain and improve customer satisfaction.
Download
3. Your Top Vendor Selection Criteria Is to Select the Lowest Cost Provider
There is an old adage in sales that if you are losing, you revert to lowering the price to mask the gaps in functionality. Companies that focus on price over function typically don't understand what a fair price is for the needed solution. If you spend time understanding your return on investment before entertaining vendors, you can focus on feature/function with the vendors. No vendor will ignore a fair price offer if it knows it is the selected vendor based upon functionality and cultural fit. History shows that the lowest cost solution at contract signing doesn't wind up being the lowest total cost of ownership at the end of the project.
4. You Do Not Discover Any Gaps in the Software Prior to Signing a Contract
If your evaluation process doesn't reveal any gaps, even with the selected vendor, then chances are you haven't investigated deeply enough how to differentiate one vendor versus another, thus leading to selecting the lowest cost provider (see #3). Even the most functionally rich solution will not be a 100 percent fit for your operation, even if the vendor has a number of references in your industry. Gaps are not bad to find. However, if you find them prior to signing a contract with the solution provider, you are in a better position to negotiate how to resolve them; gaps discovered after the project begins will lead to cost and timeframe overruns, while also creating a level of distrust between you and the solution provider.
5. You Do Not Force the Vendor to Do a Detailed Discovery on Known Gaps Prior to Signing a Contract
You are successful in identifying gaps with any of the solution providers (see #4), but have you taken the most important step to quantify the level of effort to resolve the gap per the solution provider? While a gap on an RFP is the same for each solution provider, the right solution provider might be the one whose application allows the gaps to be resolved quickly and most cost effectively because of how the vendor's solution is architected.
Select the Best WMS Vendor For Your Organization
The way your organization goes about the selection process will have long-standing implications on the value you receive from your WMS solution. Take the time to define your requirements, ask the right questions, get detailed responses and demonstrations, and seek external help in the WMS selection process, if needed. Oftentimes, the right counsel pays significant dividends in terms of the time to value and the ultimate ROI you receive from your WMS investment.
To learn about five more signs you might be selecting the wrong WMS vendor – as well as what you can do about it – check out our white paper here.