WMS vs. WCS vs. WES
Many companies are at a crossroad as to whether to invest in a warehouse management system (WMS), warehouse control system (WCS), warehouse execution system (WES) or a combination of the three.
The decision is made more confusing because of the overlap of some of the functions of each type of warehouse software. Exploring the specific functionalities of each solution in depth and pinpointing where the systems intersect will allow businesses to determine which functions best meet their needs, and in turn, which system or combination of systems will work best.
In order to better understand the roles of the three systems, compare them to the human body. Envision the mechanization in the warehouse, including conveyors, case sorters, tilt-tray sorters and more, as the skeleton. It is rigid and not easy to change once it is in place. The WMS acts as the brain of the facility, indicating what needs to be done and communicating those instructions to the body. The WCS can be compared to the spinal cord; you cannot walk, run or be mobile without it. The WES software is somewhat of a combination of the two other systems. It is less intelligent than a WMS but still brings some brain power, as well as the majority of the spinal cord.
What is a WMS?
A warehouse management system (WMS) is a highly specialized software solution that controls the flow of inventory into, within and out of a company's distribution center (DC) or multiple DCs. Warehouse management systems offer visibility into an organization's inventory and manages a full range of supply chain fulfillment operations.
Specifically, a WMS can verify receipts, put away inventory, replenish inventory to a forward pick location, complete cycle counts, hard allocate inventory to an order (to be picked), consolidate orders on a dock, and create pack slips, BOLs and carrier compliant labels. Of the three systems being compared, the WMS is the most mature, intelligent and widely known because it manages the flow of inventory, labor tasks and orders from receipt to shipping.
The WMS knows where products are at all times, as inventory control is its big differentiator; neither a WES nor WCS can manage all functions of inventory in a distribution center. The inventory management component allows businesses to manage inventory across the DC and track inventory across every single move. The fundamental data model difference between a WMS, WES and WCS is the ability for a WMS to manage, track and control inventory across multiple channels and customers (used in 3PLs).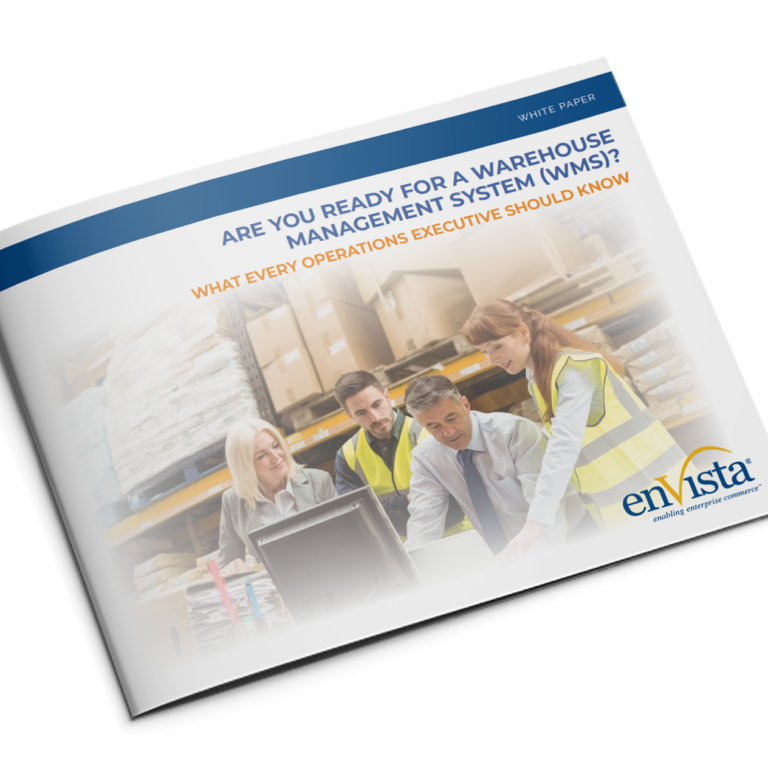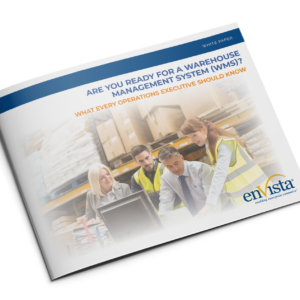 White Paper
Discover what every operations executive should know about selecting a WMS to ensure a positive ROI, and improved operations.
Download
What is a WCS?
The main difference between a warehouse management system (WMS) and a warehouse control system (WCS) is that a WMS is focused more on broad processes, such as labor management, orders and shipments, while a WCS is a real-time integrated control solution that manages various specific warehouse tasks. These tasks include the flow of items, cartons and pallets as they travel on many types of automated equipment, such as pallet conveyors, sorters, ASRS, pick to light, carousels, print and apply, merges and de-casing lines.
A WCS software is able to exchange real-time communication, command processing, discrete equipment signals and the optimization of material. Most WCS systems lack advanced WMS functionality. However, the gap is closing as WCS vendors are adding more and more functionalities available in the WMS space. Traditionally, WCS solutions are well-suited for highly-automated facilities, but there are few WCS vendors that have the necessary functionality to manage and control all warehousing processes.
What is a WES?
A warehouse execution system (WES) is a newer breed of solution, compared to a WMS or WCS. A number of systems integrators, WCS control software companies and material handling equipment manufacturers are moving up stream in terms of adding basic WMS functionality into their existing WCS or creating a WES from scratch. Many WES systems encompass nearly all functions that are also included in a WCS and some functions of a WMS. As a result, a WES is considered a more all-inclusive solution. Think of a WES solution as a light version of a WMS with controls functionality. WES is encroaching on the WMS territory when it comes to tasks related to wave management, light task management, inventory management (single channel), picking and shipping.
Trying to decide whether a WMS, WCS or WES is right for your organization?
This chart provides a quick reference that can help you narrow down the correct solution for your company: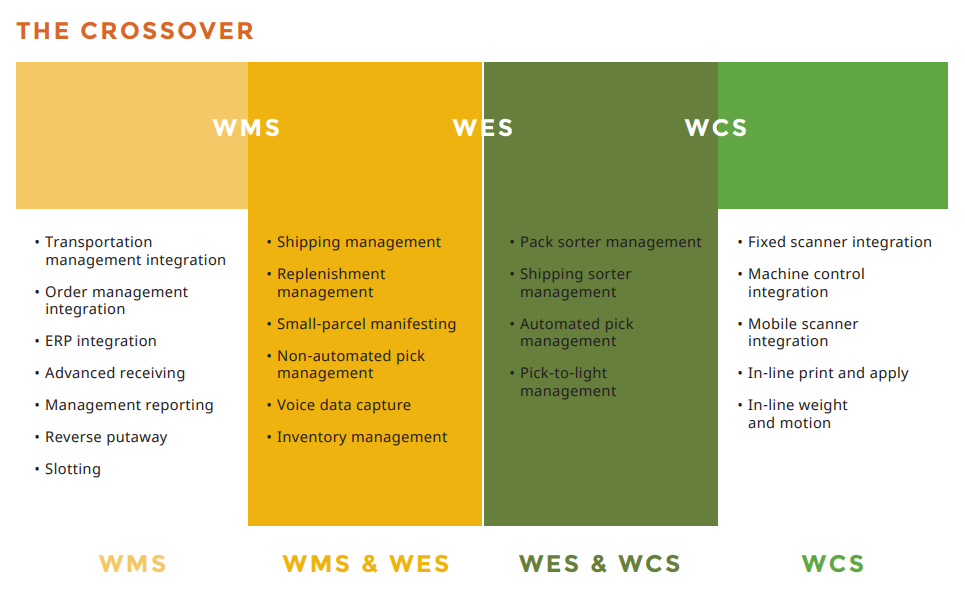 If you're still confused about the types of warehouse software solutions and which solution may be right for your organization, enVista can help. To find out more about how a WMS, WES, or WCS can impact your business and what questions you need to ask in deciding which system you should choose to implement, check out our WMS vs WCS vs WES white paper.