Lay a Foundation for Omnichannel Success with an OMS
Omnichannel challenges are par for the course for today's omnichannel retailers, distributors, and wholesalers. Customer expectations have soared in the wake of digital transformation, and customer loyalty shifts based on which organizations can best meet their needs.
To deliver on these promises to your customers, it is critical to unify commerce. An order management system (OMS) is the core of unified commerce and lays the foundation for omnichannel success.
The Evolution of Omnichannel
In today's retail environment, meeting customer expectations can be quite a challenge. Optimally managing orders across demand and inventory sources is no easy feat and takes a commitment to a customer-centric approach and the right enabling technology. Let's consider some of the expectations your customer has. They're not a low-bar!
"Dear Retailer/Distributor,

I'd like this item, with these attributes, available in this CHANNEL and in my hands when I need it. Exactly how I ordered it. Please make the entire process as EASY, seamless, convenient and FAST as possible, regardless of channel, even if I want to RETURN your item.

Sincerely,

Jane B Happy"
How are you doing meeting these expectations? Enterprise organizations have myriad challenges ahead in the face of digital transformation, none more important than this – being able to make a promise, and then deliver on it, to meet your customers' expectations.
Everyone knows that succeeding in your omnichannel strategy is a key driver of competitive advantage. But is it really about channels?
Channels bring the risk of siloed teams and operations. Focusing too much on omnichannel can potentially dilute your strategy by arbitrarily being everywhere and nowhere at the same time. In omnichannel, there is no single version of the truth.
The reality is that channels will always exist. It's critical to be able to manage orders from any demand source through the preferential fulfillment option that balances service to the customer and cost to you.
How will you execute your omnichannel strategy? According to Steve Dennis,

"Customers care about experiences, about solutions, about shopping with ease and simplicity. At the risk of advocating another buzzphrase 'unified commerce' is far more descriptive of what needs to happen than 'omnichannel.' All channels never suggested a meaningful consumer benefit. And it never will."

(Follow Steve @StevenPDennis)

So perhaps the better question is: how will you unify commerce to seamlessly deliver on your customers' expectations?
What is Unified Commerce?
Unified commerce refers to a customer-centric approach to commerce, one where customers enjoy a seamless customer experience, no matter the channel. It's the direction the retail industry is moving and the next evolution of omnichannel. By 2020, 81% of retailers plan to be utilizing a unified commerce platform.
To enable unified commerce and deliver on customer expectations, a middleware layer of software is needed that allows omnichannel retailers to rapidly integrate all customer touchpoints to obtain a single source of truth.
A unified commerce platform allows omnichannel retailers to route orders from any demand source (eCommerce, Point of Sale, EDI, Marketplaces, Call Center) and optimally orchestrate orders through integrating software that maintains a single source of truth across attributes (customer, item, inventory, order, payment, fulfillment).
Any unified commerce platform worth its salt will be able to determine the appropriate fulfillment channel based on a variety of factors, balancing both service and cost. The backbone of a flexible unified commerce platform is an order management system.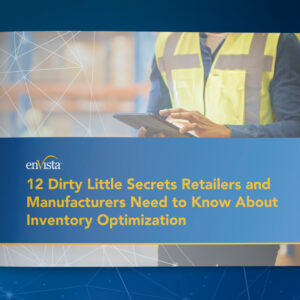 White Paper
Get the low-down on the secrets retailers and manufacturers need to know about inventory optimization.
Download
What is an Order Management System?
Order management systems allow omnichannel retailers to obtain a single source of truth across customer, inventory, financial, and supply chain touchpoints. This ultimately enables businesses to keep their promises to their customers and deliver a seamless customer experience.
Order management software is the workhorse of a unified commerce platform. As Ken Morris of Boston Retail Partners states in eMarketer:

"50 years ago, retailers made a decision to decentralize point of sale (POS) because of a lack of network technology. The networks at the time weren't redundant, they weren't fast enough, and they were too expensive to connect. When we talk about unified commerce, it's bringing that all together in real time."

OMS is the new POS. It's now possible to have a cost-effective way to connect all the dots and right the challenges brought about by decentralized POS systems by making all critical data and order management centralized. This centralization and unification of commerce capabilities is what an order management system achieves for you.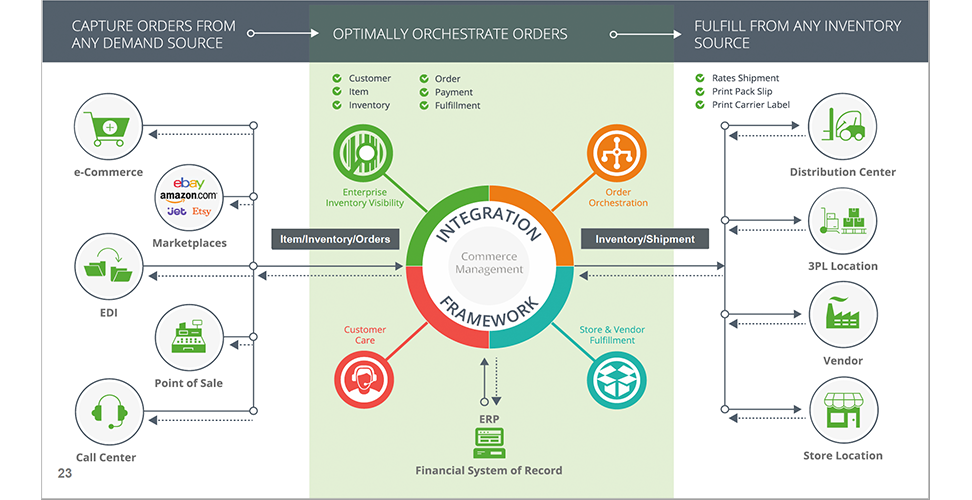 Order Management vs. Inventory Management
What's the difference between order management and inventory management? Inventory management is a critical function of any optimized supply chain. From a business perspective, the worst investment is inventory that doesn't move or isn't available to be leveraged because of a lack of technological integration. Firms want to increase their throughput, so they can put their inventory to work and generate revenue.
Inventory management includes managing procurement to maintain appropriate levels of stock, storing inventory, and controlling the amount of product available for sale.
Order management is more comprehensive and influences inventory management. In fact, an order management system makes inventory management less of a headache and provides actionable data that can help your procurement team be more efficient as well as expose additional stored inventory for sale across DC, store, vendor, or 3PL locations.
5 Signs It's Time for an Order Management System
With that foundation laid, how do you know when to begin evaluating your need for an order management system? These 5 signs are tell-tale of omnichannel pain points that can be overcome with a cloud-based order management system.
Your order fulfillment timelines are not meeting customer expectations and your fulfillment costs are running high.
You experience data challenges because there is no single view of the customer, inventory, order, item and payment across the enterprise.
You don't have inventory visibility across all stores, distribution centers, vendors, and 3PL suppliers. 
You can't currently execute omnichannel fulfillment strategies, such as ship from store, BOPIS (buy online pick-up in store) or vendor drop ship.
You lack a rule-based order orchestration capability and 360-degree view of order history.
Conclusion: OMS Evaluation, Selection, and Implementation
Not all cloud-based order management systems are created equal. Most solutions aren't built and delivered on a single platform. The ability to balance both service and cost are key to finding an OMS solution that meets your specific needs and provides flexibility to adapt to ever-shifting demand.
If you're ready to take the next step in your omnichannel journey and move into the future with confidence, we can help you select and implement the best OMS to meet your unified commerce goals.