It's hard to believe that it has been over two years since COVID-19 first emerged and began to spread like wildfire. In December 2019, the coronavirus had begun to surface in Wuhan, China. As the virus began to spread beyond China's boarders and infect people on an international scale, the world braced for impact, unsure of what scale of disruption it would have on daily lives.
In evaluating how COVID-19 has changed everyday circumstances across the globe, including travel bans, quarantines and supply chain shortages, it is important to note what the root of much of these changes has been trade. The exchange of goods between countries at the start of 2020 was brought to almost a screeching halt, given unfamiliar restrictions and circumstances brought on by the rapidly developing pandemic. In this blog, we will explore how the global airfreight industry has survived and whether it will be enough to keep up with increasing demand of consumers across the globe.
Looking Back
Beginning in February 2020, many countries introduced travel restrictions to mitigate the spread of COVID-19. These restrictions halted the majority of passenger air travel and as a result, the volume of passenger air travel in the U.S. went from 78.7 million in February 2020 to 3.0 million in April 2020. Before the pandemic, belly cargo of passenger flights accounted for more than 60 percent of global air freight. By December of 2020, belly cargo accounted for only about 30 percent of global air freight. The reduction of passenger air travel caused global air freight volume to plummet 28 percent year on year in April 2020, and subsequently caused air freight rates to rise.
It is also worth noting that newly adopted COVID-19 procedures caused significant delays even for dedicated freighters, which accounted for the other 40 percent of global air freight before the pandemic. Airport closures became common in China, with some suspending import cargo altogether or grounding flights. At the Dalian Airport in China, imported cargo was even required to be quarantined for 24 hours before it was handled. Though this airport transports much smaller volumes than Hong Kong airport, it is still significant that COVID-19 restrictions added an extra day of transit time to air cargo. Even at Hong Kong, the world's #2 cargo airport, faced challenges after intense COVID-19 restrictions caused partners like FedEx to shift their pilot crew to other nearby airports. The pandemic put airports in a difficult position, where complying with restrictions was up against keeping up with increasing airfreight demand.
Fortunately, large airlines were able to adapt with some respect in terms of repurposing their passenger planes. With these planes grounded, airlines had to be creative to think of a solution for converting these passenger planes into dedicated freighters. There were unimaginable amounts of passenger planes standing still, and the airlines were going to do whatever it takes to get them in the air. Finnair was one of the first European airlines to add to its air freight capacity by removing economy-class seats in their aircraft. They removed the seat covers and cushions, and then strapped packages on top of the seats and below them. This process is straightforward, taking about a day to convert each aircraft. Other airlines took a more intensive approach to repurposing their aircraft to capitalize on the opportunity. These airlines completely gutted the interior of their aircraft, allowing for a lot more cargo capacity to transport goods like personal protective equipment for essential workers to use during the pandemic.
Key Takeaways
The COVID-19 restrictions impacted global air freight more than anyone could imagine. With the lack of passenger flights, airlines needed to find ways to keep their aircraft in the air and prevent financial disaster. Whether it was converting passenger aircraft to dedicated freighters or using their aircraft to transport medical supplies, airlines found new ways to keep their aircraft in the air.
Future Trends
Despite the rollercoaster ride that the global airfreight industry has experienced since COVID, research indicates that the flexibility of airlines to adapt will prove prosperous in the end. Airlines with "cargo-diversified revenue streams" have been able to skirt the worst effects of the pandemic and come out on top. The pandemic has opened even more doors for ecommerce, highlighting the importance of fast transit times to been growing consumer demand. Some estimate that the pandemic may have accelerated the transition to more global ecommerce by about five years. In addition to the prediction of the rise of ecommerce, the air cargo industry can likely expect a shift toward increased cargo capacity. As mentioned, the pandemic has introduced several restrictions and protocols that must be followed in order to transport goods and people. It is likely that the global airfreight industry will see an increase in inspections or cross border patrols, especially for sensitive medical cargo.
Conclusion
The global airfreight should prepare for these trends by creating financial stability to diversify their fleets and prepare for uncertainty of the pandemic in the future. Airlines are doing this now in order to stay afloat during COVID-19. If passenger airlines keep acquiring more dedicated freighters, they can keep these aircraft in the air when passenger flights are low. There have been reductions of some guidelines that govern how much cargo can be stored in passenger cabins on flights. Airlines could capitalize on this by bringing back "combi" flights, splitting the cabin with passengers and cargo. If they continue to diversify, they will be better suited for global disasters in the future.
While the pandemic gave the airline industry a run for its money, those players who have survived have been flexible and adaptable in their pursuit to stay afloat. Keeping up with increasing ecommerce demand, transitioning passenger planes to cargo planes, and staying on top of new pandemic protocols will need to be top of mind. For those that can do this, the future is bright.
enVista's transportation consulting experts bring unparalleled expertise in designing and implementing transportation solutions, managing transportation operations and analyzing business data. Contact us today to help drive cost savings to the bottom line while maintaining or improving service in today's complex transportation environment.
About The Author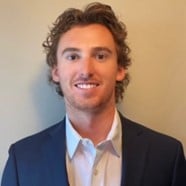 Jack Martin is an Associate Consultant at enVista where he focuses on client management, project management and solutions delivery for a variety of customers in supply chain.