How Shipping Companies Can Reduce Carbon Emissions
Climate change is one of the key issues corporations are working to address in 2020, as it permeates world-wide discussions. Earlier this year, Larry Fink, CEO of the world's largest asset management corporation BlackRock, sent a letter to executives around the globe signaling that companies who are looking to gain or retain BlackRock's investment must take action to reduce their carbon emissions. Beyond corporate responsibility, Fink and others are recognizing that sustainable corporate policies and profitability are not mutually exclusive.
Many top companies have already committed to taking significant steps towards long-term sustainability, with a 2019 study finding that 23% of Fortune 500 companies have public commitments to be carbon neutral, use 100% renewable energy, or meet a science-based emissions reduction target by 2030. However, these companies will not be able to meet their targets without focusing their attention on transportation and supply chain. Why? Because freight transport accounts for 16% of corporate greenhouse gas emissions in the United States, according to the Environmental Defense Fund.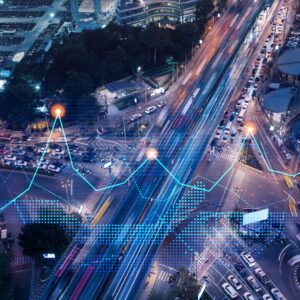 White Paper
Gain insight into strategic vs. tactical sourcing and how placing transportation procurement into these categories can reduce the complexity.
Download
4 Strategies to Reduce Overall Transportation Carbon Emissions
With this in mind, how can companies adjust shipping practices to reduce their overall carbon emissions? The following are four key strategies, promoted by the Environmental Defense Fund (EDF), companies can implement to reduce their overall carbon emissions:
1. Utilize the Most Carbon Efficient Shipment Methods:
Global transportation networks are continuing on the path towards faster deliveries, but this is in direct contrast with what is best for the environment. In order to speed up networks, shippers are moving more of their volume via air transport, which is the most carbon inefficient mode of transportation. To minimize global carbon emissions, shippers need to prioritize environmental impact over network speed. Some examples of modal/service level shifts to reduce carbon emissions are shown below:
Air Freight Import/Export (Inefficient) → Ocean Import/Export (Efficient)
Continental US Air Freight (Inefficient) → Intermodal, LTL/TL (Efficient)
Express Air Parcel Shipments (Inefficient) → Ground Parcel Shipments (Efficient)
2. Design a Carbon Efficient Network
Many shippers rely upon either a singular distribution center or coastal distribution centers to fulfill their shipments. This causes shippers to often rely upon air shipments to meet service commitment in the middle of the country. A carbon efficient network has distribution centers and warehouses located near high volume centers to allow for the most carbon efficient service levels and modes to be selected, and to reduce the mileage traveled per shipment.
3. Consolidate Shipments
Another way to reduce carbon emissions is to reduce the total number of shipments manifested, which can be achieved through shipment consolidation. One example of shipment consolidation would be a shipper holding an LTL shipment scheduled for the beginning of the week to be consolidated with another shipment to the same area later in the week.
4. Pack Trailers/Containers Fully & Efficiently
Taking principles from the above consolidation strategy, shippers need to ensure each truck leaving their distribution center is packed fully and efficiently. This is achieved through consolidation and effective loading practices. Shippers can side-load their pallets and add up to four additional pallets, depending on truck and pallet size.
Improve Your Transportation Sustainability
enVista has a long tradition of helping companies promote sustainability while increasing profitability within supply chains. In April of 2020, enVista was awarded a Green Supply Chain Award for the eighth consecutive year by Supply & Demand Chain Executive.
As the leading global freight audit and payment provider, enVista is committed to helping our customers meet their transportation and logistics sustainability goals, which is why we are excited to now offer Global Carbon Emissions reporting for shippers across all transportation modes. This reporting provides shippers with detailed reporting and analytics corresponding to key carbon emissions and sustainability metrics in a way that is standards-aligned and actionable. Let's have a conversation.TM