enVista is a Microsoft Gold Certified Partner with unmatched supply chain consulting, process improvement and technical/functional expertise for a broad array of platform solutions and business productivity applications and collaboration tools. We uniquely enable manufacturing, distribution-centric, financial services and non-profit organizations to address their IT and business requirements, from source to consumption. Users of Microsoft business solutions will especially benefit from a single partner that can address all of their ERP, CRM, business collaboration and productivity, and IT requirements, including cloud and managed hosting services.
As a leading Microsoft partner, we know it's no secret that implementing solutions can be complicated and costly. That's why it is especially important to engage the right implementation partner. enVista's years of experience with Microsoft and Fortune 500 companies helps mitigate your risk by delivering solutions on time and on budget while producing results that are on target with your goals.
enVista's Dynamics AX Custom Enhancements
In addition to implementing the entire suite of Microsoft business solutions, enVista consultants are also experts in implementing and supporting Microsoft's enterprise resource planning system, Microsoft Dynamics AX (Dynamics AX). Dynamics AX is a comprehensive, multisite, multi-currency global business management solution. It automates and streamlines business processes and information flow across finance, sales and marketing, HR, manufacturing, and distribution to enhance revenue and reduce costs. The system also provides the flexibility necessary to adjust and grow with changing business requirements.
From enVista's vast experience implementing Dynamics AX, enVista identified several gaps in the system. To address these gaps and provide a more complete solution for clients, enVista developed the following proprietary software solutions that enhance the Dynamics AX solution:
Enhanced Integration Framework
Designed as enVista's flagship product to solve integration implementation issues between Dynamics AX and external systems, enHanced Integration Framework (EIF) provides the flexibility to configure, execute and manage custom integrations and has the capability to facilitate error processing and exception handling. EIF supports a multitude of third party systems, and enVista has developed integrations for the following:
Warehouse Management (Manhattan Associates SCALE, HighJump WMS)
3PL (KaneIsAble, XPO, Deret Logistics)
Order Management
Product Information Management • Electronic Data Interchange (B2BMailbox)
Retail Point of Sale • Transportation Management (MercuryGate)
Labor Management (enCompass – enVista's LMS solution)
e-Commerce/Online Stores (Spree, Magento)
Payroll Services
Voice Picking and Pick to Light systems (Honeywell Vocollect, Lightning Pick)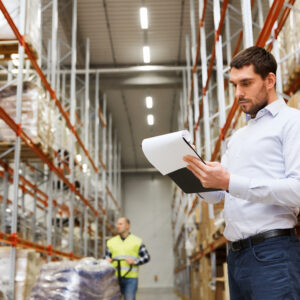 White Paper
Make the most of Microsoft Dynamics 365's Advanced Warehousing module and gain insight into the hidden treasures to unlock value.
Download
Enhanced Notes
Provides Dynamics AX users with more robust note and attachment functionality. enHanced Notes streamlines operations with powerful document propagation that works alongside existing print functionality in Dynamics AX. enHanced Notes can also be used to create custom messages for email invoices.
Enhanced Labels
Provides the ability to create custom labels that Dynamics AX cannot create. enVista understands that companies have unique labeling requirements that demand robust functionality around scenarios that are site and item specific. enHanced Labels allows for customer overrides, quantity overrides, and printer overrides. enHanced Labels is compatible with both the Dynamics AX simple and advanced warehousing modules. Users are able to build label templates in familiar programs such as BarTender and Loftware to satisfy their operating needs.
Carrier Rating Engine
Can be used with UPS or FedEx to gain visibility to all shipments. The Carrier Rating Engine connects directly via web call to UPS and FedEx and gets the tracking, costing, and label printing information for each shipment. This allows a company to directly track its packages and what is in each package. Because the company has all of the shipping data, it can also easily audit shipping charges.
Trade Agreement Imports
Provides Dynamics AX end users an easy to use tool to create and import trade agreement records. Following an easy to understand format, the tool allows users to use Microsoft Excel to create trade agreement records to be imported. Microsoft Excel files are then imported into Dynamics AX with a simple wizard, eliminating the often time-consuming and costly manual processes needed to create or migrate trade agreement data.
Cores
Manages items with cores, specifically for the automotive industry. Cores takes into account if an item has as a core, what the core is, processes the core in conjunction with the inbound purchase order and outbound sales order and can receive the core back into the system and process it separately from the main item if the core is returned. Cores also allows for automatic revenue recognition, so when an item is sold that has a core, there is a charge for both the main item and the core; however, the entire item is processed as a single item. This allows the seller to track the revenue for both the main part and the core and then request vendor refunds, which are systematically separated from clean cores, for the value of the cores returned.
With enVista, Microsoft users benefit from a single partner that can address all of their implementation and support needs across the entire Microsoft platform, including: CRM, Business Intelligence, Office 365, Azure, and Sharepoint. Learn more about enVista's Microsoft Business Solutions.