Your company is considering a new warehouse management application to support more efficient and detailed inventory control. As you identify areas to cost-justify this capital expenditure, history and experience point you towards several logical, high-probability areas of savings including:
Reduced Warehouse Labor Headcount
Improved Inventory Accuracy
Reduction in Shrink and Reduction in Expired Products
Improved Order Accuracy
Reduced Outbound Transportation Costs
Reduced Returns Handling Cost
But have you considered the labor and information technology support (internal or external) currently required to support your HOST Enterprise Solution acting as an ad-hoc warehouse management system? If the answer is no, then you are like most organizations embarking on this initiative. Coincidentally, you may have additional savings areas available to your organization to help support this new initiative while streamlining your enterprise solution in the process.
The natural evolution of start-up or small to mid-size organizations is to minimize the information technology investments required to properly support their organization once it is established. Accordingly, these companies typically opt for simple all-in-one applications that have some functionality to support all required business functions without specializing in any one area. In the past, I've seen applications such as Sage, Lawson, JBA, Great Plains, eCommetry, JD Edwards, and Blue Cherry as logical starting-point solutions for companies needing support for standard business functions, such as:
Sales Order Entry and Management
Purchase Order Entry and Management
On-Hand Inventory Visibility and Management
Financials
Statistical Reporting
Specific to On-Hand Inventory Visibility and Management, the systems listed above will typically provide their users with some basic ability to track available inventory across the company's network and in some cases, providing a way to segment the inventory into physical (e.g. a specific warehouse or storage racking location within a warehouse) or logical locations (e.g. receiving dock, quality control area, returns area, primary picking area, reserve storage area).
Unfortunately, as these companies require a more discrete process to manage and process a variety of items in different unit of measure handling units, these simple all-in-one applications tend to fall short of supporting this flexibility and variety; this leads companies to either modify these applications to support this specific functionality or support a sub-optimal, heavily manual operation.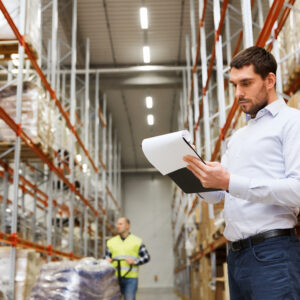 White Paper
Make the most of Microsoft Dynamics 365's Advanced Warehousing module and gain insight into the hidden treasures to unlock value.
Download
As an example, a customer recently was asked to manage their current items in multiple units of measure (pallet, case, and pieces) in order to support their customer and marketing requirements. The customer determined that they needed to physically separate the item by unit of measure into different locations. Unfortunately, their current all-in-one application could only support assigning the same item to one location.
Ultimately, the customer decided to permanently assign each item to a fixed location within each area and label the locations in item sequence to easily identify each item. Keep in mind that there can be as many as three physical locations with the same identification within the customer's facility; when the customer queries the on-hand inventory count for this item, the customer's all-in-one HOST application will show the aggregate quantity of all three physical locations.
The customer further decided to modify their all-in-one application to identify the amount of quantity for each item by unit of measure (and warehouse area) on the order pick list. The customer would then print multiple copies of the order pick list requiring an order entry clerk to physically separate the pick lists by physical warehouse area and highlight the quantity to be picked within those physical warehouse areas. With the introduction of a best-of-breed warehouse management system for this client, the following savings and simplicity to their all-in-one HOST application are realized:
On-hand inventory is truly summarized in aggregate by item, independent of physically where the item is warehoused.
There are fewer locations managed in the all-in-one application.
The Order Pick List modification to detail item quantity by unit of measure is eliminated.
Order Pick Lists, in triplicate, are no longer being generated.
Manual labor required sorting Pick Lists and highlighting quantities by specific functional area.
In another example, a customer was required to support several value added services (VAS) such as special labeling, country of destination documentation, and the capture of electronic product serial numbers. With their current process and systems, the customer modified their all-in-one application to generate special nomenclature on the inbound receiving documentation to identify each of the VAS requirements for the associated items.
The challenge with this process and ultimate enhancement to the customer's all-in-one application is that it requires manual data entry to record the VAS workflow, as well as manual interaction with the inbound receiving document, both of which qualify as non-value-added labor for this customer to support a process that is still prone to error and mistakes.
Once again, the introduction of a best-of-breed warehouse management system for this client can help drive the following savings and simplicity to the customer's all-in-one HOST application:
User-defined fields within the customer all-in-one application can be eliminated in exchange for workflow setup within the best of breed WMS.
Manual data entry and look-up of all VAS related to an order or items assigned to the order within the all-in-one application is eliminated.
Manual data entry to record all VAS tied to an order or items assigned to the order within the all-in-one application is eliminated.
Use the previous two examples of simplifying an all-in-one HOST application to understand how these savings could help justify your best of breed WMS project as well as simplify your all-in-one application, making it more cost-effective and timely to upgrade this application sometime in the future.
Learn more about