Is customer self-service coming to a fast food or fine dining restaurant near you? There are several initiatives underway with a few major, highly influential restaurant chains that will allow consumers to use a smart phone or tablet device to order food, confirm order preparation, pay for orders and provide feedback or endorse their experience, all without the need to interact with a restaurant employee. Patrons of the Golden Arches as well as those that prefer to "Eat More Chicken" will soon be able to support a completely independent dining experience, thus maximizing their time and convenience.
Customer Self-Service of the Future
NCR, the global technology leader in self-service solutions for ATM machines and software, POS systems and software and airline check-in systems believes the days of restaurant point of sale applications may be diminishing and are placing their research and development effort into software applications to support customer self-service experiences of the future. Image the following scenario in the future at your favorite fast food restaurant:
You log into a smart-phone app specific to your favorite fast food restaurant and presented with the following options:

Review the local locations for this restaurant based upon your current location, or select your favorite restaurant location with the touch of a button.
Review the available menu items supplied by the local restaurant locations or choose a pre-selected favorite menu combination with the touch of a button.
Review past orders placed at this restaurant.
Review the open balance available in a pre-paid account specific to this restaurant.
Review recent reviews from other consumers posted via Facebook or Twitter.

You decide to engage in an order with this restaurant and execute the following tasks via the same restaurant smart-phone app:

Select the items for an order, including any personalized requests.
Confirm your order pick up data and time, as well as confirm that the restaurant received your order and that it will be ready at your requested date and time.
Pay for the order from money available in a pre-paid account or transacted directly from your bank account via a debit transaction.

You now drive to the restaurant to pick-up your order using one of several mediums:

You walk into the restaurant and pick-up your order as referenced by your smart-phone app.
You use an express drive-thru window designed for pick-up of online orders not placed thru the conventional drive-thru window.
You pull up into one of several pick-up parking spots and acknowledge you are ready to receive your order. A restaurant host/hostess brings your order to your specific spot and you are on your way. NOTE: This model could be similar to modern day Sonic drive-up, A&W restaurants of yesteryear or The Varsity for those in Atlanta, like me.
Imagine the conveniences and headache savers this type of fast-food restaurant experience would create:
If you have ever had to be the "spokesperson" among your family or friends at a drive-thru station (aka Designated Driver) and have had to master the art of listening to your fellow passengers' orders while relaying them quickly and perfectly into the drive-thru microphone that is always too far away, this is the app experience for you. A single smart phone is app is simply passed quietly and effortlessly among your vehicle passengers and handed back to you for completion of your order (not while driving of course) and you head to pick-up, without ever having to lower the radio volume.
Avoiding the inaudible crackling of the drive-thru speaker and hoping and praying your order was received properly and nothing is missing (Joe Pesci's character in Lethal Weapon 2 has a very apropos and thought-provoking advice for his fellow vehicle passengers that we can all relate to).
The multi-order, everyone is a separately paying customer in front of you, usually in a Subway line-need I say more?
Never leave your car in inclement weather.
Solve the potential issue of two siblings wanting food from different nearby restaurants while the "spokesperson" refuses to duplicate their painful experience; they simply order from each respective restaurant app and you pick-up and go within minimal delay.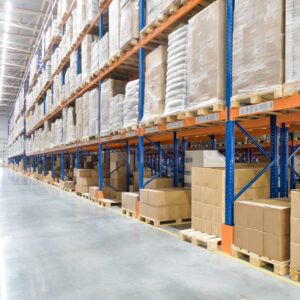 White Paper
A well-thought-out slotting strategy also enables businesses to minimize wasted space and maximize storage capacity within the warehouse. Increase ROI using the right tools, strategy and management plan with successful warehouse slotting.
Download
Not Just for Fast Food
The convenience of self-service ordering doesn't have to be limited to a fast food restaurant; fine-dining experiences could also be significantly enhanced thru the use of a smart-app or tablet device after you have been seated.
Glance at the menu on your schedule and click on images of prospective dishes to visualize the final chef creation.
Daily specials are also available in this same visual format so you don't have to remember all of the details described by your waiter or waitress.
Validate ingredients used in the dish and to prepare so that your food allergies don't ruin a nice dining experience.
Order each course on your schedule, especially if hosting a large party for a business or family function.
Can't decide between two tempting culinary dishes? Click on the latest reviews of each dish from your friends via Facebook or Twitter to help you decide or search your past experiences at this restaurant to assist with your decision.
Not a wine-connoisseur and want to pick the perfect paring with your meal, get assistance from your smart-app wine selector, including saved preferences from your friends who excel at this type of decision-making.
Avoid the "disappearing waiter/waitress" scenario by signaling for assistance directly from your smart app, including alerting the manager on duty if necessary, to get assistance with your meal or show appreciation to the chef.
Win-Win for Restaurants & Patrons
The conveniences for the consumer are obvious, but what is in it for the restaurant chain? We are a society transcending to conveniences, regardless of whether driven by the need to do more in less time or simple laziness. Twenty years ago, most transactions at fast food restaurants were paid for in cash; now every restaurant accepts credit card, debit card, or smart app scanning for payment. The cost to serve the consumer by the restaurant will go down significantly under this self-service model as restaurant associates move from behind the counter or in the kitchen to out on the floor supporting their customer's dining experience. The point of sale (POS) station and supporting software also is reduced or eliminated in exchange for smart app software that communicates directly with the kitchen, not a server who then communicates with the kitchen and may be responsible for fulfilling your order. Finally, the restaurant will begin to learn about their consumers through social interaction and buying profiles. Restaurants offering loyalty cards have been doing this for years to better understand buying habits and patterns of their consumers.
Restaurants can now charge a premium for extra customer service (i.e. walk-up ordering and manual payment transactions) to offset their costs. The banking industry has been supporting this model for years. I recently setup a checking/debit account for my teenager so that he could begin to manage his own money. The bank we chose offered no monthly charges for this convenience EXCEPT if he comes inside and interacts with a teller to deposit or withdraw money. As long as he uses his smart phone app or the ATM, he will not be charged any additional fees.
I see this model as a win-win for consumers and restaurants alike moving forward. What are your thoughts?