Rapidly deploy tactical initiatives to save money, improve service levels, and compete.
On February 17, 2020, enVista had the pleasure of speaking amongst hundreds of supply chain professionals at the Omnitracs Outlook Conference, where we kicked off the morning with a presentation on trends in transportation management. This was a discussion, not about the mega-trends or macro-economic forces, but rather internal IT, operational, and tactical initiatives that clients are deploying to save money, improve service levels, and compete with their rapidly changing supply chains. We presented on seven trends: Visibility Application, Traceability, Transformations, Master Data Management, Integration, Final Mile Evolution, and Fleet-for-Hire & Backhaul.
Little did we know, some of these trends would be lifelines for companies during this time of uncertainty. Across all industries, companies are acting fast to determine how to properly react and respond to COVID-19. While each of the seven trends previously mentioned can be leveraged to support company resilience, this blog will explore the four trends we at enVista find to be the most urgent.
It is important to understand that a one-size-fits-all approach to recovery does not exist. Some companies are thriving in today's coronavirus economy, while others are doing their best to stay afloat. Based on your company's current operational and financial state, you should be able to assess the extent to which you can leverage the opportunities associated with these trends.
Visibility Applications
Companies can only recover from the damages they are aware of. Without visibility to the entire network, companies are in the dark about the origin of their problems and associated causes. Visibility applications will provide the insight leadership needs to adequately plan ahead and make informed decisions.
Visibility helps answer: "Where is my stuff?!" More important now than ever, visibility to supplier locations and freight movements (on the inbound side) allows for companies to predict lead times and set expectations for inbound receiving and outbound deliveries. The ability to manage customer expectations goes a long way, especially in the unprecedented situation we face today.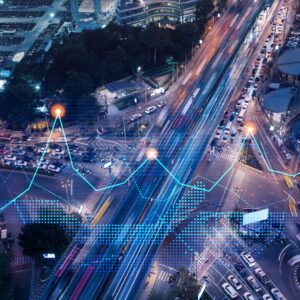 White Paper
Gain insight into strategic vs. tactical sourcing and how placing transportation procurement into these categories can reduce the complexity.
Download
Several companies have brought visibility applications to market. Fortunately, the dropping cost of technology and bandwidth are making these investments more realistic. This, coupled with a justified perception of high value to shippers, has led to rapid innovation. One leader in this realm, FourKites, is taking visibility a step further with its new feature, Network Visibility. They have expanded their platform to offer insights on all freight, regardless of the party responsible for payment, collecting real-time location data from ELD providers like Omnitracs. Most shippers using visibility applications are limited to location data only for managed freight, making this feature a significant upgrade.
Transformations
Achieving total supply network visibility is next to impossible without digital transformation. By now nearly all companies have engaged in a transformation of some sort, irrespective of complexity. Digital transformations are driven by the seamless intersection of people and technologies that streamline business processes. The term digital transformation comes across intimidating to some, but in today's digital world the short and long-term benefits are unmatched. COVID-19 has changed business models and supply chain processes in unforeseen ways.
To keep up with the changes in demand, companies need to pivot. The biggest mistake a company could make, is to upgrade an operational process, but fail to support that process change with the right technology (and vice versa). Prior to moving forward with transformation, organizational roles and leadership positions will likely need restructuring to ensure a successful rollout. Consultants generally play the role of the translator between IT and business, but that is only temporary. Long-term, in-house expertise will be the deciding factor that locks in success.
Final Mile Evolution
Final mile delivery was already the fastest growing fleet segment prior to the COVID-19 outbreak. Now, with the enforcement of stay at home orders across the U.S. and other countries, it is growing even more rapidly than before. Essential businesses should be capitalizing on final mile capabilities immediately to maintain customer satisfaction and satisfy demand. One example is Baldor Foods, a business-to-business foodservice and wholesaler of produce, meats, and fine foods. One week into the pandemic in New York, Baldor Foods launched direct-to-consumer (DTC) to replace the decrease in restaurant and hotel demand. This is a substantial shift in its go-to-market strategy, but the business was able to do so because of its supply chain agility. It is also advisable for companies experiencing pain points right now to still be developing plans to move into final mile delivery, where applicable, and as soon as possible. Given the latest developments, it is safe to assume DTC delivery will soon become the new norm.
Keep in mind, the evolution of final mile had already begun prior to the virus. Modern consumers are ordering larger quantities and larger sized items to their homes more now than ever before. Shippers and service providers must continue to evolve alongside consumers to stay competitive. After all, final mile technology is changing everything we know about deliveries, from equipment requirements, to driver skillsets, and even urban planning and development.
Fleet-for-Hire & Backhaul
Fleet-for-hire and backhaul capabilities are not a new concept. Both opportunities strive to reduce the number of empty miles, meaning miles traveled without generating income. Fleet-for-hire suggests a preferred carrier (PF), or dedicated contract carrier (DCC), picks up another shipper's freight and delivers it for a price. Backhauling occurs when a PF/DCC hauls freight, possibly from another shipper, from their final delivery destination back to the truck's origin in an effort to reduce costs.
Regardless of the operational and financial state of your business, think of how you can deploy fleet-for-hire and backhaul opportunities into your operations. For struggling businesses or those lacking demand, this will expose a tremendous cost and revenue benefit by maintaining utilization. On the reverse side of this, thriving businesses will take advantage of the immediate access to capacity presented by this opportunity. This approach requires a different mindset towards distribution and transportation. Rather than being solely store/customer focused, delivery teams evolve to become entrepreneurial by selling solutions to trading partners and new customers alike.
Stay Up-to-Date with the Latest Trends in Transportation
In response COVID-19, companies must stay up-to-date with the latest trends in transportation to remain competitive. In addition to the four trends covered in this article, leaders across all industries should prepare for the emergence of new processes and procedures regarding the health and welfare of employees. This includes revised warehouse operating procedures, sanitation measures, as well as detailed employee and customer protocol. Now is the time to consider how we can break our habits, improve processes, and ultimately achieve operational success in this new normal.