On Tuesday, March 23, 2021, a cargo ship became wedged in the Suez Canal near Suez, Egypt, halting marine traffic from one of the busiest waterways in the world. The 224,000-ton vessel measuring nearly four football fields in length, suffered poor weather conditions including 40-knot winds and a sandstorm that caused low visibility. Attempts to refloat the vessel, called Ever Given, in the following days were unsuccessful and authorities are now focused on removing sand and mud surrounding the ship. It is estimated the dislodgement could take anywhere from days to weeks.
A Heightening Marine Traffic Jam
In the meantime, the cargo ship has continued to block the waterway, creating a bottleneck of at least 160 vessels carrying vital fuel and cargo in both directions, a number that continues to grow. Producing one of the worst jams seen in years, ships coming from different directions have had to anchor in various waiting areas in the Great Bitter Lake, Red Sea and Mediterranean. Others have been forced to re-route, adding a significantly amount of travel time to their journeys.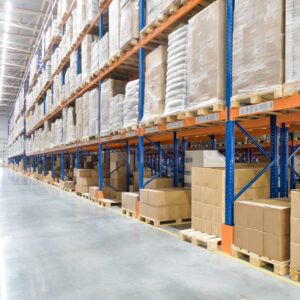 White Paper
A well-thought-out slotting strategy also enables businesses to minimize wasted space and maximize storage capacity within the warehouse. Increase ROI using the right tools, strategy and management plan with successful warehouse slotting.
Download
What Does this Mean for Supply Chain?
Port congestion across the globe has continued to feel the effects of shifting buyer patterns in the wake of the COVID-19 pandemic and this congestion shows no signs of easing. The Suez Canal spans 120 miles with approximately 30 percent of the world's shipping container volume and 12 percent of total global trade of goods passing through it every day. As each hour passes, shipping losses continue to mount, and the effects blockage will undoubtedly trickle down to consumers across the globe in the form of shipping delays. This blockage simply adds more congestion to already chronically gridlocked ports.
"The current Suez Canal blockage adds yet another challenge to supply chain reliability on top of ongoing port congestion, tariff changes, weather disruptions and supplier reliability issues," said Nate Rosier, Senior Vice President of Consulting at enVista. "This increasing volatility adds complexity to planning and managing global supply chains beyond most firms' capabilities. To compete in the future, firms must place a priority on supply chain flexibility and resilience to proactively adjust to volatility and disruptions."
Follow enVista on LinkedIn to stay in-the-know on the latest happenings in the industry, including thought leadership insights surrounding supply chain, transportation, omnichannel, technology and more. Learn about enVista's supply chain resilience services.
About Nate Rosier

An eight-year veteran of enVista, Nate Rosier is the Senior Vice President of Consulting, with a focus on developing strategies to increase profitability, reduce expenses and improve customers' competitive position. He brings over 25 years of experience in supply chain consulting and strategy, corporate strategy and operations.