On Thursday, May 6, 2021, Colonial Pipeline Co., one of the largest U.S. refined products pipeline systems, was the victim of a ransomware attack with nearly 100 gigabytes of data taken hostage. Colonial operates a 5,500-mile pipeline running from Texas to New Jersey, carrying over three million barrels of gasoline, diesel and jet fuel and delivering nearly half of the U.S. East Coast's supply. According to the FBI, the attack was carried out by a group of hackers and veteran cyber criminals that have developed ransomware software known as DarkSide. The ransom amount remains undisclosed with threats to leak data to the public unless the ransom is paid.
Gas Supply Chain Disruption Trickles Down to East Coast Motorists
East Coast dwellers have already begun to feel the effects of the cyberattack due to disruptions of fuel transportation. Gas shortages and price increases are expected to be minor over the next few days but could become more substantial if the disruption continues longer than expected. According to USA Today, Virginia, North Carolina, Georgia and South Carolina are experiencing gas station outages ranging from 7.5 percent to 1.7 percent, respectively, as of Tuesday, May 11 based on data from GasBuddy.com.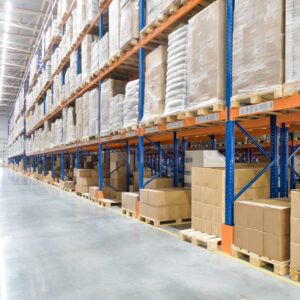 White Paper
A well-thought-out slotting strategy also enables businesses to minimize wasted space and maximize storage capacity within the warehouse. Increase ROI using the right tools, strategy and management plan with successful warehouse slotting.
Download
What Does This Mean for Supply Chain?
Cyberattacks continue to grow, spiking 715 percent year over year, impacting cargo and freight carriers, networks, financials and gas pipelines. It is estimated that cybercrime will globally cost companies an estimated $10.5 trillion annually by 2025, up from $3 trillion in 2015.
The Suez Canal blockage in March 2021 caused a ripple economic effect that is still being felt by brands and consumers today and is estimated to cost $4.5 billion in the upcoming quarter. These supply chain disruptions have brought the importance of cybersecurity, risk mitigation and supply chain visibility front-and-center, along with the reminder that disruption cannot be entirely prevented despite robust technology and safety nets. Rather, organizations must prioritize supply chain flexibility and resilience to proactively adjust to volatility and disruptions.
"The last 14 months have been challenged with ongoing transportation reliability issues. While it isn't clear what the total impact of this shutdown will have to the transportation infrastructure, ongoing and future shutdowns will cause additional disruptions and further reduce reliability. This results in either more stock-outs or the need to invest in additional inventory to hedge against disruption."
– Nate Rosier, Senior Vice President of Consulting at enVista
Follow enVista on LinkedIn to stay in the know on the latest happenings in the industry, including thought leadership insights surrounding supply chain, transportation, omnichannel, technology and more.