Omnichannel retailers require agility to compete and thrive in an industry that is ever-changing. As retailers continue to adapt their network for an omnichannel approach, they are looking for additional areas to enhance the customer experience and offer a broader product assortment. One of the most cost-effective ways to reach these goals is to implement a vendor dropship program. Dropshipping can be a win-win for both retailers and manufacturers through enhanced customer satisfaction, reduction of on-hand inventory and increased sales and productivity.
Evaluating Supply Chain and Organizational Capabilities
Before a retailer starts its journey to enabling its vendors to dropship, you must evaluate the capabilities within supply chain systems as well as organizational capabilities. These systems are both integral to the entire process and can drive success within a dropship implementation, leading to a seamless experience from the vendor to customer.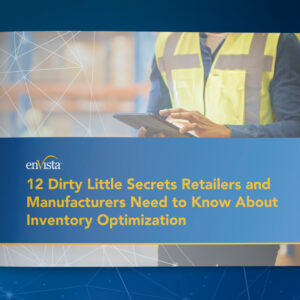 White Paper
Get the low-down on the secrets retailers and manufacturers need to know about inventory optimization.
Download
The Roles of ERP and OMS
Typically, the most successful dropship implementations occur where retailers have an enterprise resource planning (ERP) system and an order management software in place. The ERP manages trade agreements, dropship vendors and the financials of this process, while the OMS facilitates the order by splitting line items between what is to be fulfilled by the retailer versus what is to be fulfilled by the dropship vendor. These are foundational systems to this process.
The Importance of Buy-In Throughout an Organization
Additionally, there needs to be buy-in from the organization at large. A dropship program affects many organizational levels of the company including procurement, merchandising, transportation, operations, customer experience, information systems/technology, finance, ecommerce and possibly others. Having the systems and people in place help drive a successful implementation.
Steps to Successful Rollout Plan
Once you have evaluated and validated internal capabilities, it is time to create a roll out plan for the program. Based on enVista's experience, here are the key steps to roll out a successful dropship program:
Assess the vendor community to gauge their capabilities through a dropship vendor questionnaire
Evaluate potential solution providers to find the best fit and reduce existing manual efforts in conducting a dropship program
Define the service level agreements and build key performance indicators
Negotiate trading partner agreements to understand product costs and evaluate profitability
Build EDI specifications to allow further automation of the dropship process on the vendor side
Define the internal and external integrations to alleviate manual data entry
Select pilot vendors for onboarding to test and stabilize the process
Test the end-to-end process of all critical data flows before and after transitioning to a production environment
Deploy the dropship program to build deeper customer loyalty and increase sales
In addition to the key milestones above, there are two critical components to a successful dropship implementation – communication and integration. Internal and external communication can validate the program in general, while integration ties everything together between internal and external partners that are involved in the process.
See how enVista's Dropship Management solution helped a leading pet supply retailer with over 1,500 stores across North America reduce inventory within their network, as well as the ability to test products without the inventory on hand – expanding its item assortment to include over 13,000 dropship items.