enVista's Gene Bornac, Chief Strategy Officer at enVista, spoke with two leading retailers about successful omnichannel fulfillment strategies, customer experience improvements, technology roadmaps, inventory optimization and more.
The year 2020 was arguably one of the most dynamic and challenging times in history for the retail industry. In tandem with the unusual year, National Retail Federation's NRF 2021 Chapter 1 event was held virtually for the first time, taking place January 12-14, and January 19, 21-22, 2021. Gene Bornac, Chief Strategy Officer at enVista, was joined by two CIOs from multi-million/billion-dollar retail organizations for enVista's Interactive CIO Fireside Chat and Witness Protection Program session at NRF.
The session, which took place on January 13, 2021, entailed an interactive conversation where Gene and participants — whose identities were concealed to protect their identities and trade secrets — discussed how they thrived in 2020 and are positioned to accelerate omnichannel transformation and customer-centric commerce in 2021.
Retailer #1: Chief Information Officer for a multi-national retailer with thousands of locations with over $1 billion in revenue
Retailer #2: Technology Officer for leading health and wellness retailer with thousands of locations globally
In late winter/early spring of 2020 when COVID-19 began to spread across the U.S., it became clear to both retailers that they needed to pivot their operational strategy and accelerate their omnichannel commerce plans as stay-at-home orders and social distancing guidelines were established. With customers turning to online shopping across every vertical, both retailers, which were traditionally focused on their brick-and-mortar locations, realized the need to evolve and accelerate plans quickly to establish omni and unified commerce operations to keep up with volume. In response, multi-year roadmap plans were condensed into short multi-week periods in rolling out new or more robust initiatives, including a new OMS platform, buy online, pick up in store (BOPIS) operations and ship from store strategies to ensure customer and associate safety — while delivering products to customers when they want it, where they want it.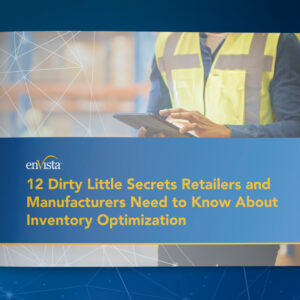 White Paper
Get the low-down on the secrets retailers and manufacturers need to know about inventory optimization.
Download
Both retailers noted that collaboration with key members across their organizations, including leadership, was vital to their success in navigating the challenges that COVID-19 presented. By working cohesively with all levels and areas throughout the business to identify priorities, goals, roles, resources and timelines, both organizations were able to shift and make changes quickly for a swift omnichannel operation implementation.
An unexpected pivot in strategy isn't without its challenges; both retailers are cognizant of tweaks that must be made in 2021 to refine their overall omnichannel strategy due to the fact omnichannel commerce plans were implemented so quickly and ahead of schedule. Additionally, the supply chain industry as a whole is feeling the strain in the increased order volume and will continue to navigate limited carrier capacity, which is likely to continue throughout 2021.
Retailer #1 plans to focus on expanding its customers' omnichannel experience through platforms such as Instacart and refining its curbside pickup strategy this year. Retailer #2 is taking a closer look at the data acquired from the accelerated digital engagement journey over the past six months to start looking at inventory optimization, how to best utilize artificial intelligence (AI), power forecasting, and how to successfully merge personalized customer service associated with physical stores with the digital experience. Despite the challenges 2020 brought, both retailers felt the experience brought them closer to their customers and enabled them to become stronger, more nimble organizations overall.