As online shopping and in-store fulfillment become the new normal for many shoppers across the globe, retailers need to be taking a closer look at their omnichannel fulfillment strategy. The pandemic initiated unprecedented disruption to the nation's supply chains throughout nearly every industry, and the businesses that were able to remain nimble and successfully navigate the challenges presented were prepared with an advanced omnichannel fulfillment strategy. As businesses continue to adapt and advance their omnichannel operations, they must consider their operations holistically, keeping merchandise, technology, store operations and supply chain at top of mind.
Below are the top four tips to keep in mind to ensure success when implementing omnichannel fulfillment.
Increase inventory visibility
Out-of-stock inventory is uncommon, particularly for essential items, and can be detrimental to the in-store customer experience. To combat empty shelves, retailers should embrace technology with robust inventory visibility, with a focus on tracking to know what is in stock at all times. In addition to cross-functional alignments, retailers must unify P&Ls, organizations and technology, as well as stay up-to-date on the latest tracking innovations, such as radio frequency identification (RFID) tags to enable product location tracking. Strategically organizing stock and maximizing space is also essential in a successful in-store pickup strategy.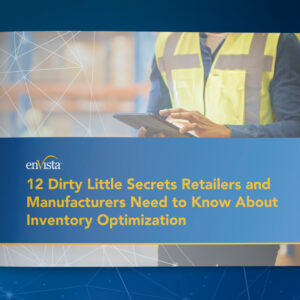 White Paper
Get the low-down on the secrets retailers and manufacturers need to know about inventory optimization.
Download
Optimize the packages per order (PPO) ratio
A high PPO ratio not only creates split shipments, which can impact the customer experience, but it negatively affects overall supply chain efficiency, including labor and increased transportation costs. Ideally, retailers are shipping only one PPO per customer which contains all items. With the introduction of other fulfillment channels such as drop shipping and in-store inventory, a robust order management system (OMS) is vital to strategically leverage inventory closest to the customer and ship in the least amount of packages as possible. This is important in reducing shipping costs because the first pound for each shipment is the most expensive, making it more cost-efficient to ship one package per order.
Enhance the customer experience with technology
Today's consumer places high value on a personalized brand experience, prioritizing convenience, choices, ease of purchase, speed of obtainment and free shipping in choosing what brands they support. Omnichannel fulfillment enables additional opportunities to "wow" customers to create greater brand loyalty and increase their basket size. Innovative technology such as heat mapping, digital store tags, embedded sensors, and help automate the fulfillment function and place emphasis on improving customer service can help enhance customer service levels to create a seamless and pleasant buying experience. This technology now makes it easier than ever to help customers get what they want quickly and efficiently, whether its buy online, pick up in store (BOPIS)/curbside pick up, shipping from a distribution center (DC) or from a store's inventory.
Minimize impact on human capital
When creating an omnichannel fulfillment strategy, it's important to keep in mind the impact the additional work will have on labor and adjust your workforce accordingly. In addition to potential hiring and/or restructuring, proper training is vital to the success of your operations. Tasking brick-and-mortar store employees with fulfilling online orders in addition to tending to in-store customers can create confusion, congestion and a poor customer experience—along with overwhelmed employees.
Implementing a robust omnichannel fulfillment strategy will better position your business for greater flexibility in response to changing market conditions, as well as remain at the forefront of growth by driving opportunity to increase customer satisfaction.
If you're ready to accelerate your omnichannel transformation, let's have a conversation™ or explore our unified commerce platform. We can serve as a resource and partner to you, whether you're just starting the journey or are already well on your way.