Facility design is a major component of a business's overall strategy, serving two main purposes: to maximize effectiveness of products and its workforce. In order to obtain an optimum facility design, it takes more than just warehouse configuration. Optimum facility design should include long-term strategic thinking as well as a significant amount of cooperation and time from all parties involved.
But before we jump in, let's define the strategy and evaluate business trends and growth within your business for the next five to seven years…
Sound difficult? That's because in reality it is almost impossible to accurately predict what revenue and processes will be that far into the future. Still, businesses can get as close as possible to predicting and preparing for the future with these four key steps that can lead to an optimum facility design that can withstand future changes.
Document all current operational functions
This will identify the resources that will be involved and eliminate the ones that won't, as well as help assign certain associates to manage each resource. Doing so will lend a hand to not only keeping your team informed and organized, but it will allow for strategic decisions to be common knowledge, should any complications arise that require a quick and swift solution.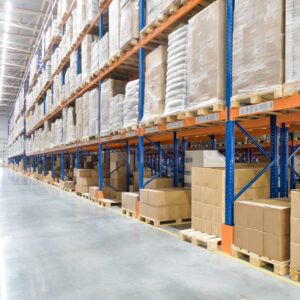 White Paper
A well-thought-out slotting strategy also enables businesses to minimize wasted space and maximize storage capacity within the warehouse. Increase ROI using the right tools, strategy and management plan with successful warehouse slotting.
Download
Analyze the distribution center mathematically
By mathematically, we mean evaluate data such as inventory levels, fluctuation in sales volume and seasonality of different SKUs in order to define presnet and future capacity requirements. Next, organize the data into three profiles to define space requirements.
Receipt Profile – View the time stamps of receipt to show what parts of the day require more or less of a workload. The major advantage of using this profile is understanding day-to-day inbound demand.
Inventory Profile – This enables a business to determine the amount of inventory required to support certain demand periods of each day. Record inventory levels at the end of the month for 12 months in order to better prepare for frequent or abrupt inventory turns, storage change mediums and to be able to ultimately determine if your facility does or doesn't meet your needs.
Order Profile – Evaluate order receipt dates, but remember not all orders are the same. Organizing the dates by sales channel (online, in-store, etc.) and order type will help address any purchase spikes that occur and suggest just when and how to adjust temporary labor, the adding of shifts or even leveraging a third party warehouse.
Generate SKU life-cycles
Although there are multiple analytical tools used when evaluating the different facets of a warehouse, concentrate on the tool being used to generate life-cycles of SKUs. For example, what moves fast or what moves slow. This lends itself to placement of pick locations and size of forward pick locations that help adjust to dynamic locations in the warehouse. You can then suggest accurate slotting times, where work should be distributed more heavily and determine the so called golden zone, which is where you can maximize the picking efforts of those fast-moving items. 
Identify MHE
Lastly, identify material handling equipment and validate the throughput requirements for all processes that will be performed. This will enable business leaders and design build teams to nail down space requirements for inventory and equipment needs.
Ready to put ideas to paper? It is likely best to take a pause and review these steps again and again, considering different scenarios that could impact the overall design. Back up designs and solutions are also a good idea, as there is never just one solution that will work perfectly.