enVista started 10 years ago as a supply chain consulting firm focused on planning and execution for retail—demand planning, transportation, and warehouse management systems. In 2008, we became a Microsoft Dynamics partner, combining our ability to talk deeply around retail with Microsoft Dynamics AX to enable those processes.
Then, in 2010 we decided to provide Microsoft Dynamics AX to our customers through a private cloud model. We had acquired the company Appnuity to host other supply chain execution systems. We had the IT services acumen. We had the infrastructure in place: data center, staffing, monitoring, disaster recovery. And we had developed IP around data collection and order management. By August 2010 we had a relationship with senior executives at One Kings Lane.
The Answer for One Kings Lane: Integrated Business Management in the Cloud
One Kings Lane had been using a third party fulfillment provider to support their thriving business. The e-retailer needed a true enterprise and integrated ERP platform that could support their increasing sales and ever evolving brand and marketing strategy. Through our deep retail supply chain expertise and our ability to manage critical applications in the cloud, we offered One Kings Lane an integrated business management solution that serves as the back-office hub of the e-retailer's entire operation, managing the entire supply chain from order to cash, and procure to pay.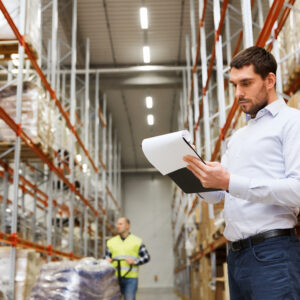 White Paper
Make the most of Microsoft Dynamics 365's Advanced Warehousing module and gain insight into the hidden treasures to unlock value.
Download
Our ability to deliver a cloud computing solution was important in the retailer's decision for several important reasons, including:
1. Flexible licensing: When we started working with One Kings Lane the company's revenues were less than half of what they are today, and they didn't want to pay high licensing fees up front. We negotiated the licensing fees so they wouldn't have to pay until they went live and started receiving the full benefits.
2. Rapid start: We were able to create a temporary development environment within days of the solution selection to quickly make progress on coding, development and training
3. Agile implementation: It took only five months to implement One Kings Lane's entire customized solution, including 34 virtual servers.
4. Rapid scaling: One Kings Lane started with 12 concurrent users. The solution's ability to rapidly scale to changing business requirements has enabled the company to grow to 75 concurrent users in one year, without missing a sale.
5. Decreased IT infrastructure: By virtualizing the environment One Kings Lane didn't have to procure (estimated) $ 200K – 250K of equipment and software.
6. Decreased IT internal staffing: By outsourcing IT Management to enVista, One Kings Lane was able to reduce IT costs and administrative requirements.
7. Faster return on investment: As One Kings Lane's revenue has increased, the cost of their Microsoft Dynamics AX solution has reduced as a percentage of sales; current Total Cost of Ownership (TCO) is less than .1% of its total sales.
8. Improved system uptime: enVista manages the system 24/7, ensuring an uptime rate of 99.9% and disaster recovery that accommodates transitioning the e-retailer's system (fail over) to another location if necessary.
The home goods e-retailer is deriving significant benefits and convenience from using one partner to manage all of its IT requirements. By having a strong vision, One Kings Lane is able to run its entire business with a customized e-commerce website, shopping cart and Microsoft Dynamics AX. And enVista has an even stronger position in the retail and distribution supply chain management space.