Today, retailers are challenged with managing and optimizing transportation more importantly where to start and how to improve the process. The complexity is due to the fact that, for many years, retailers have not had the means of managing inbound order flow or the data required to make good operational and optimization decisions. Consequently, it has been easier to have the suppliers manage inbound freight.
Additionally, the lines of responsibility within many retailers are often blurred; making it unclear as to who actually owns the relationship with the vendor. Is it the merchant, the buyer, or the logistics functional team? It is also important to understand the location of the supplier because managing inbound freight produced from a low cost country has a different set of requirements and operational challenges versus managing inbound freight from a domestic vendor.
Transportation Management Solutions Move Beyond Load Optimization
The number of disparate transportation technology platforms to manage inbound freight adds to the complexity. As software providers fight for differentiation and market share, traditional transportation management solutions are extending beyond traditional load optimization to provide vendor compliance, purchase order flow, shipment visibility, financial trading and business intelligence solutions. TMS has moved beyond optimization to become a full-fledged, commerce-trading portal, managing billions of dollars in freight and purchase orders.
Beyond inbound freight, a broken supply chain network cannot be solved without a solid supply chain design and strategy. Optimization cannot overcome a bad process design. As it stands today, most retailers are moving physical inventory as opposed to virtual inventory, so having the wrong inventory in the wrong location is nearly impossible to optimize. Yes, you can make up time with expediting freight but that can be quite a slippery and expensive slope.
Within the retail supply chain, this process is usually incredibly complex. Information from suppliers, carriers across all modes and even internal information is often disparate and disjointed. Retailers that invest the time to analyze their strategy and supply chain network are rewarded with newfound savings opportunities and streamlined process.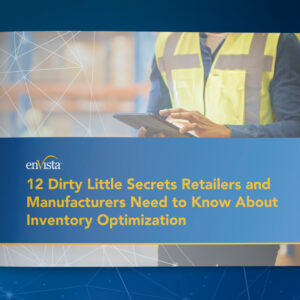 White Paper
Get the low-down on the secrets retailers and manufacturers need to know about inventory optimization.
Download
Inventory Control Improves the Customer Experience
Retailers need to focus on reducing and controlling lead time and variability in order to reduce safety stock. Retail buyers compensate for supply variability by purchasing more inventory. Understanding supplier variability by SKU is key to improving in-stock percentage, therefore improving the customer experience.
In summary, managing and controlling inbound inventory should be considered a standard practice, not just a best practice. In order to meet or exceed their customers expectations, multi-channel retailers must increase their control of inbound inventory in order to improve their outbound inventory flow, allowing retailers to meet the dependent and independent demand patterns.
This is accomplished by proactively managing and optimizing the purchase order life cycle from creation, commitment or ship window, planned quantities, shipped quantities (ASNs) and received quantities. Good process control and proactive measurement equal improved customer experience.