Ship From Store Strategy
Omnichannel order fulfillment and returns are about delivering a more convenient, consistent and seamless shopping experience for your customers.
Today's empowered shoppers want to choose from a multitude of products and fulfillment options. They expect immediacy, convenience and simplicity — no matter if they are shopping in a brick-and-mortar store or online.
Retailers that can deliver against consumer expectations are more likely to drive brand loyalty and sales. Those that can enable omnichannel fulfillment options while strategically balancing cost and service will drive additional profitability.
The shift toward online commerce is driving many supply chain and operations leaders in retail to rethink the role of the store to improve omnichannel fulfillment performance and better utilize inventory. One of the ways that retailers have leveraged store inventory is with a ship from store model.
Ready to dive into ship from store fulfillment? Download the pdf version of this post for offline reading.
Table of Contents:
What is Ship from Store?
Ship from Store is a fulfillment operation that enables retailers to use inventory from their store locations to fulfill orders. Instead of fulfilling orders from distribution centers that are potentially long distances away from customers, orders are fulfilled at the retail stores themselves and shipped directly to the customer. Leveraging inventory in the stores can often reduce shipping costs and maximize inventory turnover. Ship from Store is an omnichannel solution that turns physical stores into active fulfillment centers.
Benefits of Ship from Store
Retail sales are rapidly moving from stores to online. Online sales are continuing to grow and will necessitate further fulfillment capabilities as customers shop from their computer or mobile device. According to an eMarketer report, online sales as a percentage of global retail sales will reach 17.5 percent by 2021.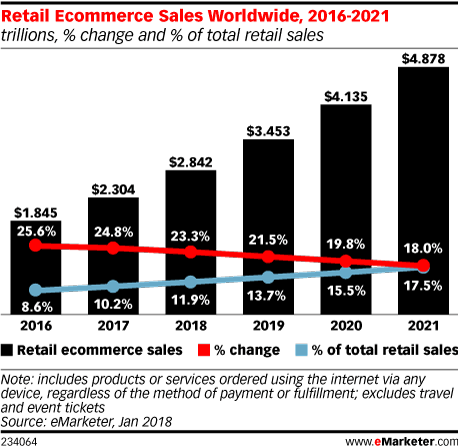 An optimal store fulfillment strategy that takes into account store labor, inventory positioning and exceptions is key to responding to the rise of online sales. Retailers can optimally balance cost and customer service when implementing ship from store, which provides several key benefits:
Shipping is faster and cheaper. When inventory starts closer to the customer it will take a shorter period of time to deliver, and with single-zone delivery, transportation costs will be reduced.
There are fewer markdowns. In order to ship from store, companies will have increased visibility into inventory across all of their locations. This allows for stores with excess stock to fulfill orders instead of having to mark down prices to get rid of it. Even if that increases transportation costs, selling at full price will offset that.
Companies will better utilize their assets. Inventory turnover will be increased and stores will be able to keep less clearance inventory on-hand. This allows better utilization of space in both physical stores and distribution centers.
Ship from store allows retailers to remain competitive with e-commerce giants. A unified commerce approach helps deliver a more convenient and seamless shopping experience worthy of comparison with Amazon or eBay.
3 Keys to Implement Your Ship from Store Program
Many retailers know Ship from Store is a solution they need to implement to remain competitive, or maybe have already started offering it but find themselves wondering just how they are going to pull it off. A successful store fulfillment strategy has three pillars: store operations, order routing, and metrics.
Key #1: Make Sure Your Store Operations "Solve for the Customer"
The key to having a successful store operations pillar is the mindset of the retailer. Customer-centric commerce is all about "solving for the customer." To this end, store associates are critical to customer experience. Store associates should not be goal oriented ("what am I doing") but be purpose driven ("why am I doing this"). The goal is merely the byproduct of associates fulfilling their purpose.
The purpose of a sales associate is to take care of the customer, regardless if it's a physical store experience or an online store experience. Fulfillment should not be a nuisance, but an opportunity. Knowing where orders originate from and fulfilling them at the nearest store gives sales associates the opportunity to include a hand-written note in a package, perhaps something as simple as "we hope to see you in our store soon!"
Key #2: Enable Distributed Order Management (DOM) for Omnichannel Order Routing
The second pillar of a successful ship from store operation is omnichannel order routing. Order routing is one of the four main components of order management systems (OMS) along with enterprise inventory, fulfillment execution, and customer service.
DOM Routing Guidelines:
Distributed order management (DOM) aggregates orders from multiple channels such as from physical stores and e-commerce sites. It also provides an intelligence layer for processing orders. But the key aspect of DOM is that it executes business rules for fulfillment.
Key #3: Define Your Metrics
The third pillar for implementing a ship from store strategy is ensuring that your stores have the ability to deliver the key metrics necessary to determine the success or failure of the program. Metrics drive performance. If a company defines poor metrics, it will deliver less than optimal results.
Review: Ship from Store Checklist
Ship from store is a tactic that fits into your overall omnichannel transformation strategy. The process should be purpose driven toward a positive customer experience with supply chain integration. It's all about making the promise to the customer and being able to fulfill it.
How to Implement Ship from Store: 11 Steps to a Successful Program
Practice the Process: Conduct multiple time studies to determine order fulfillment time for both single and multi-line orders.
Measure Success: Measure and set performance goals.
Train Employees: Train store associates with distribution center resources for the initial implementation of ship from store.
Budget Time: Allocate enough man hours in the store to allow store fulfillment and monitor their adherence.
Organize Your Workforce: Separate store operations from sales associates, when possible.
Enable Quick Order Picking: Integrate picking cart designs into your store layout to pursue a seamless integration.
Define Metrics: Drive faster acknowledgment responses by giving the stores the sales credit and splitting the credit with digital when applicable. Metrics drive the desired behavior.
Prevent Fulfillment Roadblocks: Make sure the system automatically rolls to the next available store if the first store does not respond. Ensure you measure the number of orders rejected by a store and the number of times the order hopped to multiple stores.
Consolidate All Required Information: Make sure that the online order screen or pick slip has all the information needed to find the item.
Minimize In-Store Effort: Integrate fulfillment execution into your point of sale (if possible), in order to reduce applications within the store.
Keep it Simple: Simplify your packaging requirements – less is more. The picking and shipping process has to be intuitive for sales associates to use.
Next Steps
Ship from store is becoming an expectation for retailers. Customers expect convenience, immediacy and accuracy when it comes to their shopping experience. Retailers who are able to meet these expectations will drive brand loyalty and future success.
This post provides a framework for implementing a ship from store. Download the whitepaper to uncover the full blueprint that will allow your company to become a leader once again – in months rather than years.
Remember, your company competes not just on the product or service you provide to the market but on how well you provide a seamless customer experience and care. Oftentimes, "customer experience" is thought about from a customer-facing, touch point mindset. While it is this, it's also fine-tuning your supply chain on the back-end that allows you to keep your promise to the customer and exceed expectations.
If you're ready to accelerate your omnichannel transformation, let's have a conversation™ or explore our unified commerce platform. We can serve as a resource and partner to you whether you're just starting the journey or are already well on your way.
Interested in learning more? Download the ship from store white paper to discover even more in-depth information about the keys to successful implementation.