Gain Insight into Spend and Performance with Transportation Business Intelligence
Business intelligence (BI) gives companies insight into past, current and sometimes even future (predictive) trends that allow them to manage their business through key performance indicators (KPI).  Effective BI tools include interactive dashboards and reports that allow business analysts and decision-makers to quickly interpret complex data and take meaningful action.  For shippers navigating the COVID-19 crisis, the ability to understand transportation analytics, like spend and performance, in as close to real-time as possible can be the difference between wasteful spending versus cost reduction, business profit versus losses, or job retention versus furloughs – and in many cases, all of the above.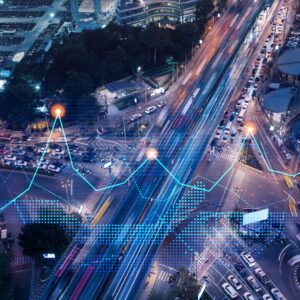 White Paper
Gain insight into strategic vs. tactical sourcing and how placing transportation procurement into these categories can reduce the complexity.
Download
Identify KPIs to Optimize Transportation Networks
In a COVID world, shippers must create KPI that help them not only optimize their transportation networks, but measure their business performance as a whole. For the most part, each business generally knows what needs to be measured, but crafting a meaningful KPI visual depends on carefully identifying four components – grouping type, trend or date range, metric, and visualization type.
Grouping types in transportation data are attributes such as service level, mode, lane (origin and destination pair), account number, fulfillment channel, brand, node, GL code, zone or weight break. A shipper should create groupings that allow for visibility to any relevant cost-driver in their transportation network.
Trends or date ranges in transportation data define what time period will be evaluated and what the evaluation period will be compared against. KPI's should be monitored at the day, week, and month level and evaluated against prior periods including year-over-year, month-over-month, and week-over-week to maximize comparison opportunities.
Metrics in transportation data include spend, shipment volume, cost per shipment, weight per shipment, cost per pound (or kilo), fuel as a percentage of per shipment costs, accessorial spend per shipment, average zone or mileage, transit time, percentage of expedited spend, and percentage of out-of-network spend.
Visualization types should be selected in ways that allow a BI user to easily identify outliers or ask follow-up questions that lead to meaningful action. Examples of visualization types include line graphs, bar charts, pie charts, pivot tables, and network maps. KPI should frequently be visualized in multiple ways to increase the user's understanding surrounding that metric.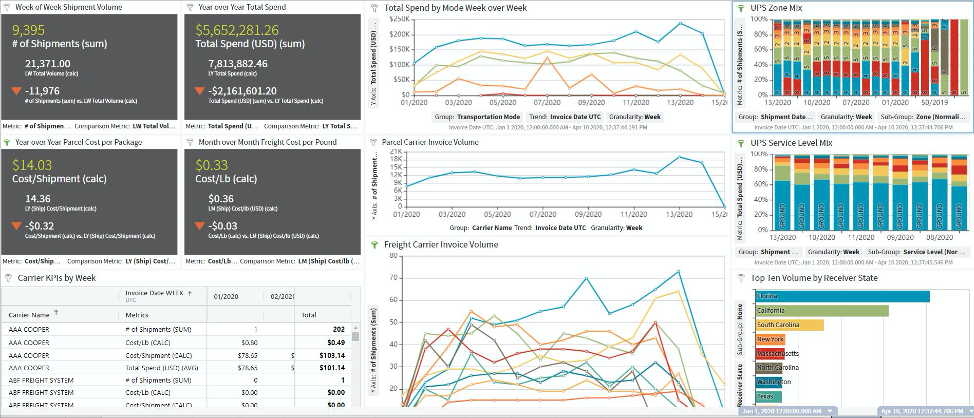 A strong KPI visual will include each of the elements described and will be named as [metric] by [grouping] by [trend range] in a [visualization type]. Five examples of KPI visuals being leveraged across enVista's customer base to evaluate transportation metrics during the COVID-19 outbreak include:
Cost per shipment by mode in a line graph
Cost per pound by lane in a pivot table
Surcharges as a percentage of total spend by carrier in a pivot table
Number of shipments by receiver postal code in a network map (demand heat map)
Average transit time by inbound country in a line graph
Monitor and Measure Your Transportation Network with a BI Tool
We could keep this bulleted list going for pages if we listed every KPI being visualized by enVista's customers to navigate the Coronavirus.  With hundreds of options for combining metrics, trend types, and groupings to create KPI visuals, it is important for each shipper to design KPI visualizations that efficiently and effectively monitor and measure their own transportation network.  And most importantly, the visual must be interactive with built-in drill-down and reporting functionality so that questions can be answered with ease.  If that doesn't describe your current transportation business intelligence tool, then let's have a conversation about our easy-to-implement solution.
In part two of this blog series, learn how shippers are thinking outside the box in order to maximize optimization opportunities in their transportation networks.