Over the past two years, the pandemic has accelerated a shift in consumer buying habits and values, forcing retailers to rethink their fulfillment strategies to remain competitive. As commerce becomes more complex, the need for an integrated, robust technology foundation becomes more important than ever. A functionally rich order management system (OMS) is key to unifying commerce and delivering seamless customer experiences.
In this article, we'll discuss everything retailers need to know about an order management system:
What is an Order Management System (OMS)?
An order management system is a technology platform that coordinates all the essential functions of a purchase, spanning the entire buying journey from browsing to buying and un-boxing. These centralized platforms facilitate and communicate all the details associated with an order such as:
Where is the inventory currently?
Where was the order placed?
Where/how should the order be fulfilled?
What machine learning or artificial intelligence do we have that can optimize the fulfillment process?
Who (people) and what (systems) need communication alerts throughout the order lifecycle?
An order management system is the core commerce technology unifying customer-facing channels with back-end business technology systems and helping retailers keep the customer at the center of a brand's experience.
Order Management Features vs. OMS
Order management has become a much more common term in commerce in the last few years. In fact, in The Forrester WaveTM: Order Management Systems, Q2 2021, analysts referred to OMS as the "lauded hero of digital business in 2021."
While many technology platforms offer light order management capabilities, for the sake of this article, we are primarily discussing dedicated, built-for-purpose OMS platforms focused on unifying the buying process for consumers and retailers alike.
Why an OMS is a Must-Have for Retailers
When it comes to the customer experience, perception is reality. Recently, Microsoft reported that 58 percent of Americans will switch companies because of poor customer service. According to research cited in Ruby Newell-Legner's "Understanding Customers," it takes 12 positive customer experiences to make up for one negative experience. Simply put, the cost of NOT getting the customer experience right is a risk with a compounding negative impact.
An OMS Builds Trust in Your Brand
When a customer purchases from a retailer or a brand, they indicate some level of trust with the retailer. Next, the brand must deliver on those promises to maintain trust with the customer.
A positive customer experience often results in repeat purchases, brand loyalty and potentially brand advocacy. A negative experience, as research confirms, results in brand swapping, negative reviews and potentially a lifelong brand detractor.
The right order management system helps curate the best customer experience in the most cost-effective way to earn and maintain the trust of your buyers, turning them into loyal brand advocates.
What Type of Retailers Need an OMS?
The need for an order management system directly correlates with a brand's operational and fulfillment complexity. The more complex your supply chain management process, the more an OMS can help. Several parameters drive the complexity of fulfillment operations – including inventory sources, fulfillment nodes, omnichannel requirements, third-party fulfillment providers, system integrations, product offerings and more. So, while a local mom-and-pop store may not require a robust OMS, a mid-market or enterprise retailer with multiple channels and fulfillment nodes would quickly recognize the return on investment (ROI) from the right order management software.
Where an OMS Fits in the Technology Stack
An OMS is the technology bridge that unifies customer-facing systems to back-end business/operational systems. Additionally, since order management systems are also the core of your customer care processes, it is the first line of defense for your customer service agents – highlighting the need for real-time information and accuracy to empower your team to provide the highest level of service.

For brands and retailers with brick-and-mortar stores, an order management software should have an intuitively operable store app that enables associates to view store inventory levels, see all order history and fulfill orders – whether ship from store or buy online pick up in store (BOPIS).
What Are The Benefits of an Order Management System?
Tighter control of your customer experience — Take control of the order management process to curate the exact brand experience you want customers to have, including omnichannel, inventory visibility, customer-initiated returns/exchanges, etc. An OMS almost always leads to an increase in customer satisfaction.
Higher margins & less waste — With the ability to fulfill orders more efficiently across your network and sales channels, you can eliminate unnecessary costs associated with excess inventory levels, suboptimal processes, and operational waste.
Better business decision making — Leverage built-in key features such as business intelligence, machine learning and artificial intelligence to prevent human errors, forecast more accurately, fulfill more efficiently and service customers more strategically.
Improved visibility — You can't fix what you can't see. Aggregate all item, customer, payment, inventory, order and fulfillment information across channels and systems.
More agility to meet customer expectations — Take advantage of plug-and-play integrations with key providers and utilize integration-platform-as-a-service (iPaaS) to utilize the fullest extent of all your systems, together.
The Four Pillars of OMS:
Inventory Visibility
Inventory is often the largest capital expenditure for retailers, and poor inventory management can wreak havoc on a company's bottom line. But while inventory management is a wildly important aspect of the business, most retailers average between 60-65% inventory accuracy. This means that a significant amount of the time a consumer buys something online, there is a chance that inventory is not actually available to sell.
Inventory visibility, and more specifically establishing economic order quantity (EOQ), is crucial for brands and retailers. It helps to reduce holding costs, prevent loss sales from stockouts, avoid price markdowns from overstocks—and most importantly, avoid disappointing customers by promising something not available to sell. An efficient OMS can streamline inventory control, even for large companies with large stock levels.
Order Orchestration
Order orchestration is the rules and routing of an order that indicates how and where an order is fulfilled. The algorithms and rules engine look at where within the network the inventory is located (a warehouse, a store, vendor dropship, etc.), and what the optimal location is to fulfill the order based on business requirements ranging from fastest to customer, avoiding split shipments, ship a specific SKU from vendor, etc.
Just as a conductor keeps an orchestra in rhythm and with the sheet music, the order orchestration functionality of an effective OMS software ensures that the fulfillment logic is harmonious with available stock levels and fulfillment capacity.
Even more powerful, is to couple robust order orchestration with business intelligence (what you know about your consumers' behaviors) along with machine learning (what behaviors you can mathematically predict) to deliver the right product, at the right time, at the right cost.
Omnichannel Fulfillment
Historically, retail has operated in a single-channel format. Consumers would usually engage or purchase from a simple sales channel like a physical store, or they would order something online. While it may be a shock to younger generations, consumers could also purchase something from a magazine by mailing a check to a retailer or P.O. Box.
Commerce is the correlation of multiple channels, working together to influence consumers. It benefits both consumers and retailers alike, as omnichannel shopping is more convenient for consumers; recent data suggests that omnichannel grocery shoppers spend on average 20 percent more than brick-and-mortar-only shoppers. Omnichannel commerce fulfillment enables brands and retailers to process, source, and finalize an order from "all" channels within their network, whether from a digital click, a physical cart or any combination thereof.
Examples of omnichannel fulfillment include ship from store, BOPIS, curbside pickup, buy online return in store (BORIS), ship to locker, vendor dropship and more. True omnichannel fulfillment enables retailers to buy, fulfill and return an order from any channel. Tracking and fulfilling orders with speed and accuracy is key to successful omnichannel fulfillment.
| | | | |
| --- | --- | --- | --- |
| Buying Channels | Fulfillment Channels | Customer-Care Channels | Return Channels |
| Stores Ecommerce site Marketplaces | Owned warehouse 3PL Vendor dropship Marketplaces (FBA) Stores / Dark stores | Online Live Chat Stores Phone Support | Stores Mail to warehouse Digital returns Return drop-off locations/lockers |
Customer Care
The final pillar of an order management system is the customer care portal. This is the customer service representatives' "home base" where they have a 360-degree view of the customer.
Customer service team agents can access an aggregate view of orders, modify an order, process discounts, manage appeasements, adjust order details like shipping address, easily process returns and refunds and beyond.
The key for a customer care center is for the OMS platform to have all the required visibility and information to service the customer's needs and meet customer expectations quickly and successfully.
And it can be costly to misstep with customer relationship management, as Bain & Company found that a customer is four times more likely to buy from a competitor if the problem is service-related rather than price- or product-related. Because of this, increasing customer satisfaction is one of the biggest benefits of an OMS.
Must Have Features for an Order Management System
There are many OMS solutions on the market. You want to choose an OMS with the following features:
Integration-First Approach —With the pace of commerce, the foundation for an order management system is crucial to long-term viability. A valuable OMS will be ready-to-integrate with your commerce channels, WMS, ERP system, etc.
Microservices Architecture — Retail is not one size fits all, and nor should your technology stack be. With a microservices architecture, retailers can select the functionality that makes the most sense for their strategic plan and weave in additional modules as needed.
Broad Understanding of Supply Chain & Commerce — There are many technology tools that can offer order management capabilities. However, selecting an order management system built by experts who understand supply chain management is a huge competitive advantage for retailers and brands.
Summary
Retailers that embrace the ever-changing landscape and adopt critical technology like an order management system can differentiate themselves and truly stand out as leaders in retail – and drive omnichannel agility, profitability and transformation. Enterprise brands and retailers leverage enVista's OMS to optimize their order management processes— from storefront to front door. Ready to master the order management process and make your OMS a competitive differentiator? Let's have a conversation.TM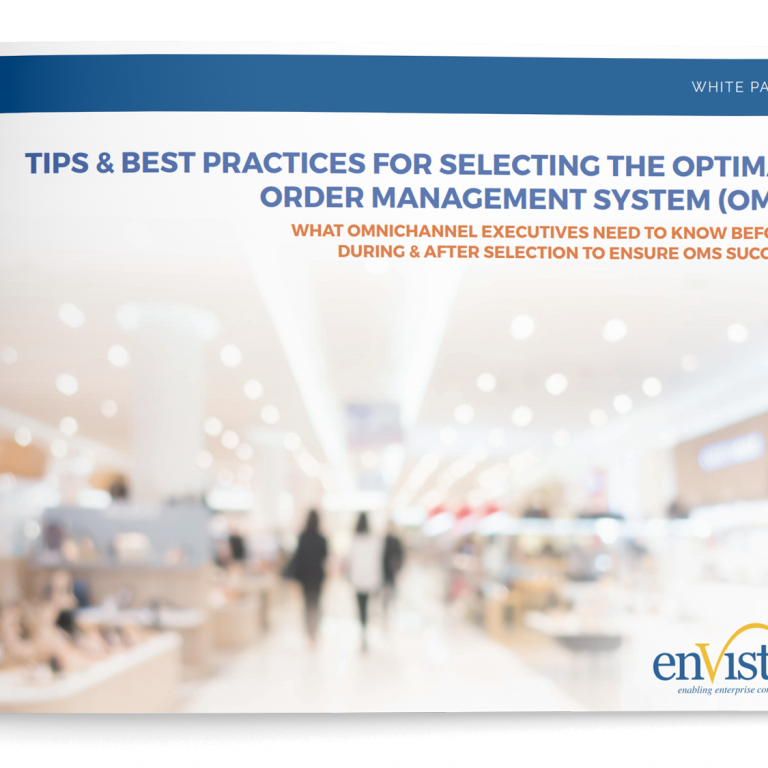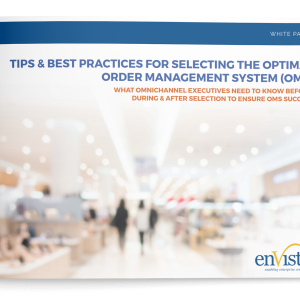 White Paper
An OMS is necessary for omnichannel success. Following the proper steps can ensure a successful system selection and partnership.
Download