Create a Unified Brand Across All Sales Channels
The title of my message may be bold, but it is factual. Omnichannel retailers that are trying to figure out how to create a unified brand across all sales channels and leverage their inventory working capital will not find the answer with their ERP. Omnichannel retailing, or what I would refer to as "integrated retailing," breaks down the barriers between traditional brick-and-mortar, wholesale (B2B), and direct-to-consumer. In many cases, retailers treat their e-commerce channel as "store 999" due to systemic constraints.
From Omnichannel to Integrated
Retailers need to move past silo and omnichannel thinking and start approaching their business operations as ONE integrated retailer. Your customers are not buying from you because you are great omnichannel retailer; they don't know what omnichannel means and they don't care. In the end, your customers really only care that you offer a great product at a great value, a phenomenal shopping experience and superior service. An approach that integrates and optimizes retail processes, not your ERP, will take you there.
In order to accomplish an integrated retail strategy, your focus has to be on four key components: customer attributes, item attributes, inventory attributes and order attributes. Unfortunately, traditional ERPs do not effectively manage the business rules and workflow to successfully take millions of customer, item, inventory and order permutations and drive both an effective and efficient supply chain that synchronizes customer demand with suppliers. Traditional ERPs are monolithic transactional-based solutions that lack workflow and rules engines to optimize data.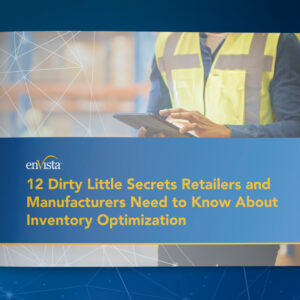 White Paper
Get the low-down on the secrets retailers and manufacturers need to know about inventory optimization.
Download
Enterprise Commerce Flow (ECF)
So what does the future look like? The future is already here; over the last 10 years, but most recently the last 5 to 6 years, a few software vendors have developed what industry analysts and the market refer to as, "Distributed Order Management (DOM)." This has been a definite step in the right direction, but even DOM still has its limitations. In order to truly optimize the flow of data, Enterprise Commerce Flow (ECF) is ultimately where retailers need to go – and where retail leaders are making great strides today.
One large software company I recently met with is rebranding its DOM solution to "Enterprise Order Management." I would argue that the word "order" is limiting. The solution integrated retailers are looking for has two major components (see illustration):
Below the line, they are looking for a solution that can optimize fulfillment (forward and reverse logistics). As one of my colleagues likes to call it, "smart shipping."
Above the line, they are looking for an integrated customer service solution that allows the retailer to manage the orders and customer service components of the order.
Below the line is about order execution, and above the line is about servicing the customer utilizing a wide facet of software functions: customer order management and maintenance, inventory visibility, and catalogue (item management).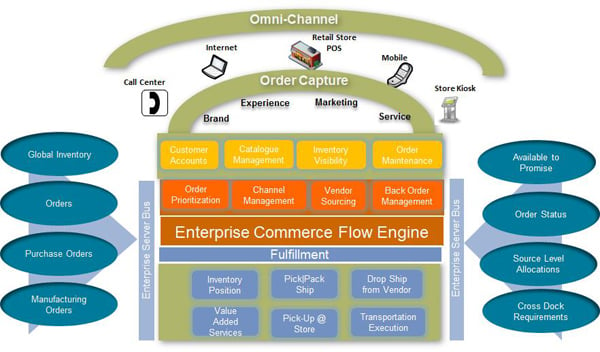 Integrated Retailing Requirements
ERPs will not meet the needs of omnichannel retailers because the solution and technology architecture does not allow for optimization. Instead, retailers should turn to an Enterprise Commerce Flow (ECF) engine to integrate organizational processes and an Enterprise Service Bus (ESB) to integrate the data into the ECF solution. Integrated retailing requires rules and a workflow engine that can orchestrate data inputs and create outputs based upon a predefined workflow, which an ERP cannot provide. In the future, ERP is going to run the back office, while ECF will become the hub to run your retail operations, constantly trying to figure out how to serve the customer 24/7/365. The ESB (see illustration below) is used to orchestrate and route data from disparate applications into the ECF solution.
In summary, numerous retailers are trying to determine how they are going to succeed in a world by which "transparency" is becoming a commonplace term and customers have access to information at their fingertips. CIOs, CMOs, and SVPs of Supply Chain are at a crossroads when it comes to determining how they are going to sell their inventory, from any place, at any time (24/7/365) and ensure they exceed their customer expectations. Traditional transactional ERPs (Tier 1 and Tier 2) are not equipped and architected in a way that can adequately move inventory through a supply chain across multiple channels. A paradigm shift is required from static transaction data to dynamic flow of data, optimized to leverage your largest assets, inventory and customers. Enterprise Commerce Flow is the answer.