Retail is moving faster than ever before, with ecommerce sales swiftly climbing across multiple sales channels. As consumers increasingly purchase products online, it is becoming more important for businesses to provide a positive customer experience by integrating digital and physical channels. This will help them maintain a competitive advantage.
A distributed order management (DOM) system and strategic omnichannel commerce processes are critical for every retailer. In today's competitive retail market, distributed order management systems help retailers keep their promises to customers and maintain a sustained competitive advantage.
What is Distributed Order Management?
Distributed order management combines inventory visibility with robust order orchestration to ensure that brands and retailers can fulfill orders in the most cost-effective, customer-friendly manner. Distributed order management is at the heart of all modern retail and digital commerce flows. It manages almost every function involved in the order-to-consumption process while optimizing customer service and cost.
As retailers continue to face supply chain hiccups and rising costs, distributed order management is becoming more critical than ever. From single-channel to omnichannel, distributed order management systems help retailers to orchestrate and optimize the balance of supply and demand.
The Four Pillars of an Effective Distributed Order Management System
An effective distributed order management system will have four distinct pillars: inventory, orchestration, fulfillment and customer care.
Inventory
Every retailer needs available inventory data tracking capabilities. Inventory tracking has become especially important with the rise of buy online, pick up in store (BOPIS) as a fulfillment method. Inventory tracking may seem simple enough, but it can become complex for retailers servicing multiple channels.
It is important to always have a real-time view of your inventory availability, whether your inventory is in a brick-and-mortar store or you have several nodes across the globe. You should always know where your inventory is and where it can go to meet your SLAs. This is essential to maintaining an effective DOM system and maintaining good inventory visibility for your target consumers. The inventory management pillar of a distributed order management system provides the following benefits:
Safety stock – Ensuring that you never run out of inventory in each node
Available to promise – Providing visibility into future, incoming inventory
Available to sell – Providing visibility into what real-time inventory is available to which locations
Future inventory – Preparing in advance for what inventory your nodes will require
Inventory segmentation – Segmenting your inventory based on consumer demand and network strategy, as well as creating maximum inventory visibility for your customers
Orchestration
Order orchestration is the arrangement of processes, logic and routing rules to determine the optimal fulfillment location within a distribution network. It includes:
Order aggregation – Providing visibility to all orders, regardless of sales channel
Order sourcing – Pulling inventory from the right node to ensure optimized order fulfillment
Event management – Maintaining customer and internal communication during all touchpoints of an order
Rating and scheduling – Defining price and time of delivery for quicker lead times
Payment integration – Providing a seamless payment experience for the customer
Omnichannel Fulfillment
One key aspect of a DOM system is the ability to enable omnichannel fulfillment, or the ability to buy, fulfill, and return anywhere. A customer may place an order on your website, but your store associates can pick, pack, and ship that order to lighten the load on another distribution center. Or if one node experiences a stockout, they can transfer an order to a different node for fulfillment. Or perhaps a brand leverages an online marketplace to expand its customer reach and drive more sales.
This agility and flexibility is a requirement in the world of commerce today and enables brands to continue to meet expectations while also quickly and efficiently getting their products into the hands of their customers.
Customer Care
Ultimately, the customer should always be the focal point for omnichannel commerce. About 73% of consumers will ghost a brand after three or fewer negative customer service experiences (Source: Coveo). Having a user-friendly customer service portal within your order management system is critical to providing the level of care brands need to keep customers happy and loyal. To help meet customer expectations, focus on the following features:
360-view of the customer – Maintaining full visibility into a customer's order and history
Order administration – Creating a seamless process for editing and monitoring customer orders including refunds, appeasements, etc.
Returns and exchanges – Enabling customers to easily manage their own returns and order changes
Customer interaction history – Ensuring a positive experience during every customer interaction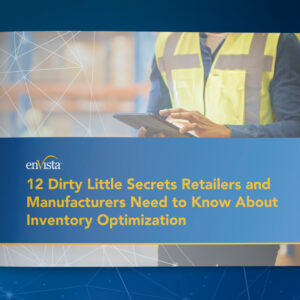 White Paper
Get the low-down on the secrets retailers and manufacturers need to know about inventory optimization.
Download
Why Brands Need a Distributed Order Management System
Every retailer, whether you have a single channel or several channels, needs distributed order management. It ensures you can meet the expectations that you set with your customers. Single-channel retailers need streamlined, rule-based distributed order management on a more fundamental level to optimize inventory tracking and customer satisfaction.
For multichannel retailers, the need for DOM becomes even more apparent. This is where inventory segmentation, strategic sourcing and fulfillment and a seamless omnichannel customer experience come into play. Distributed order management streamlines all of these processes for a better buying experience.
Benefits of Distributed Order Management
More control of your ideal customer experience. Select how and where customers can buy from your brand.
More control of your fulfillment processes. Don't settle for just proximity for fulfillment. Leverage robust, configurable routing rules to offer complex scenarios like avoiding markdowns, avoiding split shipments, store fulfillment capacity, fill or kill, and more.
Implement true omnichannel commerce. Empower buy, fulfill, and return anywhere commerce.
Fulfill orders in the most cost-effective, customer friendly way
Better insight into business performance. Understand cost to fulfill across sales channels and nodes, and optimize order routing rules for improved performance.
Maximize margins and order profitability.
Get Started with a Distributed Order Management System from enVista
The main source of your sustained competitive advantage in the retail industry will come from your ability to anticipate customer needs ahead of time, rather than just meeting their needs. Distributed order management makes this possible in a way that traditional order management does not.
If you have questions about effective order management systems or are ready to get started implementing distributed order management into your retail organization, contact us today. We are ready to help you save time and money by optimizing your distributed order management software, systems and processes. We can help you with everything from warehouse management and implementing a top unified commerce platform to vendor management, fulfilling orders and customer interactions.
Let's have a conversation.™