UPS announced its 2022 GRI and other changes on October 28. The GRI was announced as a 5.9% increase to Ground and Air services, effective December 26. However, this is only one part of the changes for UPS shippers. UPS is increasing the fuel surcharges for the third time this year. On November 15, both Air and Ground fuel indices will go up 1%. Also, on January 9, the list of ZIP Codes receiving Delivery Area Surcharge/Extended Delivery Area Surcharge and Remote Area Surcharge will be updated.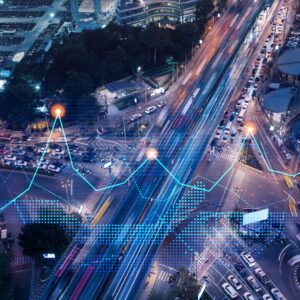 White Paper
Gain insight into strategic vs. tactical sourcing and how placing transportation procurement into these categories can reduce the complexity.
Download
UPS's transportation rates will increase an average of 6% for Ground service. The list rates for Ground are very close to FedEx list rates – identical for 1-10 lbs., and 0.2% cheaper on average above 11lbs. Ground Zone 2, 1lbs price is $9.36, which is 6.8% higher than the 2021 rate. 1-5 lbs. rates go up 7.5%, whereas the higher weights see a lower increase. Next Day and Next Day services go up by 6.5%, 2nd Day Air rates will increase 4.9%; these three services are 1% more expensive than the equivalent FedEx services. Just like FedEx, UPS increased the 3Day Select rates by 9.9%. With that said, the UPS 3Day Select rates are significantly cheaper than FedEx Express Saver – roughly 12% on zones 5-8, and up to 30% cheaper on lower zones.

The surcharges go up at a higher rate than the announced GRI. At a high level, we see significant increases on Delivery Area surcharges averaging around 10%. Residential fee for Ground is going up 9%, while Air Residential surcharge is going up 7%.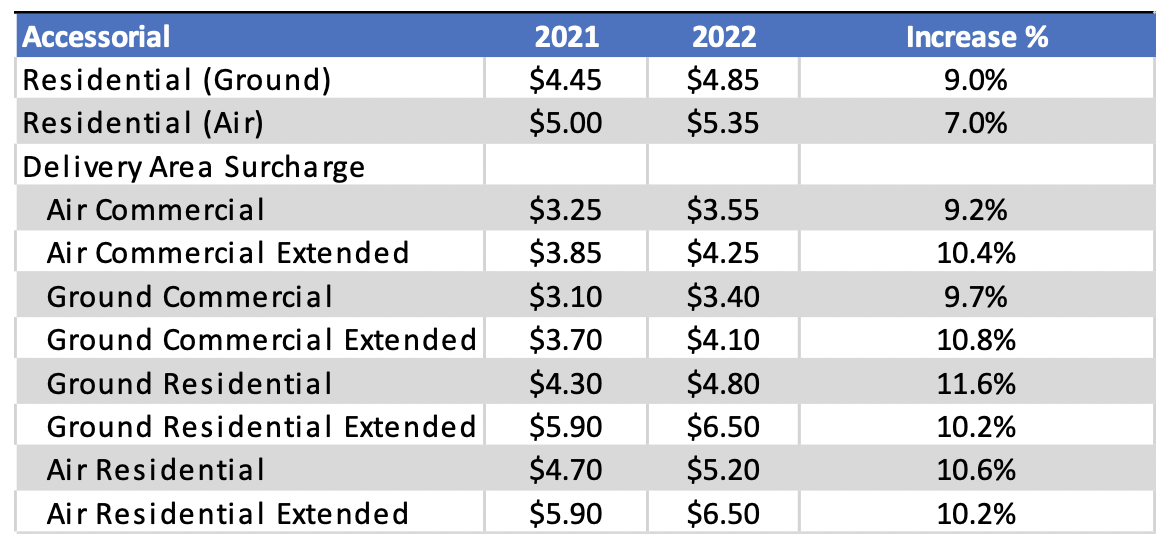 Fuel surcharges have already increased in July and August 2021. They will see another increase on November 15. The fuel indices for Ground and Air will go up by 1%. Compared to the beginning of 2021, both Ground and Air fuel indices will be 2% higher going into the peak season. It should be noted that carriers historically reduced their fuel tables at the same time as their GRIs and claimed the GRI to be the total of the transportation rate increase and reduction of fuel. Using the same logic, the 2022 GRI should have been announced as 7.9%. (5.9% transportation + 2% fuel).
Read about the importance of rate and performance benchmarking for shippers in volatile transportation and logistics markets and how enVista helps its customers reduce costs.
One major change that is coming in 2022 is the Remote Area Surcharges for the lower 48 states. Previously Remote Area Surcharge applied only to some ZIP codes in Alaska and Hawaii. In 2022, close to 2700 ZIP Codes in Continental U.S. will start receiving a $12 Remote Area Surcharge. The population living in these ZIP Codes are roughly 2.7 million people – which is not insignificant. There will be 157 ZIP Codes that will start getting Delivery Area Surcharge in 2022. The population living in these ZIP Codes is roughly 1.5 million. There will also be some shifts from DAS to EAS and vice versa, however, population-wise, these are less significant. The map shows the newly added Remote Area ZIP Codes in dark red, while the newly added Delivery Area ZIPs are light red.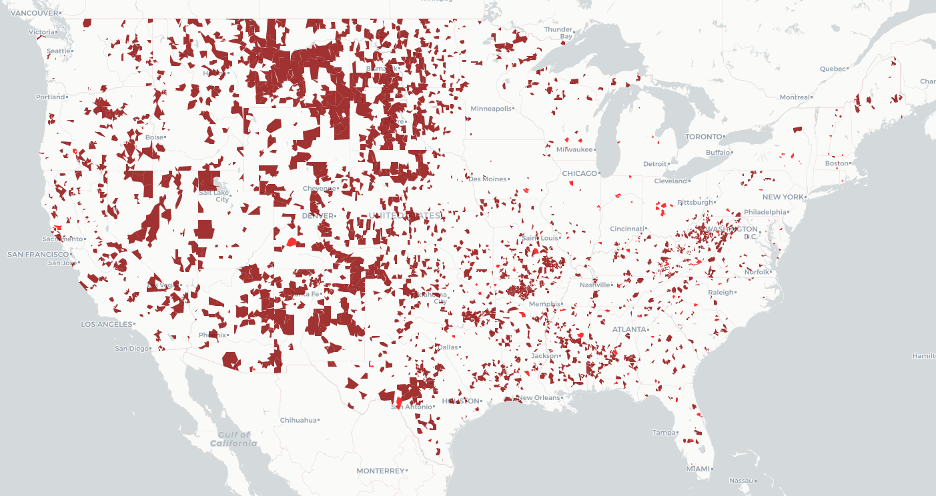 enVista brings 20 years of experience in addressing shippers' toughest transportation challenges. Let's have a conversation.™
Our transportation solutions drive savings with market intelligence, prescriptive analytics and subject matter expertise. If you want a partner with the scope and expertise you need to gain competitive advantage, contact enVista to be connected with a solutions specialist.
Resources