Supply chain network design and optimization should be a key part of every organization's supply chain planning strategy. Managing an optimized supply chain network is a delicate balance between reducing transportation and supply chain operations costs while increasing customer service levels. Striking this balance is what will give your organization the competitive advantage it needs to thrive in the market.
What Is Supply Chain Network Design?
Supply chain network design refers to the process of optimizing the structure and configuration of a company's supply chain network to meet its strategic and operational goals. This involves making decisions about the number and location of facilities, transportation routes, inventory levels, and sourcing strategies.
The goal of supply chain network design is to create a cost-effective and efficient supply chain that can meet the company's demand while minimizing costs and improving customer satisfaction. This process involves analyzing data and using modeling and simulation techniques to identify the most efficient supply chain configuration.
Supply chain network design takes into account factors such as transportation costs, inventory costs, production costs, lead times, demand variability, and customer service requirements. By optimizing the supply chain network, companies can improve their competitiveness, reduce costs, and improve their ability to respond to changes in demand and supply chain disruptions.
Supply chain network design leverages simulation tools to replicate data, provide data visualization and understand the cost and time it will take to deliver goods to market. Input data such as SKUs, POs, inbound and outbound transportation and customer orders are used to assess and measure an organization's operational capabilities to meet customer service level expectations.
Why is Supply Chain Network Design Important for Your Company?
The right supply chain network design targets three core areas of the supply chain – inventory, cost and customer service. Determining the optimal combination of these three pillars is what will set your supply chain network apart and give your organization a competitive advantage.
Balancing Cost and Customer Service
Customer service level expectations and order profiles are changing. Your global supply chain should be your organization's competitive advantage, and a key way of achieving this is by enabling flexibility within your supply chain operations. With the constant flux in customer demands, your supply chain network must be able to adapt quickly to meet new needs without damaging your bottom line or profitability.
Ultimately, regular assessments of your supply chain network design followed by network optimization are necessary to meet customer expectations and support growth and future initiatives three to five years out.
Balancing Operations and Customer Service
In addition to the global supply chain network, customer order profiles are changing on the retail side, as brick and mortar shopping is on the decline, and ecommerce is expected to increase to 25 percent of retail sales by 2024. This change in order fulfillment will impact warehouse and transportation operations, which are critical aspects of the product flow of any successful supply chain network.
To mitigate risk in warehouse and transportation operations, supply chain leaders should focus on diversifying delivery providers, labor, and real estate, as part of creating long-term strategic objectives.
Diversifying delivery providers and modes of transportation – With pandemic-induced carrier capacity constraints, you don't want to put all of your eggs in one basket. Diversifying carriers at a regional level will create more capacity assurance.
Diversifying labor – With a shrinking labor pool, leveraging the right type of technology can alleviate labor constraints and lower transportation and logistics costs.
Diversifying real estate – A supply chain strategy project can help ensure you are in the right location to meet customer needs as well as determine the proper size of your distribution capabilities in order to be flexible and reduce business risk.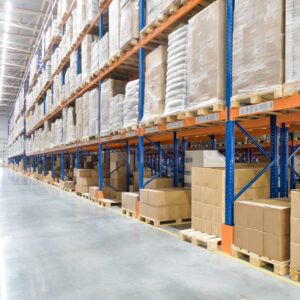 White Paper
A well-thought-out slotting strategy also enables businesses to minimize wasted space and maximize storage capacity within the warehouse. Increase ROI using the right tools, strategy and management plan with successful warehouse slotting.
Download
How are Global Supply Chain Networks Designed?
Once you have defined what an optimized supply chain network should look like for your organization, the next step is to create a design process that will help you reach that future state. There are two keys to designing an optimal supply chain network unique to your organization – start with the customer and work backward to things like raw materials production. Then select the right supply chain consulting partner to help you achieve your optimization solution.
Start With the Customer
The customer should be at the center of your entire operation. While supply chain leaders will be tempted to start with the details of the supply chain or sourcing initiatives, it is much more efficient to start with the customer and your end-state network, then move through the supply chain and up to sourcing. Taking this approach helps identify inflection points and levers that are putting pressure on the supply chain, therefore allowing you to mitigate future risk.
It is also important to generate synergies from a distribution perspective, especially concerning inventory management. One way to do this is by optimizing inventory levels to meet specific demand signals in different locations, which will in turn lessen the number of transfers involved in your supply chain.
A key step in creating your design process is moving from a strategic approach to a tactical approach, which will define concrete tasks to execute to reach your supply chain network's final state. Laying out key tactics that will help accomplish your supply chain strategy will set you up for the most success in designing a strong supply chain network.
How to Select the Best Partner for Your Supply Chain Network Design
A supply chain network strategy is not something that an organization should perform alone. It is worthwhile to invest in a supply chain optimization partner that will walk with you through the process of performing supply chain network analyses, creating supply chain visibility and forming a plan. This partner should also stick around during implementation to make sure everything runs smoothly and ensure quality management. Some key characteristics that every organization should seek in a supply chain optimization partner are:
Years of experience completing distribution network design and the expertise to translate network modeling from the strategic to the tactical
Capable of future-state, strategic thinking around global trade
Knowledgeable of key emerging technologies, supply chain network design software, prescriptive analytics and simulation tools – this is not a spreadsheet exercise
A one-stop-shop partner that can execute on all ends of the network to improve chances of success in a cost-effective and speedy manner
Risk mitigation and the ability to think ahead and execute contingency planning, so your company can stay on track with product lines no matter what challenges arise
Get Started with Designing Your Supply Chain Network Today
If you have questions or are ready to get started on your organization's supply chain network design solutions, contact our supply chain management experts today. Let's have a conversation™.