Retailing is Not Dead, But it Must Adapt to Changing Customer Demand
Reports of retail's death have been greatly exaggerated. Traditional retailing is not dead, but it must adapt to changing customer demand and the impact of digital.
Even though many traditional brick and mortar retailers are struggling, there is reason for optimism. According to TimeTrade's State of Retail Survey, 85 percent of respondents said that if an item were available both online and in-store, they would rather make a purchase in the store.
A recent Galaxy report was even more bullish showing that out of 1,250 people surveyed, 94 percent preferred to shop in traditional brick and mortar stores. However, and this is the key, half of the people surveyed said that they went online to research retailers' products and services before purchasing in-store.
Retail's New Normal: Competing on Customer Experience
Digital has fundamentally changed the retail landscape and the amount of information consumers have access to in order to make highly informed purchase decisions. This has elevated consumer expectations as your customers expect to be known and understood regardless of the channel and expect interactions with your brand to be consistent and unified.
As an example of today's customer expectations, consider this hypothetical "letter" from a retail customer:
Dear Retailer,

I'd like this item, with these attributes, available in this channel and in my hands when I need it, exactly how I ordered it. Please make the entire process easy, seamless, convenient and fast regardless of channel, even if I want to return your item. I don't want to be treated like a transaction. I'm not an order; I am a person. Communicate and interact with me accordingly. Know my preferences and order history and be able to locate an item for me, whether I am in the store, online or talking to your call center reps. I have lots of shopping options, so every interaction counts. I want to feel like you see me and that I matter to you. Can you promise me you will deliver against my expectations? If you keep your promise, I'll likely be back!

Sincerely,

Your Customer
These are the expectations that retail customers have today. If an organization cannot deliver on them, the customer can very easily find another avenue where their expectations can be met, whether that is with a brick and mortar competitor or one of a multitude of online retailers or e-commerce giants.
Fortunately, the path to fulfilling those customer expectations is achievable through retail operations excellence starting with a focus on empowering your store associates.
Table of Contents:
Strategy#1: Earning brand loyalty is a retail necessity
Strategy#2: Loyalty programs can be the rock-solid foundation of a successful retail operation
Strategy #3: Make it easier for customers to purchase by breaking down the barriers to sale
Strategy #4: Easy returns are high on customers' priority list
Strategy #5: Inventory curation is key to make sure retailers are not wasting valuable spatial resources
Strategy #6: Use shipping to gain an advantage
Importance of Store Processes in a Digital World
Let's face it. Digital technology can be great and enable new possibilities. But sometimes customers just want to talk to a human. Because of the proliferation of digital technology, humans in retail are more important than ever.
Ultimately, shopping is an experience, and in the end, all purchases are emotional on some level. Apple has discovered that "the secret to success in retail is for stores to become places that people come to experience products, not just buy them."
Okay, so you "get it" – store processes are the key to your in-store success. Now you may be asking, how do I actually make my customers feel like shopping at my store is preferable to the plethora of other channels available to them?
Strategy #1: Earning brand loyalty is a retail necessity
Retailers should seek to give customers a reason to shop with them. Amazon has executed this strategy to perfection with Amazon Prime. Amazon keeps its Prime member numbers a secret, but popular estimates range from 50 million on the low end, to as many as 90 million. Even taking the low estimate, that makes Amazon Prime alone a $5 billion business. By that revenue alone, before their customers have bought a single product, Amazon would be a top 100 retailer in the United States.
The primary drivers of Prime, which costs only $99 per year, are free two-day shipping and access to their robust video library. Amazon absorbs the cost of that free shipping but it gains the benefit of customer loyalty. As one might imagine, this is a net win for Amazon. Why? Once a consumer has paid the $99, despite that being a relatively small investment, the consumer feels compelled to check Amazon first for his needs because he is already invested. This is evidence that if sufficiently incentivized, customers are willing to be brand loyal – even at an up-front cost to themselves.
Strategy #2: Loyalty programs can be the rock-solid foundation of a successful retail operation
Amazon Prime members are fiercely loyal to the company, accounting for nearly 60 percent of its gross merchandise value (GMV). According to Consumer Intelligence Research Partners, Amazon's loyalty program attracts members for the long haul. After a 30-day free trial ends, 73 percent become paid members; once the first year ends, 91 percent stay on for a second year; and that rises even more to 95 percent beyond year two. A 2016 study found that customers who are members of loyalty programs generate as much as 18 percent more revenue than non-members. In the case of Amazon specifically, Prime members spend nearly twice as much shopping on Amazon annually as their non-Prime counterparts ($1300 to $700).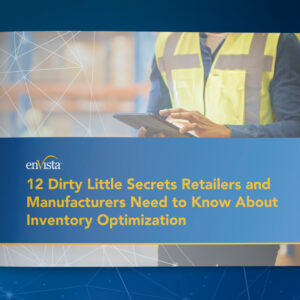 White Paper
Get the low-down on the secrets retailers and manufacturers need to know about inventory optimization.
Download
Strategy #3: Make it easier for customers to purchase by breaking down the barriers to sale
Optimizing retail operations processes is all about breaking down the barriers to the sale. The goal is to make purchasing as simple as possible. Convenience for the customer is the top priority. A customer wants to be able to come in, know what it is they are getting, where it is located, that it is in stock, make the purchase, and be home in a certain amount of time. One initiative that can help with this issue would be the ability for the consumer to schedule an "appointment" with a sales associate to come into the store so the associate is available to provide any assistance that might be needed. 64 percent of shoppers say they would use this service.
Strategy #4: Easy returns are high on customers' priority list
"Return" should not be a "four letter word" for retailers. Rather, returns should be seen as an opportunity. Offering Buy Online Return in Store (BORIS) is an absolute necessity in today's retail landscape, with nearly every one of the top 100 retailers in the United States offering BORIS.
Returning online orders, even if retailers offer free or expedited shipping, is a pain for customers. This hassle could preclude some customers from converting their wants into purchases. BORIS removes a major obstacle for those customers. 83 percent of shoppers prefer to return items to a physical store. As previously mentioned, getting the customer in the store is a key to driving additional revenue from their omni-channel purchases. BORIS provides an opportunity for upselling and cross-selling – and, most importantly, provides another avenue for great customer service
Strategy #5: Inventory curation is key to make sure retailers are not wasting valuable resources
One of the ways which retailers could stand to optimize their process is inventory curation – even down to the placement of that inventory within the store. New product should not exclusively be kept at the front of the store, as that disincentives customers from continuing their shopping trip beyond that product.
Some retailers think that because of the existence of e-commerce giants, they need to have more and more inventory. The opposite is actually true. They do not need more inventory, the inventory they have needs to be better curated. There are thousands of variations of products on e-commerce giants' sites, very few of which are applicable in any given location. Retailers should understand their buying audience and for which characteristics their customers are looking. They should make those decisions carefully along the guidelines of who their customer is.
Strategy #6: Use shipping to gain an advantage
Shipping is another process where there is room for improvement among retailers. In the world of unified commerce, retailers must be prepared to be competitive when it comes to shipping. This means in their shipping practices and in their ability to use their stores as fulfillment centers. Offering free shipping at a certain price point can be a win for retailers. 91 percent of shoppers are willing to spend more in order to qualify for free shipping.
With Amazon offering two-day shipping (or less in many cases), retailers must move beyond $10 shipping that takes five to seven business days to arrive. 61 percent of shoppers said they had abandoned an online cart because of unexpectedly high costs due to shipping or fees.
Conclusion: How enVista Can Help
Improving processes in the store operations environment is a key differentiator for retailers to make their store the preferred destination over an online retail giant or another brick and mortar chain. Many times, these process improvements are enabled by rapidly advancing store operations technology.
enVista has extensive, real world consulting experience guiding many retailers through the journey toward unified commerce and is able to quickly identify strategies and opportunities in store operations that make the most sense for your company and focus on optimizing profit, not just increasing sales or minimizing costs.
Some of our offerings include customer journey mapping, store operations, associate training, change management and more. enVista has 17+ years of consulting experience, and we've worked with leading retailers to get their store front and back-end operations in order.
Learn more by exploring our retail consulting services. Ready to talk? Reach out to start the conversation!