Warehouse: To Automate or Not to Automate
Distributors, like those in the beverage industry or other industries who deal with a large number of SKUs and increasingly demanding customers, are always searching for meaningful ways to increase productivity in their distribution processes, lower operating costs, and differentiate themselves in a crowded market by accommodating fickle consumer taste paired with frequent launches of new products. So how are the most successful companies winning in this fiercely competitive environment? Through automation.
Automating warehouses and implementing options such as dark warehouses and micro-fulfillment centers have become primary strategies to ensure the realization of supply chain productivity and fiscal goals while maximizing customer service levels. Here are eight operational considerations to drive organizational competency for automated distribution systems.
1. Improving Order Accuracy
With increasing demand leading to a higher number and higher frequency of deliveries, the need for timely and accurate order fulfillment is key. Automation can immediately increase an organization's order accuracy by up to several percentage points. This leads to reduced operational costs and an increase in customer service levels.
2. Managing SKU Proliferation
Consumer choice and demand for more and more choices, as is especially apparent in the beverage industry, has lead to a large influx in SKUs. Some of these SKUs move much faster or slower than others, but the warehouse needs to be able to manage them with equal efficiency. Automation can help decrease labor costs while increasing product selection efficiency.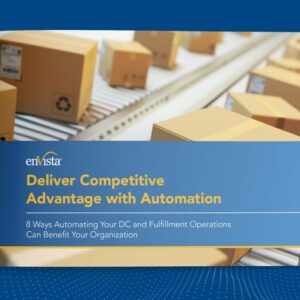 White Paper
Discover the eight operational considerations when determining whether automating your distribution center is right for your organization.
Download
3. Optimizing a Distribution Center's Cube Utilization When Expansion is Not an Option
SKU proliferation leads to the question of where to store the increased amount of product. Before building a new distribution center (DC), companies aim to maximize the amount of area currently at their disposal. Automation greatly aids in using the space within the DC efficiently.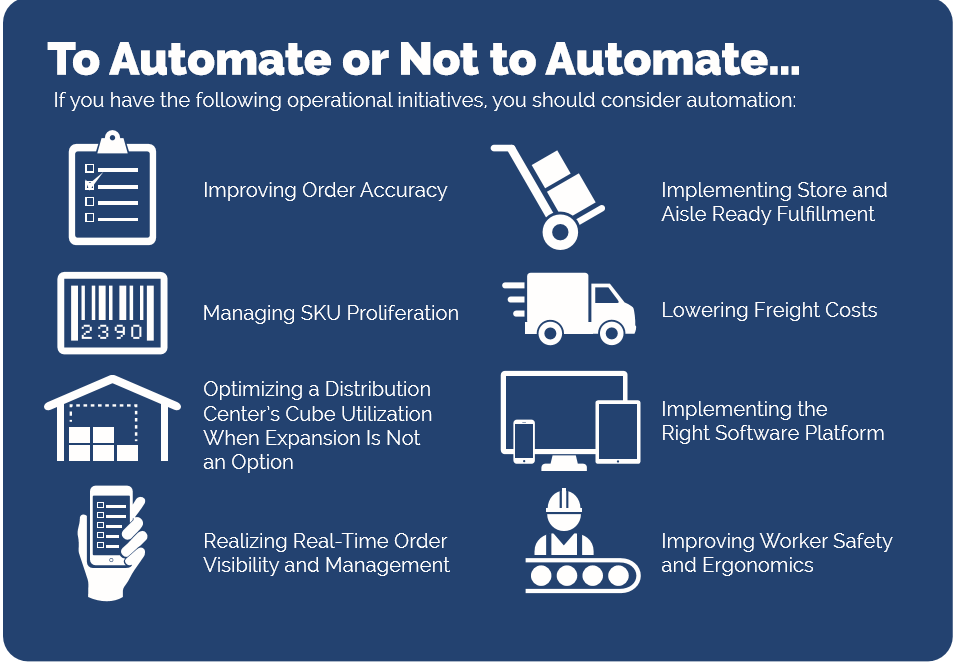 4. Realizing Real-Time Order Visibility and Management
Both customers and distribution center workers need access to real-time operational information. They often need this without being tethered to a work station within the DC itself. Automation helps eliminate the blind spots, providing a complete view of the inventory, so that workers and customers know exactly where product is at a given time and when it will be on its way.
5. Implementing Store and Aisle Ready Fulfillment
Any time labor can be effectively reduced at retail stops, distributors and retailers both benefit. Distributors can reduce demands on their drivers at stops which increases productivity while retailers have to rely less on stocking labor within the store. Distribution automation allows for more efficient queuing and creates inventory that is ready as is for store or aisle fulfillment.
6. Lowering Freight Costs
Automation is not necessarily just mechanization within the four walls of a distribution center. The implementation of an effective warehouse management system (WMS) can mean better management of freight costs and your overall business. An appropriately implemented WMS can offer detailed truck load planning and fleet management, which will increase truck cube utilization, optimize routes and provide significant reductions in freight-related costs.
7. Implementing the Right Software Platform
Supply chains operate on two main components: speed and efficiency. Therefore, a real-time warehouse management system (WMS) that can provide product movement, inventory status, performance metrics, and process bottlenecks needs to be operating at peak proficiency in order to maintain visibility and management of inventory.
8. Improving Worker Safety and Ergonomics
In non-automated beverage fulfillment facilities, associates often bend, twist and reach hundreds of times during a shift while lifting, placing or lowering heavy product. Most of these repetitive movements completely disregard proper ergonomics and can increase the likelihood of injury that results in missed time, workman's comp claims, and increased associate turnover rates.