The current version of Microsoft Dynamics 365 offers a warehouse management system (WMS) module that competes with Tier 1 WMS systems and is fully integrated with the built-in manufacturing functionality. Whether a business is discrete manufacturing, process manufacturing, Lean manufacturing or a combination of all three, Dynamics 365 for Manufacturing offers a flexible solution to run operations. When determining how to proceed, the business can implement a simple solution using Basic Warehousing functionality or implement the out-of-the-box fully mobile-capable Advanced Warehousing solution in D365 for their manufacturing environment.
During the project, design decision-makers will need to determine the best configuration to support the business processes that are being implemented. The decision-makers may want assistance from their consulting partner in determining what relevant functionality exists within the system and what the best path forward is to satisfy their business requirements.
Below are some quick tips and tricks regarding functionality in the Dynamics warehouse management module that will help optimize the business' manufacturing and warehousing operations.
Leverage Resources
Resources can be configured with an input and output location to direct where raw materials will be consumed per operation step and where finished goods will be produced. Here are some advantages of implementing input and output locations:
Define where raw materials will be consumed
Inventory visibility at a resource location
Improved real-time visibility of on-hand inventory and where it is at that moment
Reduced reliance on tribal knowledge related to where raw material inventory will be or have been stored
Guide sub-assembly feeder materials to parent production order(s)
Sequence higher priority inventory to be put away first
Leverage Work Policies
Work policies can be configured to restrict when finished goods, co-product, or by-product put away will be completed. This allows the system to be configured to reduce the number of systemic and physical steps that need to be completed in an item's lifecycle. Below describes how these can be used to optimize business processes:
Immediately make sub-assembly inventory available for parent production order
Eliminate unnecessary data entry of movement of sub-assembly inventory to parent production order
Configuration is warehouse-, location-, and item-specific, so it can be rules-based
The receipt of a sub-contract purchase order can drive the report as a finished process automatically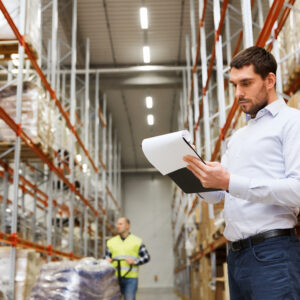 White Paper
Make the most of Microsoft Dynamics 365's Advanced Warehousing module and gain insight into the hidden treasures to unlock value.
Download
Leverage Min/Max Logic
Min/max replenishment logic is typically used to ensure that an item's primary or forward pick location is full during the workday. However, this functionality can also be used to ensure that consumption locations have adequate inventory for low-value items and reduce the number of times that users will need to pick the materials. Below are some benefits of implementing a min/max replenishment rule:
Avoid resorting to slow responding MRP to plan replenishment – switch to an execution model
Implement a Lean business process without implementing Lean manufacturing
Configurable batch jobs allow the system to be fine-tuned to replenish certain items at certain times throughout the day
System directed picking per resource location, which will lead to less picking processes during production order release
Replenishment templates and items can be configured to move full license plates, further reducing the number of times production order release will require the raw materials to be picked
Leverage Cross-Docking
The D365 warehouse management module supports cross-docking functionality in both a planned and reactive manner. D365 can review when materials are needed for outbound orders and whether those materials are available. If those materials are not available, D365 can plan to have the next inbound receipt take those materials to a shipping area based on a time window or it can be configured to immediately happen at the time of production order report as finished.
Recommendation for Solution
At enVista, we offer best practice advice and can provide guidance on the best way to configure D365 for your business needs. Let us help you make improvements to both system and real-world pain points!