An efficient and unique User Experience (UX) design is crucial to a successful website from the user's point of view. Working with a UX consultant gives you the chance to identify goals and opportunities to deliver a better end-product for your users.
Don't skip the UX step! Without it, you run the risk of inadvertently creating poor customer experiences, perpetuating inconsistencies across your site and racking up additional redesign costs because you didn't get the product right the first time
Why is UX Important?
The user experience is central to creating a successful website, application, product or anything that has a user interface. The goal of a UX designer is to create a satisfying experience for end users interacting with a product and try to understand the user pain points to craft a solution to solve these problems. A UX designer will use a loose process to uncover UX challenges and solutions.
The UX Design Process
Every project is different and will require different tools and methods depending on their UX needs. However, there are generally 4 discrete stages to the UX design process – Discovery, Users, Structure and Branding.
Discovery – Initially, a UX consultant meets with stakeholders of the project to hold a design session identifying the users of the project. They gather requirements and try to understand your business processes to develop a solution that will work for you.
Users – This phase is fully focused on the user. The UX designer create personas and journey maps to determine who will use your site. This data comes from the design sessions that were conducted and sometimes user interviews.
Structure – The UX consultant then works very closely with stakeholders, users and even developers to make sure they are creating a feasible solution that will fit the needs of your users and stakeholders. In this stage, wireframes, site maps and page outlines are created to define the site structure and flow.
Branding – Finally, the UX expert collaborates closely with their client's marketing team to confirm that their brand and identity stay consistent across all devices and resources. Their brand, images, colors and fonts are placed on top of the approved wireframes to create what are called "color designs." Branding really makes the project come to life, and this is what the development team will reference when producing and building the site.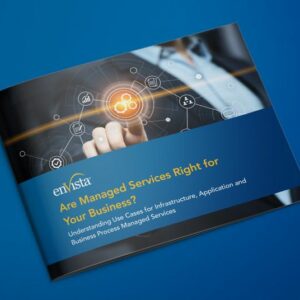 White Paper
Gain insight into benefits and various use cases for infrastructure, application and business process managed services.
Download
I Can Just Skip the UX Step, Right?
If you decide to skip the UX step, you end up spending a lot more time, money and resources developing a product that your users simply won't use. After you develop the product, say you find out that you have an issue. You'll then have to go back and spend more time and money redesigning and redeveloping a product for your users instead of just doing your due diligence up front.
People often decide to skip UX design because they think it won't fit within their budget or timeline, but it's important to remember that UX does not have a specific process. A good UX consultant will sit down with you to find an approach that will fit within your project plans so that this important step is not missed.
Need a UX Consultant? Talk to These 2 Groups to Find Out.
Your Customer Support Team
Your customer-facing staff often have the greatest insight into current user pain points. Why are customers contacting support? What are they asking? What are they complaining about?
Talking to customer support and looking through past tickets are a good way to perform a quick "spot check" on what some high-level categories of user pain points may be.
Your Customers
You'd be surprised how often businesses don't proactively ask for customer feedback. Are they satisfied with your product? Is it making their lives easier? Do they enjoy using it?
There are plenty of tools that can allow you to get feedback. Send out a survey to customers with a tool like SurveyMonkey or Typeform. Or get on-page user feedback with a tool like HotJar.
Conclusion
If either of these action items uncover a pattern or common pain points/dissatisfaction, you probably have a problem that could be solved with a little UX help.
enVista provides expert UX design services that can help you achieve your user experience goals. Our UX consultants will provide an expert evaluation of your current product (whether website or application) and provide recommendations on how to improve user experience based on best practices and design standards.
Getting your user experience right is critical for long-term success. Make your end users happy, and they'll take care of you.
Learn more about our UX/UI services or contact us to start a conversation.