The Coronavirus and Cybersecurity: How to Reduce Cyber Attacks
COVID-19 is impacting businesses across the globe in many ways, and cybersecurity remains top-of-mind. As companies shift to remote work policies in order to contain the spread of the coronavirus, systems are becoming less secure, and the security threat is becoming even more present with foreseen and unforeseen disruptions such as phishing and hacking attacks.
Remote Workforce Vulnerabilities
During this transition to remote work, your organization can be at risk in a number of ways. Since some organizations may not have an already established mobile workforce, associates must work from personal devices. Accessing sensitive data and resources on equipment that does not have the same level of endpoint protection software as do the company's own devices could result in end users unknowingly introducing a device that is already infected with malware into the network.
Alternatively, some organizations may be less prone to this problem because they have already deployed end user devices with endpoint protection and connected networks. However, these companies may still be at risk from other equipment that may be connected to the network that the end users' devices are running on. This allows cyber attackers to compromise systems on the employee's home network, spreading to other connected devices.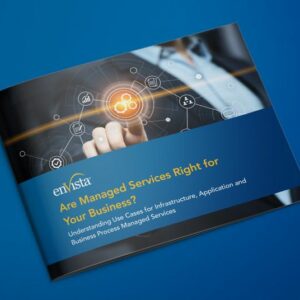 White Paper
Gain insight into benefits and various use cases for infrastructure, application and business process managed services.
Download
Steps to Mitigate Potential COVID-19 Cybersecurity Risk
Cyber attackers are taking advantage of this transition, viewing the global coronavirus pandemic as a weak spot. This new opportunity, coupled with the above-mentioned vulnerabilities, makes businesses extremely prone to cyberthreats. There has already been an increase in the number of ransomware cases affecting end-point devices due to COVID-19. Additional threats are expected due to having employee-owned devices that are already compromised on organizations' networks.
This may cause panic, but there is still an opportunity to keep your networks secure and your organizations safe from attack. It is possible to create and manage a productive and safe remote workforce amid these difficulties, but it will require a thorough assessment and update to your security policies and procedures. Here are a few steps to consider when mitigating security risks amid COVID-19.
Install a Virtual Private Network (VPN)
If your team is going to be working from home on untrusted networks, the first step is to set up a virtual private network (VPN). A VPN can protect your network in several ways including creating a connection that routes all traffic to your company's resources through an encrypted tunnel. This allows organizations to authenticate end users who are accessing internal resources from remote locations, thus preventing unauthenticated access to secure resources regardless of where they are being accessed.
Additionally, it adds a layer of security that prevents any devices connected to your home network from being able to listen and intercept secure company data. This will prevent prying eyes from spying on data as it traverses the network.
Lastly, the VPN allows your endpoint protection tools to be installed, tracked and managed centrally through the secure connection. VPN connections allow endpoint security resources to check in with management servers on an organization's network. VPN connections can also be configured to scan the systems connecting to the network and reject connections from systems that do not meet a minimum requirement set by the organization.
Secure Endpoints to Minimize Risk
Once you have implemented a secure VPN, your next step should be to secure endpoints in order to minimize cyber risk. Home networks commonly use old and unsupported routers. This is a major vulnerability for companies, providing ample opportunity for cyber attackers to infiltrate devices that are not getting regular updates or bug fixes.
Another vulnerability is that even when using supported devices that do have regular updates available, many users do not take advantage of routine updates to their routers. This increases vulnerability when transitioning to remote work because out-of-date routers can be used to access sensitive company data. An endpoint protection tool, such as anti-virus, DNS filtering, web filters and host-based intrusion detection can be used to secure your network and circumvent the risk of having a cyberattack originating from an out-of-date router.
Develop a Cybersecurity Prevention Strategy
enVista provides leading cybersecurity risk management solutions to minimize security breaches and respond to and contain threats as they emerge. enVista's experts are trained in security management, designed to protect information resources via administrative and technical controls to develop mature security solutions. We also have a Managed Security Operations Center and SOC 2 Type 2 Compliance equipping us to guard your critical information and resources against growing cyber security threats. Let's have a conversation.