Last week we attended and presented at the biggest retail conference, National Retail Federation (NRF) in New York. enVista CEO, Jim Barnes, presented on moving beyond traditional POS solution to retail engagement. Here is a brief overview of our presentation on how to create great customer service and engagement in the digital age.
Digital is Everything, but Not Everything is Digital
For centuries, commerce looked essentially the same. 17th or 18th century trade was based upon relationships. It was built upon trust, product for the price or for the fair trade. However, in the modern age, the purpose of retail should no longer be to solely convert every customer into a buyer of goods but rather to transform them into disciples of the brand itself. To begin a relationship – a dialogue that may play out in any number of buying channels (online, in-store, mobile or elsewhere) must be created. It doesn't matter where purchases take place. What matters is that the consumer falls in love with the brand and shares that love with others. The store maintains the potential to be that emotional center of gravity for the brand.
The relationship with your local market vendor is less now with digital, texting, etc. Digital relationships win the customer with the convenient relationship it offers over traditional services. David Sable, Global Chief Executive Officer of Young & Rubicam, a global marketing and communications company, says "Digital is everything, but not everything is digital." This rings true to what is going on today in our world of commerce. It is important to remember as retailers that digital is just one piece of the puzzle. Marketplaces bring people together, but our biggest challenge in the digital age is how do retailers create and maintain relationships with intimacy? People buy from people.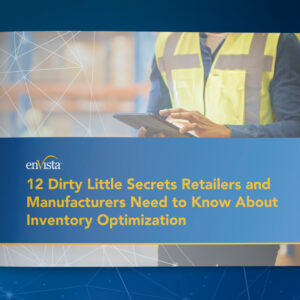 White Paper
Get the low-down on the secrets retailers and manufacturers need to know about inventory optimization.
Download
Some Things Never Change
Despite advances, one thing has not changed: success is based on the relationship you build with your consumer. Shoppers still want to be engaged and they still want options.
80 percent of US shoppers prefer going to the store because the can physically touch and feel the products.
74 percent of customers prefer to shop at a store rather than online because they are more confident that they are buying the right thing.
Each year, US businesses alone lose more than $41 billion in sales because of bad customer service. Shoppers in a digital age have more visible options and are more price/product comparison savvy.
68 percent of shoppers expect store associates to be experts on the products offered on the sales floor.
Store associates can engage customers and ultimately drive sales through clienteling – the artful distinction of helping a customer buy, versus selling to them. You have to be able to create engagement within your store. The engagement process must be convenient for sales associates and shoppers.
One key to clienteling is to offer the shopper more options in store, including delivery methods. Delivery is key to the digital age. The customer conversion rate doubles among retailers that offer buy online and pick up in store versus companies that don't. People still like the immediacy of in-store purchases but want to have the option to purchase when it's convenient, then pick it up, resulting in immediate gratification. The physical store is rising in importance because of digital. The ability to buy online and pick up in store has retailers using the stores as fulfillment centers. Customers shop across all channels. They browse online but then might shop in the store. They shop in the store but might go home to purchase online.
Know Your Audience
Another key to clienteling is customer profiles. Customers buy based on popularity. What if each purchase made by your customer could be saved and monitored? If preferences were recorded? And if your sales associates had access to this information?
Today's POS solutions should go beyond capturing retail transactions; they should be leveraged to increase customer engagement and make sales. POS solutions allow for better retail engagement by profiling and customer history, having in-store "personal shopper-like" engagement based on previous purchases and customized emails from sales associates that actually help the customer.
POS technology can provide the solution to most retailers' challenges, such as providing digital catalogs, shopping history recommendations, and tools to keep them untethered from the cash register. Stores of the future won't carry a ton of merchandise; they will be show rooms to touch and feel. Successful associates will have information access. People have the innate desire to engage and will always come first.
Today's POS solutions go beyond capturing retail transactions; they can be leveraged to increase customer engagement, improve inventory visibility, and drive more revenue.
Advanced POS functionality includes drop shipping, ship-from-store and pick up in store, as well as the delivery of catalog and customer information to drive clienteling and customer service.