Inventory is one of the retailer's biggest assets, and with the growth of omnichannel fulfillment across the industry, it is becoming more complex every year. Inventory decisions have the power to impact all aspects of the organization, including customer experience, cash flow, distribution operations, transportation costs and profitability. With such a broad range of impact, inventory management should not be taken lightly.
Defining Multi Echelon Inventory Optimization
Multi-echelon inventory optimization (MEIO) is an inventory optimization that focuses on positioning inventory in the most effective and cost-efficient points in the supply chain by looking at multiple levels of demand. It is not your typical strategy for managing inventory, but it will drive the most success in an omnichannel retail environment.
Traditional inventory optimization focuses on getting the right inventory in the right place at the right time and typically only looks at one layer of demand. Traditional inventory optimization looks at individual geographical locations and bases inventory flow on that one metric. This can lead to suboptimal movement of inventory, such as sending all shorts during the winter season to your southern stores and none to the northern stores. While retailers maximize demand by location, they ignore opportunities where future demand may be low and increase costs to meet it.
Multi-echelon inventory optimization encompasses all of the same aspects as traditional inventory optimization, but then takes it one step further. MEIO focuses on driving inventory to specific points in the supply chain in order to position product in the most effective and cost-efficient manner possible. This strategy will look at multiple levels of demand forecasting to ensure that the right product is always placed in the right node to meet the brand promise to the customer. It also takes into account the characteristics of demand at each node, like stability vs. variability, to determine the most effective storage location.
Why Pursue Multi Echelon Inventory Optimization?
The benefits of multiechelon inventory optimization are absolutely critical for retailers that are seeking to optimize their omnichannel profitability. Omnichannel fulfillment, only one decade old, is still new to many retailers, meaning it is not always optimized. The main goal of omnichannel fulfillment is to maximize margin by reducing costs, yet many retailers are not aware of the true cost of omnichannel fulfillment and are not managing it in the best way possible.
The current focus of omnichannel retail is "store fulfillment." Research suggests that with ecommerce's current growth levels, stores are expected to dedicate as much as a third of their store space to online order fulfillment. Traditional inventory management may support this strategy, but MEIO challenges retailers to see that it may not always be the most cost effective way to manage levels of stock. Fulfilling online orders from store inventory effectively removes potential sales from within the store. However, if MEIO is successfully executed, you will not only have the inventory levels you need for ecommerce orders sitting in the correct nodes optimized for cost-effective shipping, but also enable your store associates to focus on raising customer service levels.
MEIO targets the specific challenge of positioning inventory in the right store, hub location, vendor or distribution center. MEIO offers several other key benefits for omnichannel retailer, including:
Delivering a Consistent Brand Experience and Higher Service Levels
Reducing Operating Expenses
Achieving Higher Margins
Increasing Productive Inventory
Focusing on Assortment and Planning
Experiencing Top Line Growth
Reducing mark-down risk
How to Achieve Multi Echelon Inventory Optimization
For retailers, achieving MEIO means understanding that each node of their supply chain has a particular purpose. It is much more efficient for a distribution center, which has more of a shipping focus, to hold product for shipping to ecommerce customers, rather than having a store associate who should be focused on customer service fulfilling and shipping ecommerce orders. However, in some cases the only way to achieve a next-day delivery promise is to ship from the store.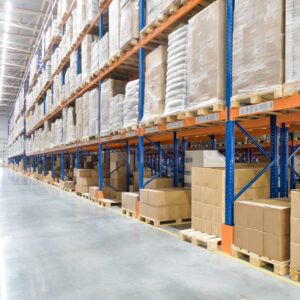 White Paper
A well-thought-out slotting strategy also enables businesses to minimize wasted space and maximize storage capacity within the warehouse. Increase ROI using the right tools, strategy and management plan with successful warehouse slotting.
Download
In order to successfully achieve multi-echelon inventory optimization, there are four areas of focus that retailers should attend to: inventory visibility, sales and operations planning, omnichannel assortment planning, and product flow.
Inventory Visibility
The first step to achieving multi-echelon inventory visibility is to create and maintain a cohesive and accurate view of stock levels across all channels. Whether that be in the brick-and-mortar store, on the desktop website or the mobile app, customers should understand what is available. Maintaining inventory accuracy and visibility across the entire supply chain network will ensure that customer needs will be met and help with optimizing service levels.
Sales and Operations Planning
Leveraging sales and operations planning will establish inventory targets across the supply chain cascading to a more granular level. This is especially important with multi-echelon inventory planning because it will ensure that inventory is consistently running through the correct nodes.
Omnichannel Assortment Planning
For omnichannel retailers, reducing stock and freeing up capital is a key way of maximizing margin and reducing cost. Achieve this by identifying a clear direction of how to optimize and localize merchandise across channels, geographies, brands, delivery lead time commitments and more. This will reduce unproductive inventory while maintaining an integrated and consistent brand experience for customers.
Manage Dynamic Inventory Flow
What sets MEIO apart is its multi-level demand and inventory planning that goes beyond traditional inventory optimization. For retailers, this means taking a deep dive into data for insight into customer demand. While traditional inventory optimization may only look at geographical location, MEIO considers much more detailed demographics and customer patterns to ensure inventory is flowing through the correct nodes, often leveraging AI and ML to support the analysis. Achieving dynamic inventory flow will maximize profitability and give you more control over inventory and profit margins.
Leverage enVista As Your Inventory Planning Partner
Multi-echelon inventory optimization is no simple task and should not be done alone. Leverage a partner that understands the entire supply chain planning process, from concept to consumption, knows how product flows through your distribution network and understands the cost associated with your product and where it resides.
enVista's supply chain planning consultants, with their extensive retail, inventory and product flow expertise, can help you develop an MEIO solution that works for your business needs. We take the guesswork out of optimizing inventory. enVista is an end-to-end supply chain consulting and optimization solutions firm that can turn your strategy and supply chain model into a competitive reality.