It has been an exciting few weeks for enVista! Last week we attended the Internet Retailer Conference and Expo (IRCE) in Chicago to launch our new business, Enspire Commerce®.
enVista founded Enspire Commerce to provide the market's first and only true cloud-based, multi-tenant architecture solution focused on omni-channel selling, optimization, fulfillment and integration for small to mid-market retailers, distributors and third party logistics providers (3PLs). The Enspire Commerce Enterprise Commerce Management (ECM) platform enables companies to readily leverage and rapidly integrate any or all of Enspire Commerce's solutions, including: Retail Engagement/Point of Sale (POS), Trading Partner Management, Order Management and e-Commerce Solutions.
Exhibiting at IRCE was a great opportunity to showcase this first of its kind, single platform solution, but it was also a great opportunity to speak to small to mid-sized retailers about their challenges and the opportunities available to them. Several retailers approached us with the desire to sell more of their suppliers' products online as a way to exponentially grow their businesses. This is a very strategic opportunity right now for savvy e-retailers.
How It Works
Small and mid-sized retailers can grow their business by a large percentage by collaborating with suppliers to offer a larger catalog of the supplier's products on the retailer's e-commerce website to effectively grow sales opportunities. In this instance, as online sales come through, inventory is fulfilled (drop shipped) directly from the supplier to the consumer. This is a win-win for retailers and their suppliers. The beauty for the retailer is that the retailer does not actually have to take on the incredible cost, storage and the labor associated with assuming and managing the physical inventory. Retailers also benefit by enhancing customer service as they offer their online shoppers even more options. Suppliers see value in the fact that they're able to sell even more of their product.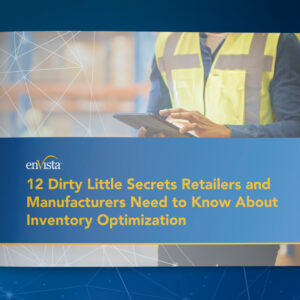 White Paper
Get the low-down on the secrets retailers and manufacturers need to know about inventory optimization.
Download
The Enspire Commerce solution enables retailers to readily enable catalog capabilities, including up-to-date inventory information, so that merchandise is only offered on the retailer's site if their supplier can fulfill the order.
Watching retailers' eyes light up as we walked them through how they can make their vision a reality and showing them examples of online stores that are already taking advantage of this opportunity was a huge highlight for us at IRCE.
The official launch of Enspire Commerce at IRCE was undoubtedly a success, and we look forward to speaking to more retailers in the future about how we can help them capitalize on critical opportunities in omni-channel retail.
In the meantime, be sure to check out our new white paper, Overcoming Obstacles to B2B Commerce.