Standing Out in an Ever-Growing Crowd of Competitors
The holiday season is now upon us, and it's no surprise that in today's competitive omni-channel landscape, retailers are looking for new and innovative ways to stand out in an ever-growing crowd of competitors, especially during the holidays. There are three ways that holiday shopping will change this year and new strategies that retailers should consider to achieve the best customer service for all shoppers during this time of year.
1. Reverse Logistics
The holiday season is one of the busiest times of the year for retailers. One aspect of retail that becomes a main focus for retailers during this time of year is reverse logistics. After the holidays, retailers will see a significant increase in the number of returns received; with holiday sales expected to reach $617 billion in 2015 according to the National Retail Federation, there will be billions of dollars' worth of items being returned by the time the wrapping paper and bows are thrown away. Retailers must ensure this process runs smoothly, which also gives them the opportunity to make the experience positive for the customer and leverage the opportunity for customer interaction to make additional sales.
Retailers will need to ask a number of questions about their reverse logistics plans in order to handle the volume of returns, including:
What return options should be offered? Buy online, return in store? Pre-paid return labels? Retailers can offer returns in several ways, including providing a pre-paid return label, accepting returns in the store, or allowing customers to print their own label for returns. Retailers should analyze these options and consider which options would result in the highest level of customer satisfaction.
Where will labor capacity be strained? Retailers are seeing a substantial increase of in-store returns. While retailers may plan for this ahead of time, they may not prepare for the labor needed to sort and prepare products to be shipped back to vendors or a returns processing center. Foot traffic is increased from in-store returns, so retailers should train sales associates to take advantage of the opportunity for potential sales.
What items are eligible to be returned? Retailers may only allow certain items to be returned during the holiday rush. They may limit eligibility for certain products that are on sale because the cost of return outweighs the profit of sale. Not all items that are returned will end up back on the sales floor. There are usually standards that are already set into place of what constitutes a re-sellable item, but retailers need to decide if they want to adjust that during the holiday season.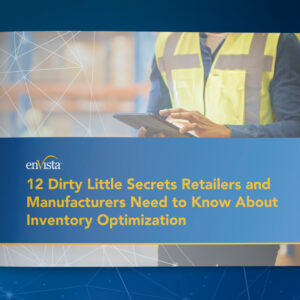 White Paper
Get the low-down on the secrets retailers and manufacturers need to know about inventory optimization.
Download
2. Drop shipping
Drop shipping is another way for retailers to add convenience and options for shoppers during the holidays with benefits such as increasing the retailer's item assortment and accelerating order processing. Customers are able to purchase products from the retailer; the retailer then has a supplier or third party vendor fulfill the order, and the items are directly shipped to the customer without the retailer ever handling the merchandise.
When considering a drop shipping strategy, you must take a look at customers' buying behaviors and their expectations and what would be required for the implementation of this strategy. For retailers, a challenge to implementing a drop shipping strategy is that not all vendors are the same in terms of capabilities; retailers may lack a single platform that can support a larger vendor that requires EDI integration to a smaller vendor that is not EDI capable and requires a vendor portal. A Trading Partner Management solution that can manage both large and small vendors and everything in between can be a solution to this drop shipping challenge.
3. Ship from Store
A ship from store strategy is a third solution that can significantly benefit a retailer's holiday business. By leveraging an in-store workforce, a ship from store strategy can increase traffic, improve sales and become a key customer service opportunity. Offering fulfillment options, such as ship from store, can be important when it comes to fulfilling customer expectations, driving brand loyalty and competitive advantage. Leveraging demand data, workforce practices and technology are keys to success when considering whether to implement a ship from store strategy.
Considering these three strategies for the season will help retailers keep shoppers top of mind going into the New Year.