A recent Forrester Consulting Total Economic Impact™ (TEI) study showed a potential total cost of ownership (TCO) reduction of 3.4 percent and a return on investment (ROI) gain of 109 percent for companies migrating from Dynamics AX to Dynamics 365. It is certainly no wonder that industry adoption of Dynamics 365 is accelerating.
Microsoft Dynamics 365 users have access to an expanding universe of features and customizable modules. In addition to many built-in capabilities, the flexibility of Dynamics 365 allows businesses to partner with best-in-class, third party applications for specific functional needs.
Understanding Electronic Data Interchange (EDI)
Electronic data interchange (EDI) is a prime example of such applications. Defined as the electronic interchange of business information using standardized formats, EDI allows businesses to send information to other companies electronically rather than through a paper trail.
The ability to not only share data between trading partners but also immediately leverage and act upon that information on a single cloud-based ERP platform is a critical competitive advantage in digital commerce. Not only do those capabilities improve the velocity of commerce and reduce costly technology modifications, but they also help drive improved intelligence, customer service and profits. EDI is absolutely fundamental to successful digital commerce transformation and to outpacing the speed of today's business.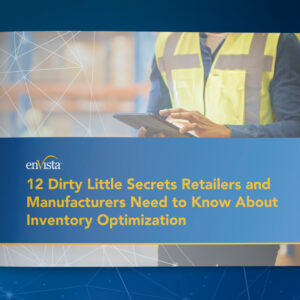 White Paper
Get the low-down on the secrets retailers and manufacturers need to know about inventory optimization.
Download
Top Benefits of EDI
End-to-end visibility and control can be greatly expanded with EDI as companies gain enterprise-wide visibility to inventory, orders, invoices, advanced shipping notices (ASNs) and other vital trading documents and data.
Trading partner compliance can be drastically improved through effective EDI. Companies can rapidly onboard trading partners and customize file formats for specific needs. EDI's direct impact on trading partner compliance helps to reduce manual processes and resource requirements, while improving agility, data connectivity, and productivity.
Productivity is increased as EDI reduces the time it takes your staff to manually create invoices and process purchase orders. EDI also reduces manual data entry errors and improves accounts payable/receivable times as processes become streamlined and efficient.
Inventory management is improved as stock levels are more visible across the supply chain, improving customer service levels as well.
EDI can reduce expenses associated with storage, printing, paper, postage, mailing and recycling.
Sustainability is improved as companies reduce paper utilization and improve transportation efficiency.
While the ability to seamlessly exchange data with trading partners and across your network using EDI is integral to unified commerce, building that capability is not a "one size fits all" exercise. enVista has proven experience helping clients to achieving the full benefits of efficiency, resilience, security, and productivity from digital commerce. As a Microsoft certified Gold Partner across all three clouds: M365/O365, D365 and Azure, enVista combines strong Microsoft expertise with unparalleled industry experience across manufacturing, retail, commerce and logistics. Let's have a conversation.™