Today's empowered shoppers want to choose from a multitude of products and delivery options and expect immediacy, convenience and simplicity. Competing against Amazon and other retailers with extensive product offerings is driving more retailers to expand their purchasing and fulfillment options.
Retailers are also experiencing an explosive increase in ecommerce orders and demand for omnichannel fulfillment options like buy online/pick up in store (BOPIS), buy online ship from store (BOSS) and home delivery. As today's consumers come to expect the ability to purchase and receive products in a multitude of ways, it is now table stakes to provide omnichannel fulfillment.
But what exactly is omnichannel fulfillment and what does it mean for retailers?
Defining Omnichannel Fulfillment
Omnichannel fulfillment is the strategy and method for filling customer orders from various sources across multiple channels. These channels may include home delivery, warehouse fulfillment, in-store pickup and other creative ways to fulfill customer orders and get purchases into the customer's hands.
Unlike traditional single-channel fulfillment methods, omnichannel fulfillment strategies ensure the correct product is found, the allocation of the product is optimized and the product is delivered to the customer as quickly, seamlessly and efficiently as possible. Most importantly, it requires retailers to have robust inventory management and supply chain management and ensures that all channels operate smoothly and work successfully together as the best fulfillment option for that specific order is chosen.
Enabling Omnichannel Fulfillment
Optimizing omnichannel is incredibly complex. Making and keeping the customer promise requires the integration, orchestration and visibility of processes, technology and data extending across both physical commerce and digital commerce. A key requirement in the race to take advantage of every sales opportunity is an agile, unified commerce platform with next-generation order management software capabilities. This enables retailers to not only optimally route and fulfill orders under evolving custom rules criteria, but with real time inventory visibility they can leverage inventory across the retail enterprise (all stores, distribution centers, 3PLs and supplier locations). Nearly all the capabilities, experiences and results retail leaders are called on to deliver today require a next-generation, cloud-native OMS.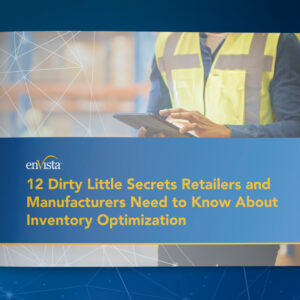 White Paper
Get the low-down on the secrets retailers and manufacturers need to know about inventory optimization.
Download
Types of Retail Omnichannel Fulfillment
As consumers demand the ability to seamlessly buy and return anywhere, retailers who have not yet implemented omnichannel strategies that provide a positive customer experience are at risk of losing clients to customer-centric competitors. Fortunately, there are a multitude of omnichannel fulfillment options to facilitate contactless commerce and improve the customer experience. Here are the main methods utilized for omnichannel order fulfillment:
3PL
Omnichannel third-party logistics (3PL) providers can enable almost all aspects of fulfillment. Customers place their orders with the retailer and the omnichannel 3PL company fulfills the order. The 3PL acts as a link between the retailer and the consumer to provide quick, seamless and beneficial outsourcing. Taking on many of the traditional concerns and tasks of the business itself, 3PL providers take charge of inventory and shipping, meaning that retailers can focus their attention on the customers themselves.
Dropship
Dropshipping can be a game-changer for retailers and distributors that want to effectively increase item assortment, expand business, compete across larger channels and enter new marketplaces and territories – without the need to make additional investments in inventory or infrastructure. This fulfillment option can help preserve cash during a time of massive business disruption.
Warehouse Fulfillment
Warehouse fulfillment utilizes an organization's own warehouse facility to ship orders directly to the customer. While most businesses use this method from their own facilities, there are also a growing number of warehouse providers that allow you to lease the space needed. The risk is that the costs of inventory storage and shipping can outweigh the value that you may get from not owning the space.
Store Fulfillment
Fulfilling from the store remains the most cost-effective fulfillment option for most omnichannel retailers. Store fulfillment not only avoids parcel shipping and packaging costs that can easily erode margins, it also drives foot traffic, contributes additional add-on sales revenue and provides important opportunities to deliver more personalized experiences that foster customer satisfaction and brand loyalty. Store fulfillment strategies can include:
Buy online, pick up in store (BOPIS) – BOPIS enables retailers to utilize physical stores as hubs for fulfillment—getting the product into the customers' hands at a much faster rate, and generally at a lower cost to the business. BOPIS maximizes inventory positioning by fulfilling online orders near the point of demand, driving down fulfillment costs. Additionally, BOPIS provides customer convenience by giving them the choice and creates opportunities for customers to spend more money while in the store. These factors improve the customer experience and order profitability.
Curbside pickup (Click-and-Collect) – Curbside pickup, also known as click-and-collect, is another omnichannel cost saving fulfillment strategy proving customers with the convenience to pick up orders in a contactless fashion without the need to leave their vehicle, which gained in popularity during the recent pandemic and corresponding lockdown. Curbside pickup is vital to retailers as it positions inventory closer to demand and utilizes inventory from physical stores, reducing fulfillment and transportation costs.
Ship from Store – Ship from store allows retailers to optimally leverage store associates and inventory in the stores. Leveraging inventory on hand (available to promise/ATP) in stores often reduces fulfillment costs and improves service levels. Additionally, leveraging store labor can reduce distribution center requirements and provide opportunities for personalization to foster brand loyalty.
Benefits of a Strong Omnichannel Fulfillment Strategy
There are many benefits to using a more proactive omnichannel fulfillment strategy enabled by order management systems. For today's business requirements to sell across a variety of platforms, establishing and delivering the seamless service that consumers demand is a vital stage of business development. Other benefits include:
Increased sales – By maximizing locations and the opportunities for customers to purchase and receive/pick up products, the organization benefits from further potential sales.
Higher order efficiency – Fulfillment is easier to ensure as multiple channels are streamlined into a single process, leading to improved efficiency, more accurate delivery processes, and seamless shipping operations.
Improved customer service – Omnichannel fulfillment offers customers the ability to receive their items faster, either through home delivery or store pickup, leading to greater customer satisfaction.
The result of successful omnichannel fulfillment operations is broader product offerings, on-time delivery, accurate shipments to customers, improved customer services and business growth opportunities.
The current environment has made it apparent that organizations with agile, scalable technology and omnichannel fulfillment capabilities are best positioned to meet demand, improve customer satisfaction and leverage each and every sale during a time when profits matter more than ever.
Get started with your omnichannel fulfillment strategy today. If you have questions or are ready to get started with your omnichannel fulfillment strategy, contact enVista for more information.