On Sunday, May 30, 2021, the world's largest meat processing company determined it was the victim of an organized cyberattack, which affected servers supporting its IT systems in Australia and North America. Headquartered in Colorado, JBS operates 84 properties in the U.S. and owns facilities in 20 countries. JBS accounts for almost a quarter of all beef capacity in the U.S. alone, and exports about 70 percent of production to Australia.
Slaughterhouses in Australia were shut down in response to the attack and thousands of employees were instructed not to come to work throughout a number of plants in the U.S., including Iowa, Minnesota, Texas and Colorado. It is not immediately known when shifts will resume and the company is working with its global network of IT professionals and third-party experts to resolve the situation and restore its systems as quickly as possible.
While it is too early to know if and to what extent consumers will be impacted, JBS said in a statement, "Resolution of the incident will take time, which may delay certain transactions with customers and suppliers."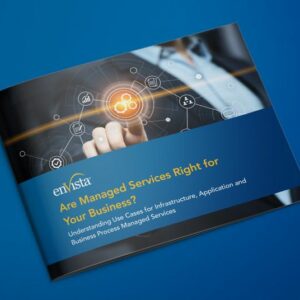 White Paper
Gain insight into benefits and various use cases for infrastructure, application and business process managed services.
Download
Cyberattacks Bring Importance of Security and Risk Mitigation to the Forefront for Businesses
The cyberattack on JBS comes only a few weeks after the ransomware attack on Colonial Pipeline Co., one of the largest U.S. refined products pipeline systems with nearly 100 gigabytes of data taken hostage. Delivering nearly half of the U.S. East Coast's supply of gasoline, diesel and jet fuel, the pipeline shut down for six days and inflated gas prices to a record high since 2014 while leaving many gas stations without fuel. Additionally, the attack resulted in the payment of a $4.4 million ransom, which didn't immediately restore the pipeline's systems.
"With the global shift to remote work, cybercriminals see increased opportunities for cyberattacks. The multiple recent cyber incidents in the news are a clear reminder that organizations around the world are at continual risk from malware and ransomware. As more organizations realize their susceptibility in today's quickly evolving environment, they are investing more heavily in people, processes and technologies to proactively reduce organizational risk." -Scott Westphal, Senior Director of Security at enVista
As more attacks are brought to the forefront, businesses must turn their attention to investing in people, processes and technology to ensure flexibility and agility in their system security and supply chain in the event of disruption – whether a cyberattack, pandemic or natural disaster. Follow enVista on LinkedIn to stay in the know on the latest happenings in the industry, including thought leadership insights surrounding supply chain, transportation, omnichannel, technology and more.