A retail supply chain with the right balance of cost and service level is key for retailers looking to gain a competitive advantage in today's omnichannel retail world. If you haven't looked at your network strategy lately, you're likely either sacrificing service to customers or spending too much money.
A strategic network evaluation provides a comprehensive view of your business that helps uncover and leverage new opportunities for growth and optimization. A successful supply chain network design will give retailers a competitive advantage, pinpoint ways to reduce costs, improve service levels, reduce overall cycle times, streamline all processes and systems used and much more.
What is Retail Supply Chain?
The retail supply chain is the process used to get products from manufacturers to consumers. It includes everything from obtaining raw materials to delivering the finished product to customers.
What is Supply Chain Network Optimization?
Supply chain network optimization seeks to meet customer demands while minimizing the cost to the company. An optimal supply chain network achieves the right inventory in the right place at the right time across a company's network of distribution centers (DC), warehouses, 3PLs, dropship vendors and stores.
Heightened customer demand for quick fulfillment times makes inventory placement and flexible fulfillment critical to maintaining a competitive advantage.
Benefits of Supply Chain Network Optimization for Retail
Reduce fulfillment times to meet customer demands
Reduce costs associated with network complexity and inefficiencies
Improve customer satisfaction
Improve inventory allocation and placement
Maximize profit potential of network
The increasing complexity of the omnichannel supply chain can rapidly create pockets of inefficiency, often resulting in millions of wasted dollars every year, depending on the size of the retailer and the scope of their issues.
It is important to first map out the business network and identify any gaps. Once these gaps have been determined, you can begin to develop a plan to build and maintain a more robust network strategy. With ample benefits, a new network strategy is something all retailers should consider, but when is it truly necessary to reevaluate an existing plan?
6 Scenarios Where Retailers Should Consider Optimizing Their Supply Chain
1. You recently implemented a ship from store strategy
Many retailers are now utilizing stores as fulfillment centers to enable ship from store strategies. This gives retailers a competitive edge and allows customers to save time and money. Customers save time since they no longer have to wait for a shipment from a distribution center that is farther away, and they save money because they might be charged less for shipping.
However, shipping from stores does require an adjustment to the supply chain. Retailers need to know how much product needs to be housed in each facility and have the technology in place to determine which shipping location is closest as soon as orders are placed. As a result, a new network strategy will substantially improve the supply chain performance of any retailer deploying a ship from store strategy.
2. Your company merged with another retailer or acquired another brand
Mergers and acquisitions are a signal of growth, which is a positive thing, but it might mean it's time to reevaluate your network strategy. Often immediately following a merger or acquisition, the retailer that was acquired and its new parent company continue to operate independently.
But to optimize the supply chain – and leverage all the facilities the new, larger retailer has – a new network strategy should be put in place to ensure optimal service levels are met and the time it takes to get orders to customers is reduced.
eBook
Download our ebook, Inventory: The First LEAN Waste, to learn why inventory is described as the FIRST lean waste and more.
Download
3. You experienced a recent geographic expansion
Beyond acquisitions and mergers, retailers might expand to new parts of the country or the world. While it is common for a new region to have more limited assortments and service levels at the very beginning of any expansion, it is important to reach competitive levels to maintain your expansion plans.
When it comes to adding locations throughout the U.S. and beyond, there is a tipping point where your old strategy will no longer suffice. An updated network model will tell you when that tipping point occurs and provide direction to optimize your new expanded geography.
4. You are utilizing a "store within a store" strategy
A "store within a store" strategy is when a large retailer will have a small version (or pop-up shop) of another retailer inside of its brick-and-mortar store.
Store-within-a-store strategies are becoming more prevalent, especially with larger apparel retailers housed in malls. When a store within a store strategy is implemented, many questions need to be answered to determine if it's time to reevaluate the network strategy.
Will the two retailers combine distribution efforts? Will direct store deliveries be deployed? How will packaging be affected?
Chances are if a store within a store strategy is put in place, a new network strategy is in order.
5. You need to reassess your inventory flow path
Retailers are always striving to reduce unnecessary inventory levels throughout the supply chain. Typically, retailers either have a flow-through process or a traditional pick, pack or ship process for facilities.
If for some reason your assortment or outbound order profiles change, it will make sense to reassess your network strategy to ensure there is no wasted time or resources throughout the process. Even small changes in order profiles (including returns) can significantly affect your network.
6. It has been five years or more since your last network strategy was implemented
Whether a retailer has experienced any of the business changes mentioned above or not, a reevaluation of network strategy should take place at least every five years. More than likely, some changes have occurred that will require a new network strategy. For example, demographics of consumers or evolution of product line may have occurred in that time frame that will require retailers to give network strategy a second look.
A Supply Chain Network Before and After Optimization
enVista has worked with leading retailers, manufacturers and distributors to design an optimal supply chain network.
To give a visual of what this looks like, see the before and after images below from a supply chain network analysis project.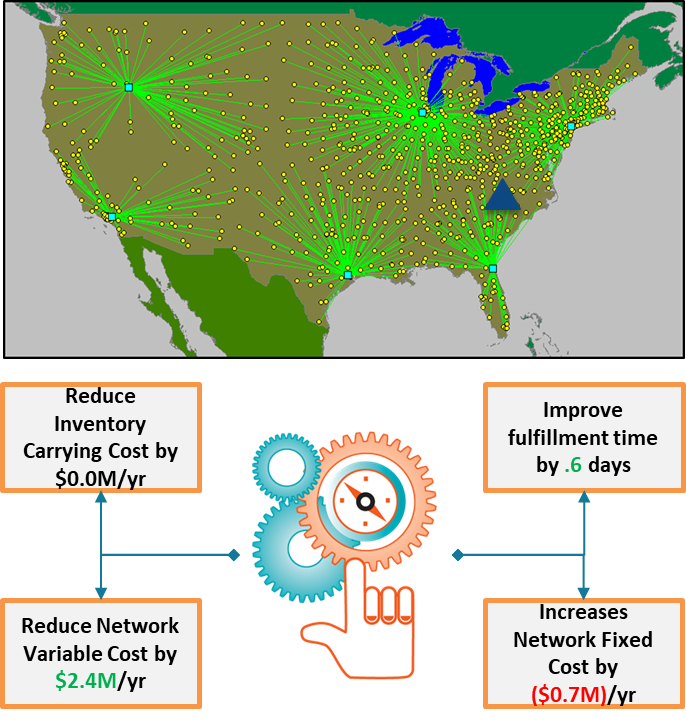 Conclusion: Be Informed and Be Prepared
Retailers that apply to one or many of the previous scenarios should take the time to reevaluate their network strategies. Even if the core business has not changed, customers' buying patterns most likely have changed.
By implementing a new network strategy, retailers will be able to save time, eliminate waste and reduce costs throughout a number of areas in their supply chain.