In life and in business, there are distinctions. A distinction suggests the perception of dissimilarity, as the result of analysis and discrimination. For example, when a carefully made distinction is made between two material handling designs for the same business a difference may refer only to the conditions of being dissimilar, for example the difference between a tilt tray sorter and a cross belt sorter.
A distinction in life and business is the concept of "right versus wrong" versus "what works for some does not work for others." You may be asking where the author is coming from. There is difference of opinion in the material handling and industrial engineering consulting arena as to how to design a distribution center. Who is most qualified and who can produce the best solution for a client? In this example, let's assume that the distribution center is a 450,000 square foot facility that will be used to distribute merchandise to 100 retail stores. The prospective client is considering using an industrial engineering consulting firm that is focused on a solution design that is unbiased versus the use of a Material Handling Integrator (MHI) whose livelihood is based upon selling and installing equipment. Note, the distinction is not to be righteous (right versus wrong) but "what works" for the client versus "what does not work." Remember a distinction suggests the perception of dissimilarities as the result of analysis and discrimination.
Let's explore the approach and differences between an unbiased industrial engineering consulting firm and a material handing integrator. The approach and methods by the two parties is based upon the end goal. Yes, both parties will explain to the client that their perspective solutions have the client's best interest in mind, however we will look at the metrics used by each party to determine the best solution for a client. The metric that is predominantly used by both independent consulting firms and material handling integrators to evaluate facility design solutions is Return on Investment (ROI). To paraphrase Elli Goldratt (Author of The Goal, Its Not Luck and the Hay Stack Syndrome) "metrics derive behavior, tell me how you measure me and I will behave accordingly, if you measure me illogically then expect me to behave illogically."
However there is a key distinction between independent consultants who have no affiliation with equipment vendors and who receive no compensation for their designs versus a material handling integrator who has the main objective of selling and installing equipment. A material handling integrator's metrics drive the entire organization (Sales Person, Design Consultant, Project Manager) to design solutions where by equipment (conveyor, racking, warehouse control system, sorters, ASRS, etc.) are the focus of the design.
Many MHI vendors have started process improvement consulting practices, or facility design consulting practices, as part of their total services solution. It is the experience of the author that the MHI vendor will heavily discount, if not provide these services for free. Is it because the MHI vendor is a non-profit organization? Or is it because the MHI vendor would rather discount a solution design knowing that theforfeit cost of service can be overcome by selling equipment to the client where the profit is greater? The selling strategy is creative, but does it warrant the best and unbiased solution for the client?
In addition, are alternative designs and conceptual solutions free of bias? If your depository of services offerings were pick-to-light, conveyor and racking, and you had no experience with WMS or voice technology would the MHI evaluate the latter? The goal of many MHI vendors is to convert the facility design to metal, as stated by former facility design consultant.
The design approach for both an independent consulting firm and MHI vendor are similar but there are key differences during the design life cycle that a buyer should be aware of.
We will look at each one of major twelve (12) process steps and compare them between each party.
Strategic Planning
Step 1. Establish A Project Team / Plan Objectives and Priorities
Both parties should take this approach. However, this process is critical to the independent consulting firm. Process improvement will be as much a part of the solution as material handling equipment. A cross-functional project team should be created. This team will consist of warehouse, information systems, sales, accounting personnel and consulting resources. The team should be limited to around five members. The team will interact to establish the objectives and priorities for the development of the warehouse strategic plan. The team will quantify these objectives and priorities for use as a guide in warehouse alternative generation and apply as the criteria for the qualitative analysis. The team will obtain a consensus on the objectives, priorities, and evaluation criteria.
Step 2. Establish Database
Both parties will need the data and information below in order to design the optimal facility. The following data should be obtained:
* Planning horizon (five years, etc.)
* Growth (sales and product
* Receiving and shipping requirements
* Storage and throughput requirements
* Control system requirements, etc
* Operating procedures
* Present warehouse layout
* Material flow volumes
* Unit load definitions
* Present operating cost
* Economic evaluatiocriteria and factors
* Present storage, picking, and packaging procedures
* Order profiles
* ABC analysis (velocity movement of product)
Step 3. Document Current Processes
Both parties will document current processes using tools like Visio. There are two key differentiators that most MHIs do not complete. 1) developing cross functional flows that encompass the organizations business systems and 2) developing non-value added versus value added process flows. Value added versus non-value added processes, also known as "value steaming," is a LEAN process for evaluating processes with an organization. The concept of LEAN and MUDA (eliminating waste) should be a key component of both independent consulting firms and MHI vendors. However, the approach to solving a LEAN distribution problem should be based upon simplicity, agility and flexibility. Material handling equipment is not flexible nor agile.
Step 4. Identify and Document Alternative Warehouse Strategic Plans
Given the database established in Step 2, material handling, storage and control systems should be considered. The methods of receiving, storing, picking, packaging, and shipping, along with the quantity of SKUs (stock keeping units) in all locations should all be questioned. The utmost of creativity, innovation, and practicality should be pursued. Various operating and material handling systems, as well as storage/handling systems, should be considered. The independent firm will view the solution as optimal only if all factors are considered: Labor, Processes, Equipment, Space and System. The Material Handling Integrator will focus more on the justification of equipment (conveyors, etc.).
Step 5. Evaluate Alternative Warehouse Strategic Plans
Define the investment, installation, and operating costs for each alternative plan. Perform an after-tax economic analysis of each alternative plan. Select the best Warehouse Strategic Plan based on the overall economic and qualitative evaluations. Qualitative factors considered should be items such as flexibility, expandability, safety, security, integration, and ease of implementation. The project team should determine these factors. Both parties should focus in this area. The independent consult will focus on all potential areas of improvement. Equipment must be justifiable.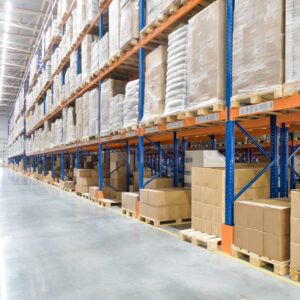 White Paper
A well-thought-out slotting strategy also enables businesses to minimize wasted space and maximize storage capacity within the warehouse. Increase ROI using the right tools, strategy and management plan with successful warehouse slotting.
Download
Step 6. Specify the Plan
The selected Warehouse Strategic Plan must clearly illustrate the material handling systems, storage systems, and control systems. The result of this step should be a detailed document that will detail the four steps above and the previously described methodology. Both parties should perform this step. However, the MHI will tend to want to move quickly past this step.
DETAIL PLANNING
The detail planning phase will not be performed by the MHI. There is no incentive for the MHI to locate the least expensive vendors or the equipment that best meets the needs of the customer. The MHI has fixed contracts with rack and conveyor vendors.
Step 7. Establish Bidders List
Contact appropriate equipment and system vendors and establish a qualified list of three-five vendors for each.
Step 8. Develop and Release Equipment and System Functional Specifications
An equipment and system functional specification is a document that clearly and logically defines the required functionality and bid requirements for the required equipment and systems. The document assures that all vendors provide an equal level of functionality for the price quoted. The document is prepared by the company or their representative and then sent to the appropriate vendors. The vendors will then respond with a proposal that addresses all areas of the document. Documents can range in size from ten to eighty pages depending on the complexity of the required equipment or systems.
Provide functional equipment and system specifications with information such as the following:
* General requirements
* Description of Company
* Quantity
* Dimensions
* System Overview
* Features and Options
* Operational requirements
* Performance
* Capacities
* Throughput
* Define The Functional Areas of the Warehouse
* Receiving
* Putaway, Storage and Replenishment
* Order Initiation and Picking
* Shipping
* Miscellaneous Functions (Returns, Cycle Counting, etc.)
* Integration and Interface Requirements
* Communication Protocols
* Mainframe Interface Requirements
* Software and Hardware Requirements
* Reports and Inquiries
* List of Hardware and Software
* System Development and Implementation Requirements
* System Performance
* Project guidelines
* Training
* Maintenance
* General Instructions to Bidders
* Terms and Conditions
* Pricing format
* Schedule requirements
Step 9. Vendor Interaction
The team will provide input to vendors during the bid process. The vendors should be allowed four-six weeks to complete the bid response. Items include the following:
* Respond to questions during the bid process
* Receive bids
Step 10. Coordinate Site Visits
The team will establish dates for vendor site visits and document the requirements of equipment and system demonstrations.
Step 11. Evaluate and Select Vendors
The team will perform an analysis of the equipment and system bids.
Step 12. Finalize Layout
Redesign the conceptual layout based on selected vendor's feedback. Layout the facility to maximize storage and minimize congestion. Show details and dimensions on layout for items such as staging lanes, aisles, section views of storage equipment, forklift maintenance areas and lighting requirements by area.
In life and in business there are distinctions. The distinction is not to be righteous (right versus wrong) but "what works" for client's versus "what does not work." Remember a distinction suggests the perception of dissimilarities as the result of analysis and discrimination. The use of an independent consulting firm will allow a company to strategically plan and implement the most cost effective system where material flow and data flow are synchronized, ultimately producing the lowest total cost of ownership and positive ROI.