As 2020 comes to a close, we recognize this year as one of the most dynamic within supply chain. enVista continues to promote thought leadership within the industry to bring you a range of relevant topics, including maximizing warehouse space utilization, applying Lean principles within distribution centers, and the benefits of EDI invoicing. In this blog, we take a look back and share enVista's top 10 posts that resonated most with our community in 2020.
With real estate capacity becoming tighter each year, one of the biggest supply chain challenges businesses face is limited warehouse space. Once a distribution center hits 85 percent occupancy, it is technically out of space–a number many operations are approaching or have already exceeded. From extending racking vertically to changing storage mediums, there are a variety of ways to maximize warehouse space utilization without the need for expansion.
Warehouse Management Systems (WMS) represent a major investment in your supply chain and operational efficiency. While it can be difficult to gauge your estimated time to value, these four case studies featuring enVista clients showcase outcomes after successful WMS implementations.
Incentive pay programs are a great way to increase productivity and empower employees to meet their goals, without the need for large capital improvements. From rewarding direct work to communicating the program to employees, Tom Stretar, Vice President of Technology at enVista, offers 10 tips for implementing a successful incentive plan.
Widely used within supply chain, manufacturing, and distribution industries, Lean methodology also offers significant opportunities to reduce waste and improve productivity within retail store operations. Learn about the five principles of Lean and tips to incorporate within your retail organization.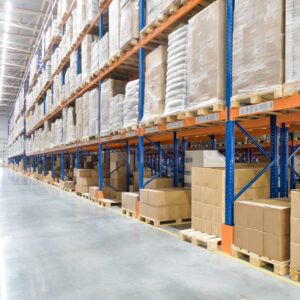 White Paper
A well-thought-out slotting strategy also enables businesses to minimize wasted space and maximize storage capacity within the warehouse. Increase ROI using the right tools, strategy and management plan with successful warehouse slotting.
Download
In November 2019, UPS announced its 2020 general rate increase (GRI) of 4.9 percent on ground and air services, which went into effect on December 29, 2019. In addition to the increase in transportation charges, most accessorials went up, new accessorials were added, and the DAS and EAS ZIP Code list also changed.
As warehouses continue to experience high turnover rates and the need for labor increases to keep up with evolving consumer demand, it's more important than ever to focus on employee retention. Incentive pay programs are an effective option for improving warehouse productivity and retention by as much as 15-30 percent.
Utilizing Lean training and tools within distribution centers can help increase profitability. There are several Lean principles, as well as Lean Process Improvement Teams, and seven basic Lean tools that can be applied within warehouses to save millions on operating costs.
Supervising on the Line by Gene Gagnon and revised by Jim Barnes, CEO of enVista, seeks to inform the reader on how supervisors should lead, manage, communicate, direct and measure their associates. To ensure success, it's important to define a job's role; the first step in doing so is to understand responsibility, accountability and authority.
Program managers play a vital role in ensuring the success of an organization by holding team members accountable and driving projects to completion. Program management allows for the ability to process project requests from an organizational standpoint and to make sure projects are getting the proper returns, leading to lower overall costs.
Electronic data interchange (EDI), the transfer of standardized electronic documents between businesses, is a viable solution for streamlining invoice practices and as a result, increasing efficiency. EDI invoicing increases the speed of transactions, ensures greater accuracy, and generates cost savings.
enVista's team of industry-leading experts is excited to continue bringing you fresh insight in 2021. Subscribe to enVista's email list and get the latest blog posts delivered straight to your inbox to stay updated on the latest news, trends, and updates within the industry.