Empowered by product blogs, customer reviews, unboxing videos and more, today's consumers have limitless resources for research prior to buying a product. Equipped with information to ensure shopping satisfaction, consumers have come to expect more from retailers, making it challenging for brands to keep up with quickly evolving expectations.
Beginning in March 2020, COVID-19 raised the stakes. Contactless payment options: buy online, pick up in store (BOPIS); buy online, pick up at curbside (BOPAC); and free and fast deliveries, are additional services that customers now demand for easy, safe and pleasant shopping experiences.
Recently, Arvind Gupta, President of Jesta. I.S., and Gene Bornac, enVista's Chief Strategy Officer, participated in an episode of enVista's Chew on This video series to explore evolving customer expectations post-pandemic and the implications for retailers.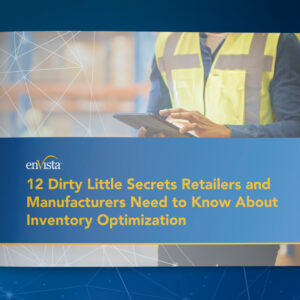 White Paper
Get the low-down on the secrets retailers and manufacturers need to know about inventory optimization.
Download
COVID-19 Elevates Consumer Expectations
"The pandemic has accelerated customers' already elevated expectations when it comes to their shopping journeys," said Gupta. "Customers are increasingly expecting a completely frictionless experience from the time they go online or in a store. From clicking to collecting to returning, they want complete visibility pushed to them through whatever method they prefer: a text message or any other way."
Bornac added, "As the world shutdown a year ago, and we've had various degrees of reopening, expectations continue to seem to skyrocket from a customer side. They want things faster, they want things more accurate, they want visibility, and customers seem to have a desire to be totally in control."
A survey by Digital Commerce 360 revealed that:
93% of consumers want to stay informed throughout the delivery process — from in-transit status to final arrival date
47% will not order again from a brand with poor delivery visibility
"The pandemic has done a reset, and customer expectations are continuously getting recalibrated," Gupta said. "It's not just a one-stop shop — you make the investment and you're done. You need to keep on the journey of digitization so that you're able to meet and exceed the expectations continuously."
"The brick-and-mortar channel is still very much relevant," he added. "Make an investment into making sure that all the digital experiences you're looking to deliver online, you plan on delivering the same experience in your physical stores."
For example, Consider Inditex, the owner of Zara, and one of the world's largest retailers, plans on spending $1.4 billion on improving its online services by 2022. Another $2.4 billion will ensure that stores are well integrated with websites for the real-time tracking of merchandise and fast omnichannel deliveries.
Retailers Look to Dark Stores to Enhance Omnichannel Strategies
Taking accelerated omnichannel deliveries one step further, some retailers are experimenting with dark warehouses and dark stores. Dark stores are brick-and-mortar stores that no longer receive foot traffic. Instead, they are transformed into permanent fulfillment hubs to shorten shipping times, enable faster deliveries, and promote a better customer experience with quicker access to goods.
"Customers want to be at the center of the experience," Bornac said. "They want technology to serve the customers' goals, and customers come back where its frictionless and where people are making an investment to keep them happy."
To listen to the full chat, check out enVista's Chew on This episode entitled Customer Expectations Post-COVID and What That Means for Retailers.